Commercial, Infrastructure / 1st Quarter 2023
Unipark by Ronald Lu & Partners
March 20, 2023
Unipark is Zhuhai's first flagship transit-oriented development (TOD) project, and Ronald Lu & Partners' (RLP) first TOD project in the city. Its conceptual inspiration came from its location by the riverfront of Qianshan River—the architecture features three high-rise towers flanking the shopping mall, evoking the sails of a ship.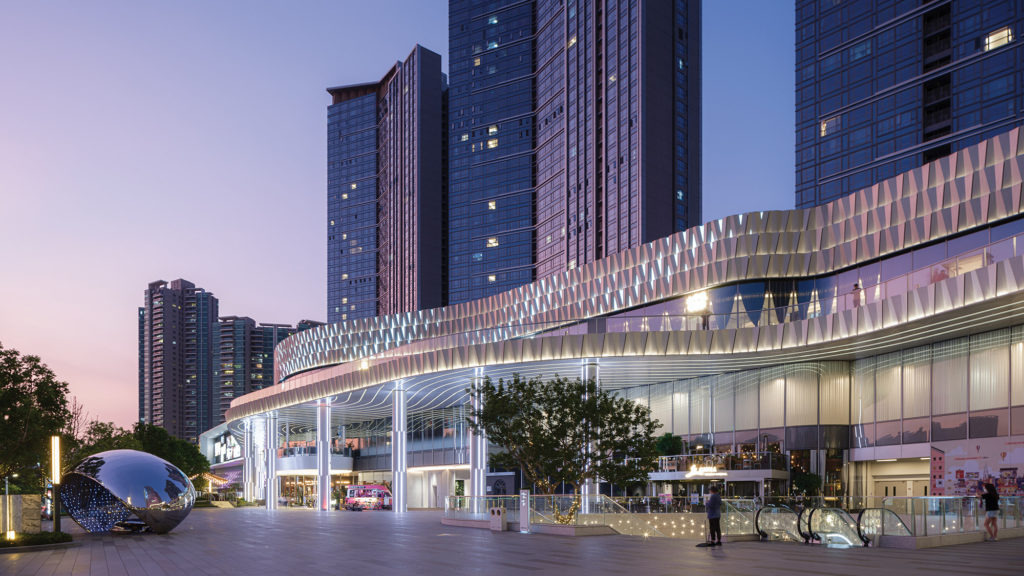 Through parametric design, RLP was able to create a free-form roof defined by curves, a feature that is carried over to the canopy on the south side. The entrance's multi-layered wave-shaped façade features a textured finish, allowing light to bounce off its surface like sunlight on water. Light continues to play a central role throughout Unipark, with undulating lines of light used throughout to mimic waterfalls and running water, creating a sense of fluidity and almost aquatic environment for users.
Designed to be an 'urban regenerator' to revitalise the city, drawing in new residents, businesses and visitors, Unipark encourages a healthy lifestyle for users and residents by embracing natural landscapes and creating new open spaces that are fully accessible to the surrounding communities, with a waterfront park, terraced garden and open-air square that are accessible to all.
[This is an excerpt. Subscribe to the digital edition or hardcopy to read the complete article.]
---
PROJECT DATA
Project Name
Unipark
Location
Zhuhai, China
Completion date
2021
Site Area
67,000 square metres
Gross Floor Area
467,570 square metres
Building Height
200 metres
Architecture Firm
Ronald Lu & Partners
Client/Owner
Guang Yi Property Development Ltd. (Zhu Hai)
Principal Architects
Bryant Lu; Guymo Wong
Main Contractor
The First Construction Engineering
Limited Company of China
Construction Third Engineering Bureau
Images/Photos
Ronald Lu & Partners
---
Related story:
The FuturArc Interview: Bryant Lu

Bryant Lu | FuturArc
A recent study has reported that Hong Kong has the best public transportation in the world.1 The worldwide ranking public transit sub-index based its findings on the volume of traffic, network density and infrastructure quality, while also including measures of how well cities are maintaining mass t…

Previously Published Projects