Residential / Sep - Oct 2018
Tropical modernism: A comparison of two approaches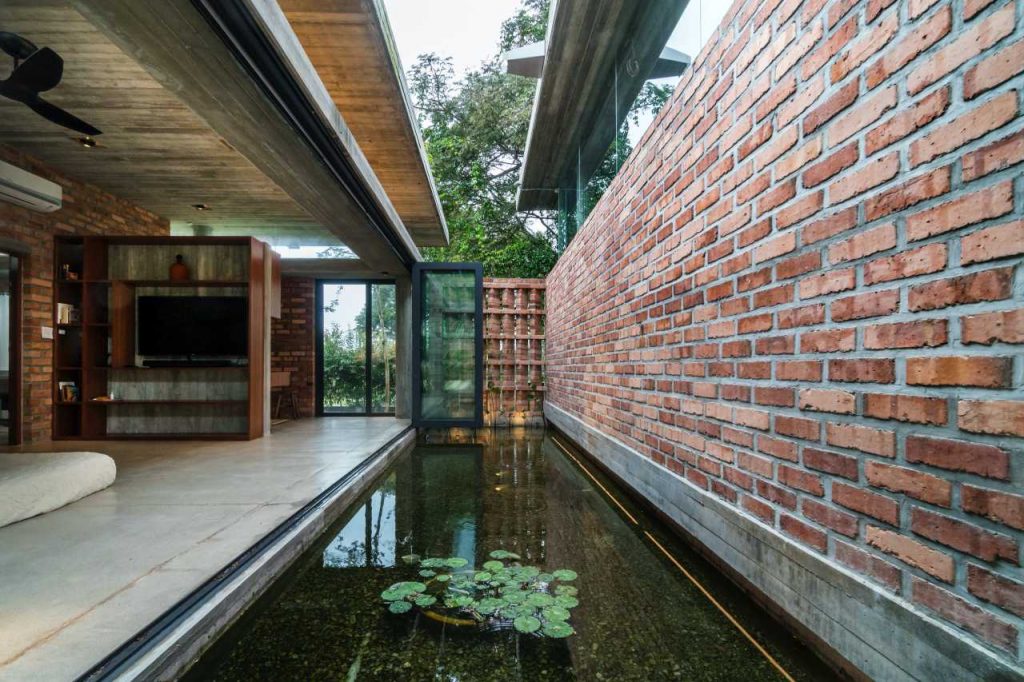 (left) The living room pavilion of Ray of Light House is separated from the courtyard by a full width reflecting pond. Rainwater spouts are provided to channel water run-off from the roof to the pond.
(right) The façade or outer shell of Window House is 'punched' with windows where greenery of varying heights planted between the shell and the house can 'peek' out.
TROPICAL MODERNISM: A COMPARISON OF TWO APPROACHES
by Assoc Prof Dr Zalina Shari
'Suryamzhu' Ray of Light (RoL) House is a single-storey, 520-square-metre house, built on an approximately 1,000-square-metre site in a suburban setting of Bukit Gasing, Petaling Jaya. Window House, on the other hand, is a three-storey, 900-square-metre house, built on a hillside plot of around 800 square metres, located on the fringes of a reserved forest in Kuala Lumpur.

Both of these private properties are categorised as modern tropical houses but they adopt different approaches. There are three tropical modernism approaches relevant to RoL House and Window House: organic in context with nature; minimalist in structure, form and massing; and neo-brutalist in materials and appearance. These approaches are strongly influenced by the three masters of modern architecture: Frank Lloyd Wright in 1900s, Ludwig Mies van der Rohe in the 1940s, and Le Corbusier in the 1950s, respectively.

The emphasis in both houses is on passive design, achieved with form, massing and spatial layout; as well as a particular aesthetic derived from their palette of materials. It is not the intention of this comparative article to suggest the superiority of one house over the other as both houses have distinctive characteristics that meet the clients' needs or preferences.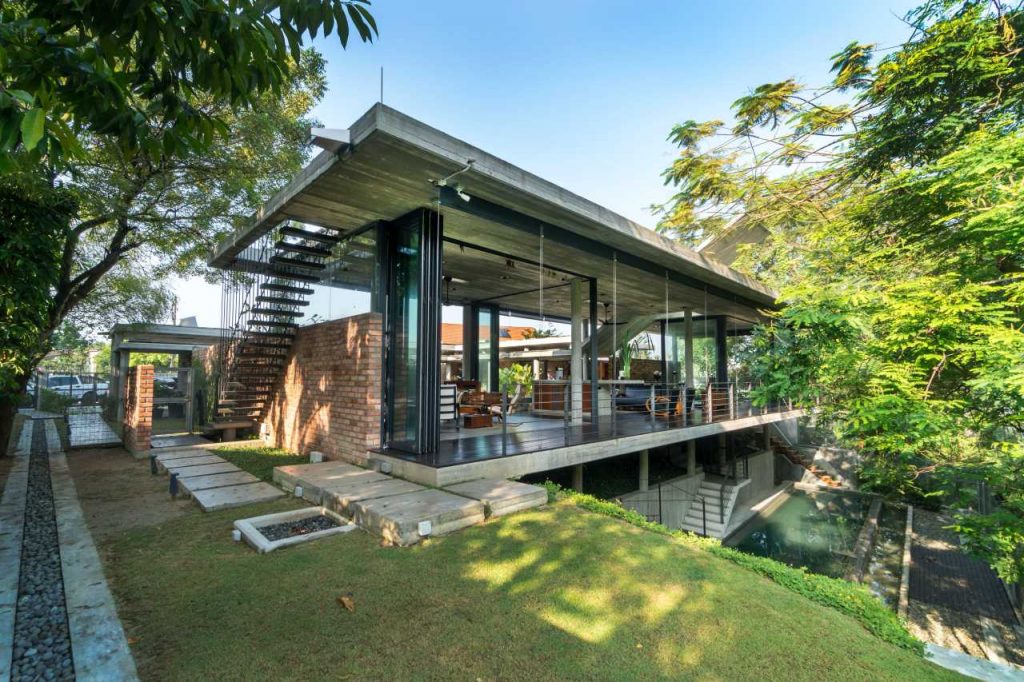 ORGANIC TROPICAL MODERNISM APPROACHES
ROL HOUSE
The blending of RoL house with the site and the nature around it is unmistakably inspired by Wright's principles of organic architecture with the following four characteristics.

WINDOW HOUSE
Contrary to the organic tropical modernism of RoL House, Window House is quite the opposite. The house may not conform to Wright's organic architectural principles per se, but it still adopts the passive design approach in its own special way. Below are the four non-organic approaches of Window House and the rationale and values behind them, where appropriate.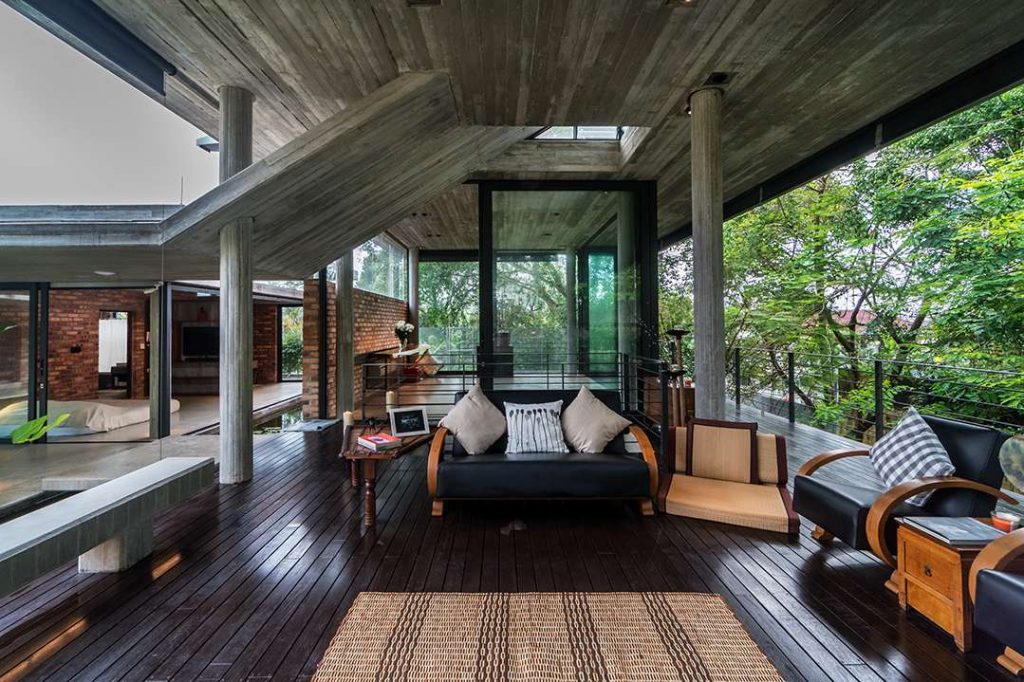 MINIMALIST TROPICAL MODERNISM APPROACH
ROL HOUSE
Simultaneously, RoL house embraces Miesian minimalism in its form and massing through the display of the following qualities: minimal rectangular boxes enclosed by floating roof slabs; simple geometry of open plans; layering of interior and exterior spaces with maximum transparency; floor-to-ceiling glass sliding or folding panels; and exposed structure grids. The house is also a description of large glass areas that can be completely opened, adding to an appreciation of the house as linked to transparent or open pavilions.

WINDOW HOUSE
Contrastingly, Window House does not consist of the simple, transparent and open geometric form of Miesian minimalism. Rather, the house is designed as a series of stacked solid rectangular volumes covered in an angular or telescopic formed concrete shell tapered at the front, widened towards the forest at the rear of the house, in both plan and section. Although this tapering may give the entrance a more human scale, the overall scale of the house is still enormous.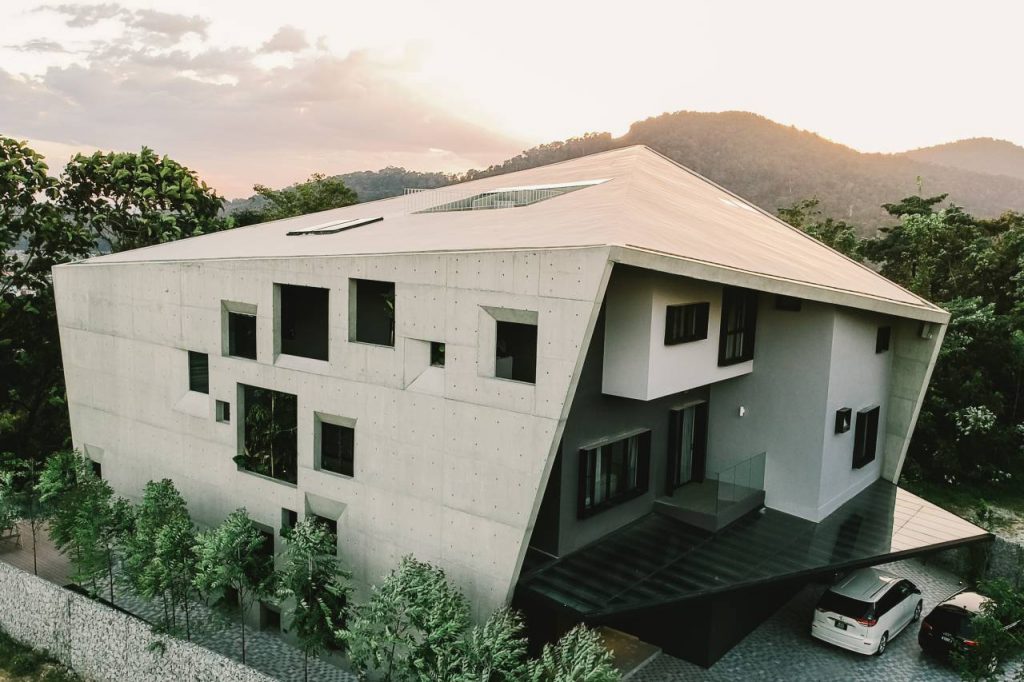 NEO-BRUTALIST TROPICAL MODERNISM APPROACH
ROL HOUSE
Instead of adopting Miesian minimalist steel columns and beams with glass walls, RoL House employs the aesthetic of Corbusien neo-brutalism through its use of rough concrete and brick surfaces left untreated or unfinished. The structure is made of rectilinear flat off-form concrete roofs held up by off-form concrete columns, resulting in long continuous spans and open interiors. The designer used fair-faced bricks for a series of enclosing walls—some perforated, some completely solid. The dramatic cantilevered roofs and the juxtaposition of solids and voids create a sculptural presence. The restrained palette of materials creates a calm, uncluttered ambience. The structure, walls and floors are left unfinished, creating honesty in the materiality.

WINDOW HOUSE
However, Window House may not represent the neo-brutalist group of tropical modernism. Although the outer shell is made of raw concrete left unfinished, the surface is relatively smooth, whilst the rest of the walls are plastered over and painted. The predominance of concrete and rendered surfaces means that much of Window House architecture is concerned with mass, which is in contrast to RoL House that is lightweight and relatively ephemeral. The front porch may soften the form's solidity as it is covered by an exposed structure of lightweight steel frame with steel mesh and glass top to give a minimal profile. The interior material palette combines concrete with light and dark woods, the walls with black metal frames.
Project Name
'Suryamzhu' Ray of Light
Location
Bukit Gasing, Petaling Jaya, Malaysia
Completion Date
2017
Site Area
993 square meters
Gross Floor Area
520 square meters
Number of Rooms
10
Building Height
4.35 meters
Client/Owner
Kamala Devi Somasundram
Architectural of Record
Arkitek Seni Integrasi Puan
Design Consultant
John G N Bulcock (Design Unit Sdn Bhd)
Main Contractor
Indacon Sdn Bhd
Mechanical &Electrical Engineer
Perunding Eagles Engineers Sdn Bhd
Civil &Structural Engineer
Isaacom Design
Images/Photos
Lin Ho Photography (photos); Design Unit Sdn Bhd (architectural drawings)
---
Project Name
Window House
Location
Kuala Lumpur, Malaysia
Completion Date
December 2017
Site Area
813 square meters
Gross Floor Area
900 square meters
Number of Rooms
7
Building Height
16 meters
Architectural Firm
Formzero
Principal Architects
Lee Cherng Yih
Main Contractor
Jaya Bintang
Images/Photos
Ronsee Lee (Twins Photography); Formzero
Previously Published Projects