Commercial / Jan - Feb 2016
Tony's Organic House
January 22, 2016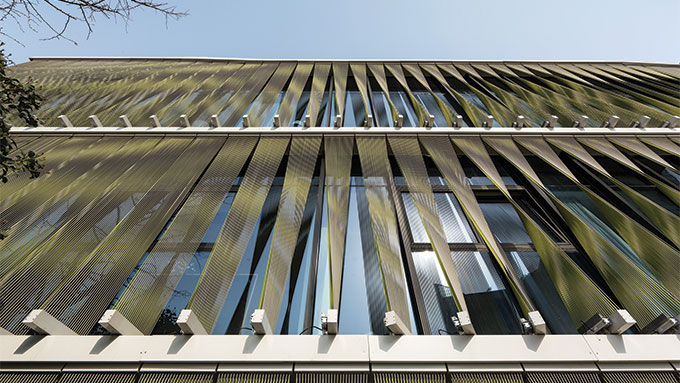 Following a successful collaboration for a multifunctional building complex at Tony's Farm (also featured in FuturArc Showcase in the July-August 2013 issue), the architects have been approached by the owner with yet another project— this time to redevelop a building in Shanghai with the aim of promoting an organic lifestyle. The main purpose of the building is to showcase the products of Tony's Farm by introducing a more natural way of living to urban dwellers. The existing building was initially constructed to be part of the Pudong landscape, but it had fallen into a poor condition due to lack of use. Substantial structural changes, namely the addition of an entire floor and the introduction of an additional split-level, were necessary.
THE FAÇADE

The existing façade initially consisted of a conventional glass curtain wall that did not provide any protection from solar heat gain. In addition to the need for a shading system, the architects wanted a building envelope that would contrast the artificiality of the adjacent massive glass towers with a dynamic and tactile skin.
The result is a bespoke façade system made up of two layers of strings. These two layers overlap to create a moiré effect, reinforcing the textile-like appearance of the skin. The perforated curtain comprises a series of panels, each consisting of 46 strings. The use of individual strings, instead of a continuous fabric, allows the panels to twist in a controlled and specific way so as to moderate shading conditions according to different times of the day while simultaneously opening up views towards the river. Groups of panels can also be controlled in order to adapt to specific functions in different areas of the building.
PROJECT DATA
Project Name
Tony's Organic House
Location
Shanghai, China
Completion Date
January 2013
Gross Floor Area
1,230 square metres
Number of Rooms
15
Building Height
9.9 metres
Clients/Owners
Tony's Farm
Architecture Firm
playze
Principal Architect
He Mengjia; Pascal Berger
Main Contractor
Nantonghugang Decoration Co., Ltd.
Mechanical & Electrical Engineers
Nantonghugang Decoration Co., Ltd.
Civil & Structural Consultant
Nantonghugang Decoration Co., Ltd.
Lighting Designer
UnoLai Lighting Design
Images/Photos
Bartosz Kolonko; playze
Previously Published Projects