Commercial / Jan - Feb 2017
TK-SMA BPK PENABUR Summarecon
January 7, 2018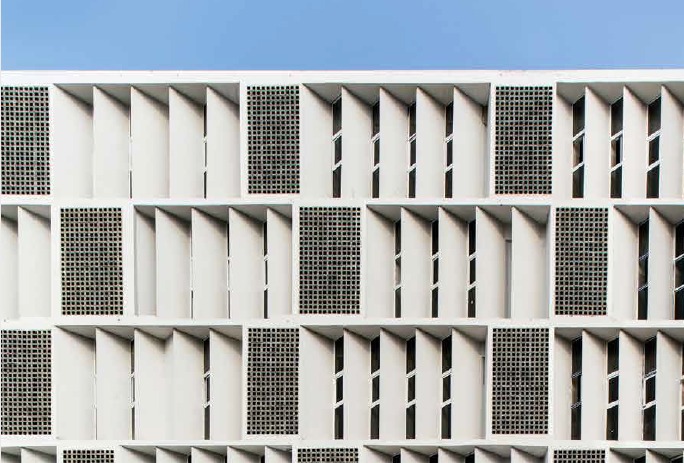 The architects were tasked to design a school building with a capacity to accommodate students from pre-school to high school. Considering the large curriculum and the challenge of setting an active and comfortable learning environment in a limited area, there is a need to provide a space where the users-especially students-can ether, interact and engage in outdoor activities.
This school was built almost out of perforated bricks, with the key of giving texture to an otherwise solid wall. Complementing this aesthetic intention, the choice of bricks enables regulated airflow and maximizes daylight within the building, especially in non-air-conditioned areas. the uses of low materials as well as local labor and artisans helped optimizes the entire construction process.
Due to the odd shape of the site, some classes were made in the final design with vertical 'fins' incorporated in the facade to avoid direct sun exposure. To soften the segmentation between rooms on each floor, a long corridor acts as a connecting space for interaction. Voids in the corridor allow for day lighting, while cross ventilation is applied via the openings at the end of the corridor as input for fresh air and the void on the roof as an outlet.
PROJECT DATA
Project Name
TK-SMA BPK PENABUR Summarecon
Location
Bekasi, West Java, Indonesia
Completion Date
2015
Site Area
10,000 acres
Gross Floor Area
40,000 square meters
Number of Rooms
62 classrooms
Building Height
39,92 meters
Client/Owner
BPK Penabur
Architecture Firm
Aboday
Principle Architects
Johansen Yap
Design Team
Wibisono Soegih; Russelin Edhayiti; Wahid Annasir; Bernadetha Raharjo; Denden Mulyandi; Dini Swi Setioningsih
Main Constructor
PT. Jaya Kusuma Sarana (JKS)
Mechanical &Electrical Engineer
PT. Jaya Kusuma Sarana (JKS)
Images/Photos
Linding Soemarhadi; Aboday
Previously Published Projects