Commercial / Jun - Aug 2017
The Intercontinental Hotel Songjiang
July 23, 2017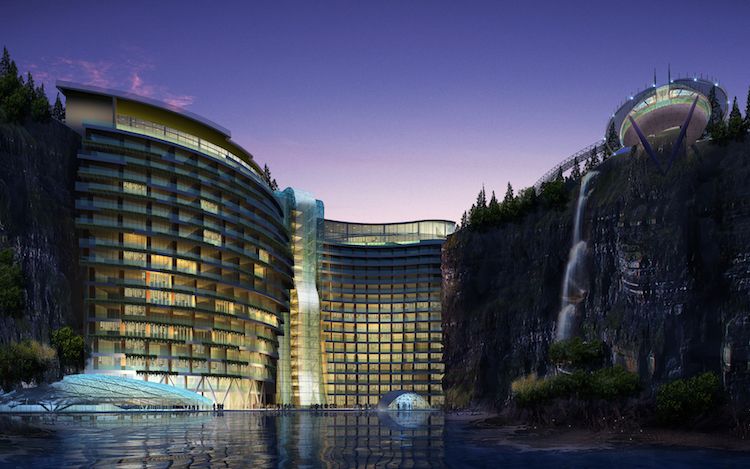 A hotel built out of an abandoned quarry is not a common endeavour. So once something like that is constructed, it can be a breathtaking sight to behold. The InterContinental Hotel Songjiang will be one such example.

Located in Tianma Mountain, Songjiang, Shanghai, the quarry pit is nearly 100 metres deep, surrounded by cliffs, with a pool that came about from the slow accumulation of rainwater. The first of its kind five-star luxury hotel built on a quarry, it will have a series of landscaped gardens and water features so that the property seems to be carved out of the terrain.
The architects sought to minimise excavation and rock cutting to reduce construction cost and impact on the environment, as well as reduce energy consumption by combining elements from the existing site conditions and natural resources. This includes utilising the quarry lake. Not only is the lake sustaining an aquatic ecosystem but the water is also used to cool the waterfall-like vertical transportation core through ventilation formed by different air pressures. During summer, the relatively low-temperature fresh air goes through the atrium and upper space to cool down indoor temperature by means of stack effect.
PROJECT DATA
| | |
| --- | --- |
| Project Name | The InterContinental Hotel Songjiang |
| Location | Tianma Mountain, Songjiang, Shanghai, China |
| Expected Completion | 2018 |
| Status | Under construction |
| Site Areas | 105,350 square meters |
| Total Building Area | 58,494 square meters |
| Number of Rooms | 388 |
| Building Height | The hotel is set within a 70-meter-deep water-filled quarry |
| Client Owner | Shimao |
| Architects Firm | Atkins |
| Images/Photos | Atkins |
Previously Published Projects