Online Exclusive Feature, Residential / 2021
The floating spaces of Villa Tsukuba
November 12, 2021
"Nature is beautiful in itself, without artificial manipulation," writes the architects of this residence. Located in Ibaraki Prefecture, a region known for its agricultural produce, the primary goal of this design was to incorporate the surrounding views of Nature—rice fields and the towering Mount Tsukuba—into the residents' living space.
Built for a client who is a landscape designer, alterations to the site were minimal—including a simple man-made stream running through the front garden and along the residential neighbourhood, and an 8-metre-tall hackberry tree beside the terrace, enhancing the sense of depth when looking out to the panorama.
Since a part of the land was sloped, it would normally have been necessary to build a retaining wall to entrench the building. Instead, the architects created a floor that jutted out from the foundation, appearing to float in mid-air. The elevated space and balcony would naturally draw the eye to the rice fields and forest in the distance, encouraging an awareness of the changing natural world and a reminder of one's place as part of Nature.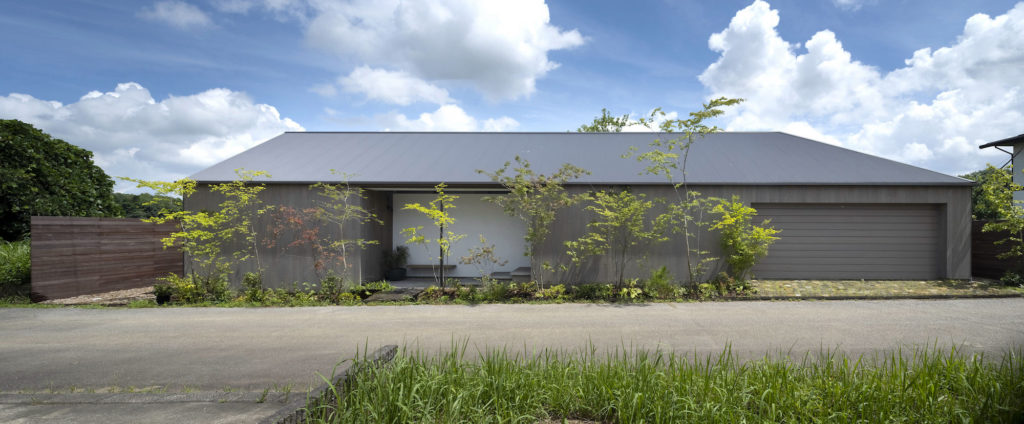 The floor plan consists of rooms arranged parallel to the street, offering views of the landscape from anywhere in the villa. In contrast to the elevated space, the living room floor is sunken, giving a sense of being immersed in nature when sitting on the sofa to look outside. There are small variations in the spatial experience as the design moves up a step from the living room and onto the deck, mimicking the ambiguous boundaries when moving from a den-like interior to a veranda and finally to a garden in a traditional Japanese home.
The design makes maximum use of natural light and ventilation. Air-conditioning plays a backup role, with high-quality insulation helping to lower the home's environmental impact. Timber offcuts of Japanese oak were used for the flooring, thus making new use of the leftover materials. The designers hoped that over time, this structure built close to nature will take on even greater character alongside the landscape around it.
---
PROJECT DATA
Project Name
Villa Tsukuba
Location
Ibaraki Prefecture, Japan
Completion Date
December 2020
Site Area
311.32 square metres
Gross Floor Area
156.54 square metres
Building Height
5.13 metres
Architecture Firm
Naoi Architecture & Design Office
Principal Architects
Katsutoshi Naoi; Noriko Naoi
Civil & Structural Engineer
Nawaken gym
Landscape Design
sora-niwa
Photos
Hiroshi Ueda
Previously Published Projects