Online Exclusive Feature, Residential / 2020
T3
April 30, 2020
This house was designed for a couple (a French artist and his Japanese wife) who are interested in the aesthetic of Japanese gardens, as well as Japanese culture and architecture. Nestled quietly atop a hill in the historic Japanese city of Kamakura, it offers scenic views of Mount Fuji.
In response to the clients' requests, the architects identified the following architectural themes:
To incorporate the surrounding nature into the architecture so that the structure is in harmony with the site
To adopt a modern Japanese style while simultaneously incorporating traditional methods, practices and materials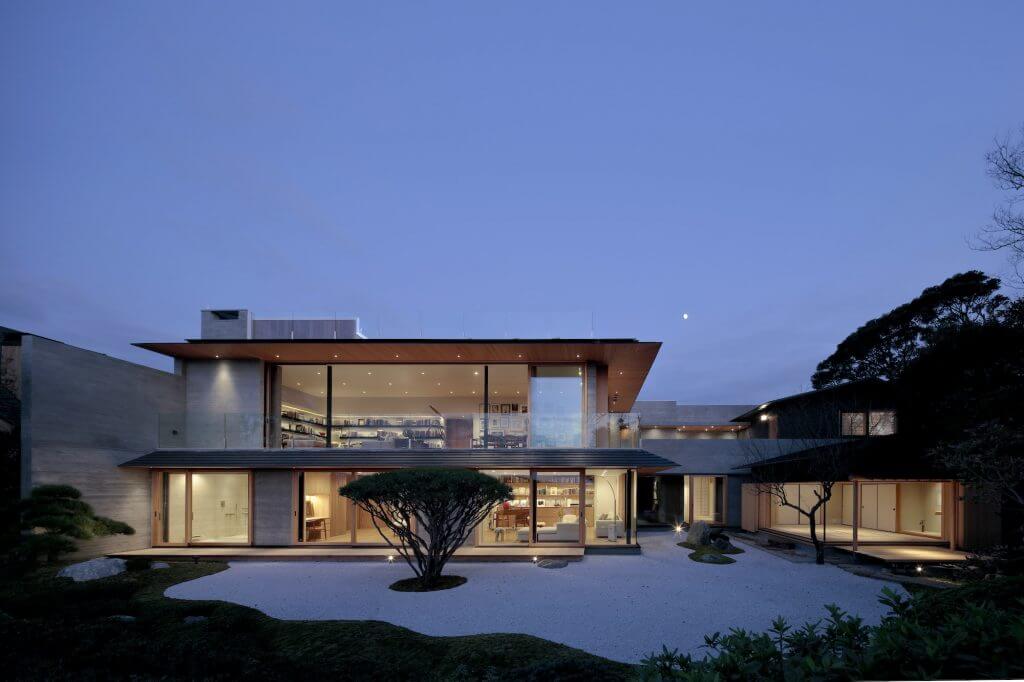 A hallmark of Japanese sukiya architecture is the beauty of continuous eaves, marrying design with function to offer shelter from rain and direct sunlight. The architects adapted this traditional design in a modern way, by adopting new materials such as steel plates in the structure and finish. Rainwater from the eaves goes to a perforated pipe that is set below all the eaves. It merges with another pipe underground that gathers rainfall on the entire site, and leads into a rainwater tank where it is reused as water for the garden trees.
To highlight the strength and delicacy of Japanese architectural design, traditional Japanese building materials (including granite, Japanese paper, black plaster, wood lattice and louvres) have been selected. It is common in Japan to scrap wooden buildings within 40 years—scrap and build culture. However, to extend the lifecycle of the project, the architects selected a reinforced concrete (RC) structure for the main building to ensure that it can stand beyond 100 years. To harmonise RC with the local materials, Japanese cedar is set inside the formwork to print the wood grain as the texture.
The façade is designed so as to be completely closed off from the street side by a concrete wall, emphasising privacy, while the rest of the house opens out as much as possible on the surrounding picturesque landscape.
The architects hope that this hybrid of modern and traditional Japanese design will integrate seamlessly with the surrounding nature and facilitate meaningful exchanges with visitors.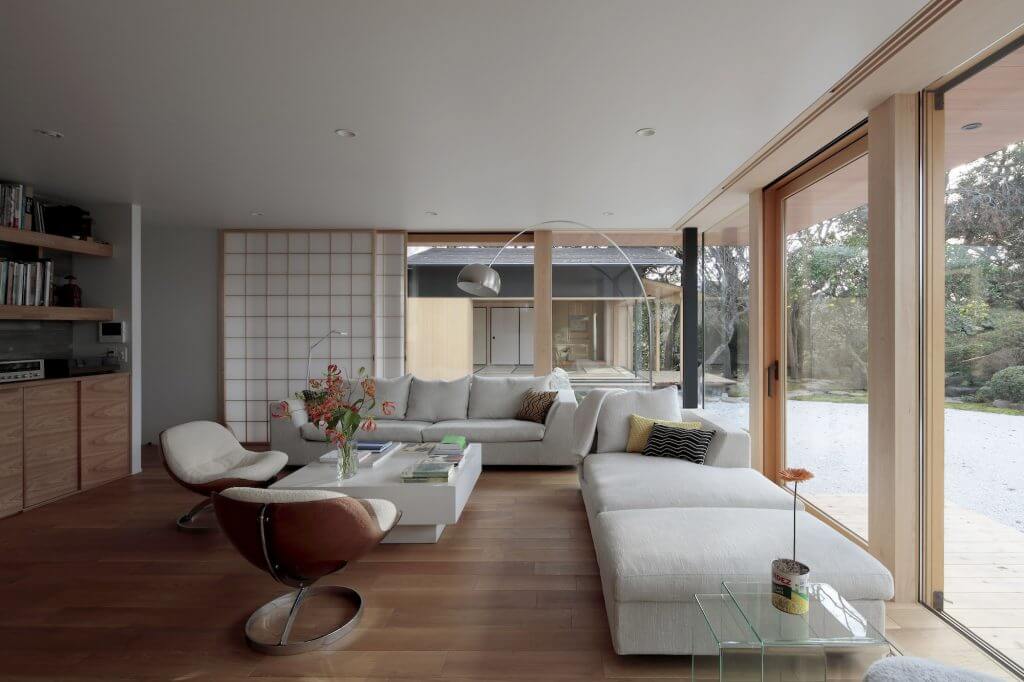 PROJECT DATA
| | |
| --- | --- |
| Project name | T3 |
| Location | Kanagawa, Japan |
| Site Area | 702.61 square metres |
| Total Floor Area | 506.78 square metres (67.12 square metres (BF), 265.43 square metres (1F), 174.23 square metres (2F)) |
| Architecture Firm | CUBO design architect |
| Principal Architect | Hitoshi Saruta |
| Photography | Koichi Torimura |
Previously Published Projects