Residential / Nov - Dec 2016
Steel City: Container Skyscraper, Mumbai
November 7, 2016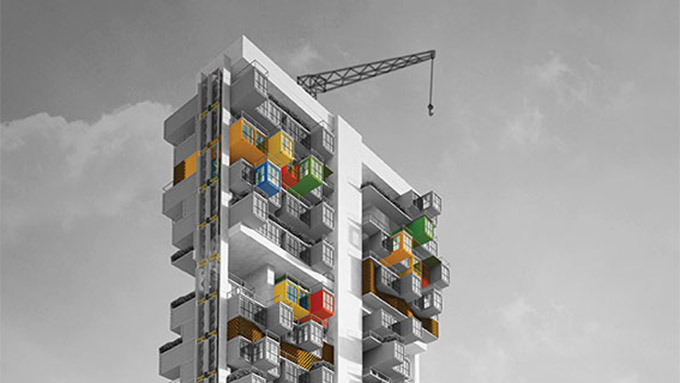 Today, 54 percent of the population worldwide is living in urban areas—this trend is expected to continue: by 2045, there will be 6 billion urban residents, an increase of 1.5 times (2 billion). With such a rapid rate of increase and extent of urbanisation, basic issues such as affordable housing, well-connected transport systems, infrastructures, utilities and employment will be challenging, particularly for the nearly 1 billion urban poor who live in informal settlements.
The premise of the SuperSkyScrapers design competition was based on tackling the housing crisis in India, specifically Mumbai, a densely populated city, in the hopes of finding affordable solutions. The following proposal from Ghanti Associates won first place in the competition by proposing a 100-metre-high shipping container stack with solar panels and micro wind turbines.
THE SITE
The architect decided to focus on Dharavi, a slum situated in the heart of Mumbai, where it is also a centre for recycling and small-scale industries. Over 1 million residents live and work on this 500-acre land, thus resulting in an extremely high urban density. The only source of light and ventilation comes from the 4 inches of separation between the streets. In order to create any housing solution, one would first need to look at how Dharavi works not just as a city but also as a community. Currently, housing consists of ground or ground-plus-one units that are attached end-on-end, forming a complex and highly compact linear mass. The housing units are made from recycled tin or plywood planks nailed together.
Project Name
Steel City: Container Skyscraper, Mumbai
Location
Dharavi, Mumbai, India
Site Area
9,259 square metres
Gross Floor Area
24,956 square metres (2 parking levels: 3,676 square metres; 32 storeys: 665 square metres each)
Building Height
100 metres
Building Scale
Tower: 44 metres (length) by 21 metres (width) by 105 metres (height)
Architecture Firms
Ghanti Associates Design Consultants LLP
Principal Architect
Shekar Ganti
Images/Photos
Ghanti Associates Design Consultants LLP
Previously Published Projects