Commercial, Online Exclusive Feature / 2022
St James Power Station: Linking historic and renewed layers
October 11, 2022
In the endeavour to reinvigorate and renew places, it is vital to treat historic places as a recorder of time. For the latest rejuvenation of St James Power Station to become the headquarters for Dyson—after previously being a nightlife venue till 2018—the architects sought to link it to the heritage trail of the larger Harbourfront Precinct, inserting new functions in a way that preserved historic 'layers' of the 96-year-old building.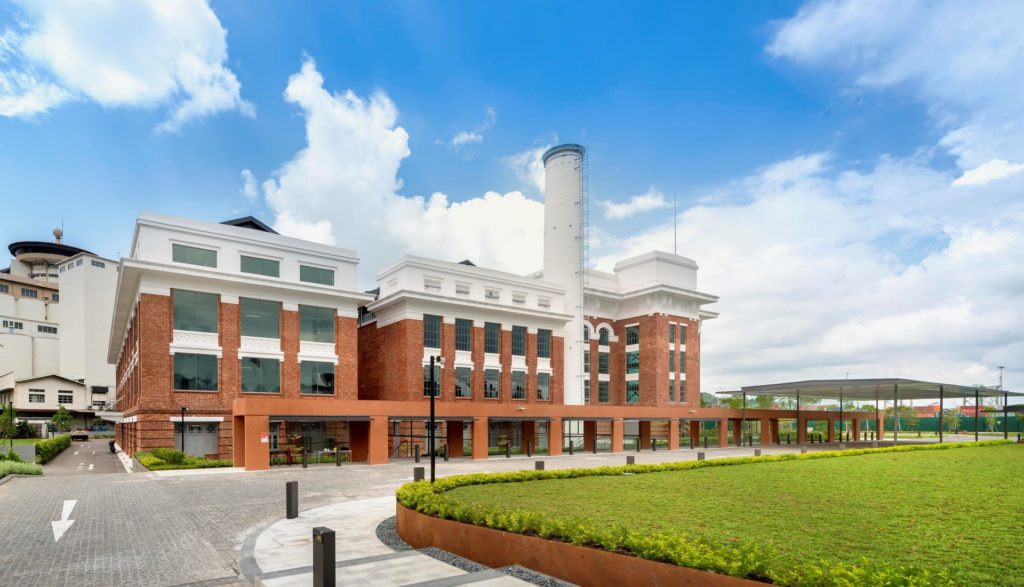 When the coal-fired power station was first constructed in 1926, it supported the British colonial administration's urgent need for a technologically advanced power plant in face of the harbour area's industrial growth. The Edwardian-style architecture was composed of voluminous, tall spaces that offered abundant natural lighting through triple-level arched windows. As the introduction of electricity meant less soot and thick dust, the building used lighter shades of colours, including fair-faced brick.
The brickwork has been meticulously restored in a way that retained the patina of aging, with steel windows that recaptured the façade's olden grandeur. Historic timber doors were removed and restored off-site before reinstallation, while clear and textured glass used during the previous renovation was retained as another layer in the building's history.

New floor slabs were inserted at one block, set back at a distance from the façade to retain the cavernous feeling of the space and allowing the entire envelope to be appreciated. The large central atrium space introduced between the building's two blocks reveal the different historic layers of construction.
The original glazed porcelain tiles were conserved by carefully extracting the wall upon which they were installed. Inevitable damage suffered from the removal of latter-day overlays has been left as 'scars'.
Skylights were added throughout the roof, allowing for more natural daylighting. Building services and maintenance areas are integrated along the historic steel roof trusses, together with a new acoustic ceiling. An underfloor air conditioning and mechanical ventilation (ACMV) system is used on the uppermost floors to avoid cluttering the ceiling.

The project won an award in the Special Category of the Singapore Institute of Architects (SIA) Architectural Design Awards 2022, with the jury commending the architects for embracing its complexity and scale with a finesse in integrating interior and exterior spaces.
---
PROJECT DATA
Project Name
Additions and alterations to St James Power Station
Project Location
3 Sentosa Gateway, Singapore
Completion Date
2022
Architecture Firm
W Architects Pte Ltd
Project Architect
Mok Wei Wei
Builder Firm
Lum Chang Interior Pte Ltd
Photos
Edward Hendricks
---

Previously Published Projects