Landscape / Jul - Aug 2018
Silk Road Corridor
For its winning competition scheme, HASSELL has been appointed as design partner for the development of a critical urban area within the new Qianhai business district of Shenzhen, one of China's important 'gateway' cities. As Mawan is a new area in Shenzhen, the plan focused more on strategic concepts; detailed landscape and sustainability input was not required at the initial stage. The mixed-use master plan concept consists of four layers that form an integrated and defined new public place: above and below ground neighbourhood zones; a continuous park; a series of pavilion buildings; and a 1.6-kilometre sky deck that weaves its way above and links the whole development. The idea of the deck in the winning concept serves as a 'boulevard in the sky', connecting buildings in the precinct and the park, as well as the wider city street network. It could provide an uninterrupted cycling and jogging path that promotes exercise and well-being, a central goal of the project.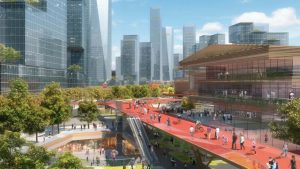 The sky deck provides an uninterrupted cycling and jogging path (image courtesy of HASSELL)
DESIGN INTENT
HASSELL's competition concept was to create a major green corridor that acts as the ecological and public activity spine for Mawan. Its urban intervention integrates landscaped spaces with programmes, as well as small-scale cultural and educational facilities to create a green civic precinct for the neighbourhood. At the macro-scale, the proposal creates a major north-south green spine and an extended network of pedestrian routes that connect with the surrounding area and their open spaces. Furthermore, this network connects with the major waterway to the east of Mawan to create a continuous ecological corridor. At the micro-scale, this green spine provides an opportunity to create a series of landscaped 'rooms' for the buildings, acting as outdoor foyers. Planting in the scheme is responsive to both the outdoor spaces and the buildings, and the buildings are designed according to orientation, solar access and wind, to take advantage of the setting.
Project Name
Silk Road Corridor
Location
Shenzhen, China
Status
Work in progress (winning competition scheme)
Site Area
1.6 kilometres
Gross Floor Area
43,935 square meters
Building Height
155 meters
Client/Owner
China Merchants
Architectural Firm
HASSELL
Principal Architect
Dennis Ho
Design Team
Weilun Chen; Minnie Chu; Albert Dy; Daewook Lee; I-Hsiang Lee; Joyce Leung; Carrie Li; Xiao Liang; Ismael Merchan; Jessica Sandford; Freda Yuen; Yufan Zhang; Qiming Zou; Hinok Cai; Endong Song; Di Zhong
Images/Photos
HASSELL
Previously Published Projects