Commercial / Jan - Feb 2016
Shops in a Park
January 22, 2016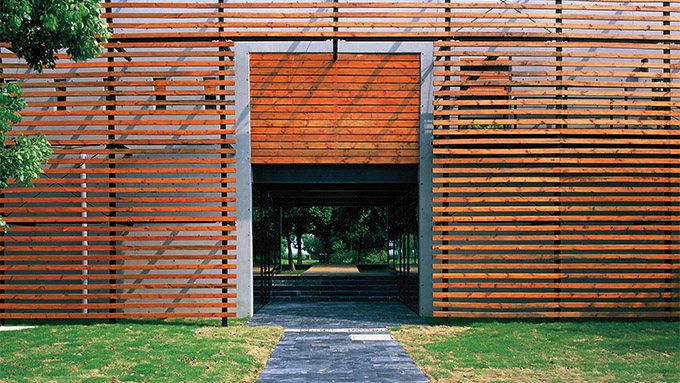 The western suburb of Kunshan, a booming industrial city next to Shanghai, is bounded by Lake Yangcheng. The city established a park to avoid the entire lakeshore from being encroached upon by a high-end home development. With an area of 42.5 hectares, Lake Yangcheng Park is the largest Green public space on the shore and is frequently visited by residents from the city during the weekends. The linear building site for the Visitor Center lies in the park, between the main parking lot and a curved boardwalk that leads to the waterfront and other attractions. Visitors will see a curved structure that is akin to a wall—99 metres long and 7.75 metres high—lying along the entire north side of the parking lot. However, this is not a simple solid wall.
SHOPS BEYOND THE 'WALL'

When visitors enter the varied-sized doorways in the 'wall', they will find retail spaces and other amenities between its two concrete exterior shells. The architect demonstrated one of the fundamental characteristics of Chinese traditional architecture by blurring the lines between the indoor and outdoor spaces. The first floor has an exhibition area for tourist orientation and spaces for several retail shops. Visitors passing through the 'wall' will find a quiet wooden deck that connects the back of the building to an existing boardwalk— under the shade of the dense trees, they can enjoy a relaxing time with beverages from the nearby shop. The sunken court under a ramp opens up to a shaded valley dotted with trees. The ramp leads visitors to the second floor where a roof court connects a café and a shop—the café has its own roof deck for visitors to enjoy the view of the lake.
INSIDE THE 'WALL'

The partitions inside the building create different ambiences: bright or dim; indoors or outdoors; high or low; and orthogonal or diagonal—various spaces are juxtaposed along the longitudinal direction of the cavity. Through the void inside the 'wall', visitors can catch a glimpse of the lake that lies at the west end of the site.
PROJECT DATA
Project Name
Visitor Center, Lake Yangcheng Park
Location
Kunshan, Jiangsu Province, China
Completion Date
2012
Site Area
2,960 square metres
Gross Floor Area
844 square metres
Number of Rooms
9
Building Height
7.65 metres
Clients/Owners
Kunshan City Construction, Investment and Development Co., Ltd.
Architecture Firm
Miao Design Studio (Design Architect); Hanjia Design Group, Shanghai (Architect of Record)
Principal Architect
Pu Miao
Main Contractor
Jiangsu Zhongda Construction Group, Co., Ltd. (general contractor); Suzhou Summing Decoration Co., Ltd. (subcontractor for curtain walls)
Mechanical & Electrical Engineers
Hanjia Design Group, Shanghai; Mu Lixin; Yu Yang; Wu Qiuyan
Civil & Structural Consultant
Shanghai Yuangui Structural Design Inc.,; Zhang Yewei; Liu Xiao
Images/Photos
Pu Miao
Previously Published Projects