Institutional, Online Exclusive Feature / 2022
Shenzhen Women & Children's Centre
November 9, 2022
In line with our ongoing design competition FuturArc Prize (FAP) 2023: Cross-Generational Architecture, we are highlighting projects along the theme for your inspiration. Click here to learn more about the brief!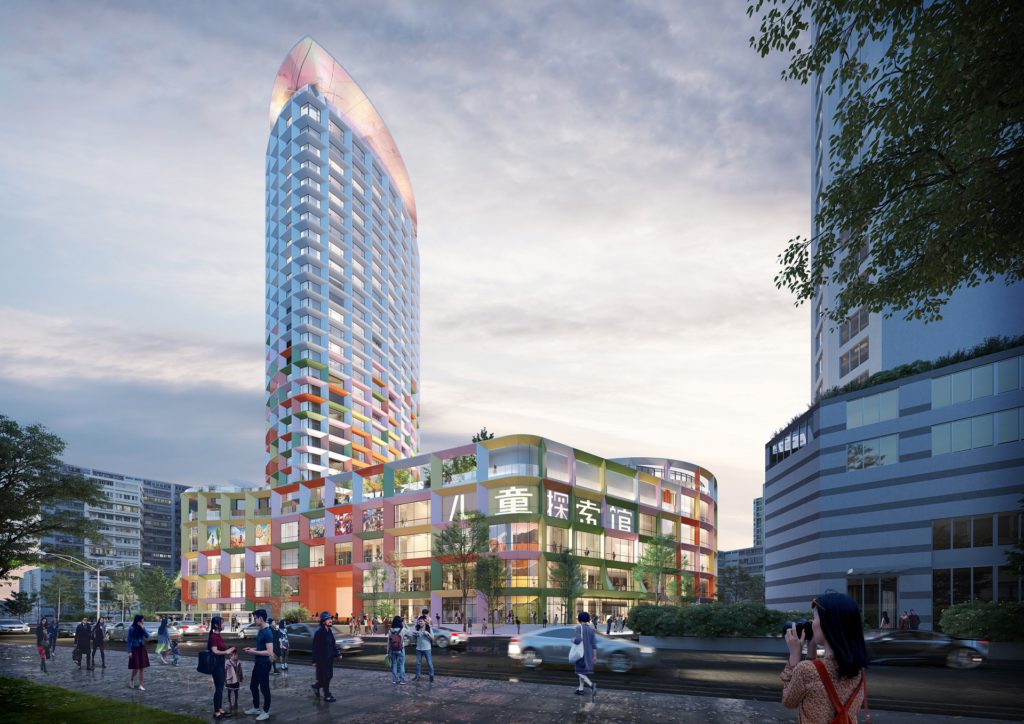 Since Shenzhen's designation as a Special Economic Zone in the 1980s, the oft-dubbed "miracle city" has experienced a faster growth rate than almost any other Chinese city—both for its built environment and its population. The citizens' average age is 29 and the city has one of the highest birth rates in China.
Shenzhen Women & Children's Centre was established as a mixed-use building that hosts a wide range of facilities for the welfare of women and children. These include a library, theatre and 'discovery hall' for children, a women's exhibition hall, a family service hall, and supporting facilities as well as offices and a hotel. Designed with a colourful façade and green roofs, the building repurposes a defunct 100-metre tower in Shenzhen's Futian district.
---
Colour talks
Multi-coloured exterior frames were added to dramatically increase the façade's depth, providing extra shading to improve the comfort level inside and the thermal performance of the building.

Colours are used to communicate the building's internal layout: the plinth is more colourful in order to delight people at street level, and to reference the building's function as a service centre for mothers and their children. The tower, which hosts a hotel in its upper floors and offices in its lower levels, is mostly white. Colours are also used to highlight features such as entrances, providing a welcoming atmosphere for visitors.
---
Inclusive design for the public
The central courtyard, which was previously used for car parking, was transformed into a public space with outdoor entertainment facilities for children. The access to this inner courtyard is completely barrier-free, making the building a public venue for the city.

The roofs of the plinth are used for green outdoor spaces, with one side of the building becoming an event space and the other used as an educational playground for children. The roofs and courtyard are strongly connected, with new external staircases added to allow easy movement between the two, and a slide to spark joy in getting around the building.
---
Playful interiors
Inside, the two main lobbies are designed in a playful manner. One of these lobbies is dedicated to the tower, while the other is for women and children's facilities in the plinth.
The tower lobby includes a colourful vertical puzzle that houses educational and entertaining activities for the children. The lobby for the women and children provides a more calming atmosphere with subdued tones, while openings punched into the shelves display fun features to capture children's imaginations.
Alongside the rooftop event space, the design also adds a 200-seat auditorium to turn the building into a hub for sharing knowledge. The tower crown will feature a large accessible terrace offering a 360-degree panorama. Visitors will be able to appreciate the structure, which stems from the tower core outwards: a vaulted wall featuring the work of a local female artist.
---
PROJECT DATA
Project Name
Shenzhen Women & Children's Centre
Location
Futian District, Shenzhen, China
Project Status
Under Construction (commenced 2021)
Area
57,900 square metres
Programmes
Women & Children's Centre; Offices; Hotel; Retail
Client
Shum Yip Group Limited
Architecture Firm
MVRDV
Founding Partner in Charge
Jacob van Rijs
Co-architect; Landscape Architect; MEP
SZAD (Shenzhen General Institute of Architectural Design and Research Co. Ltd.)
Project Coordination
Shenzhen Women & Children's Building Operation and Management Co., Ltd.
Facade Consultant
KGE (King Glass Engineering)
Structural Engineer
Yuanlizhu Engineering Consultants (Shenzhen) Co.,Ltd.
Lighting Consultant
BPI (Brandston Partnership Inc.)
Cost Calculation
Jinxia Property Cost Consultation Co.,Ltd.
Interior Architect
Jiang & Associates
Photos/Images
MVRDV

Previously Published Projects