Commercial, Online Exclusive Feature / 2020
Sangini House
September 27, 2020
WORKPLACE WELLNESS
The architecture and design of Sangini House explores ways in which it can respond to the context of the heritage in which it stands. This office building for the Sangini group characterises new strategies for a flexible, column-free office space that creates a new urban venture in the city's dense business district.
The site is located at Canal Road, where the areas on the Vesu – Canal corridor are redeveloped and the roads are newly constructed. The scheme is envisioned as an upcoming real-estate epicentre providing a revived infrastructure and a healthy lifestyle for its inhabitants.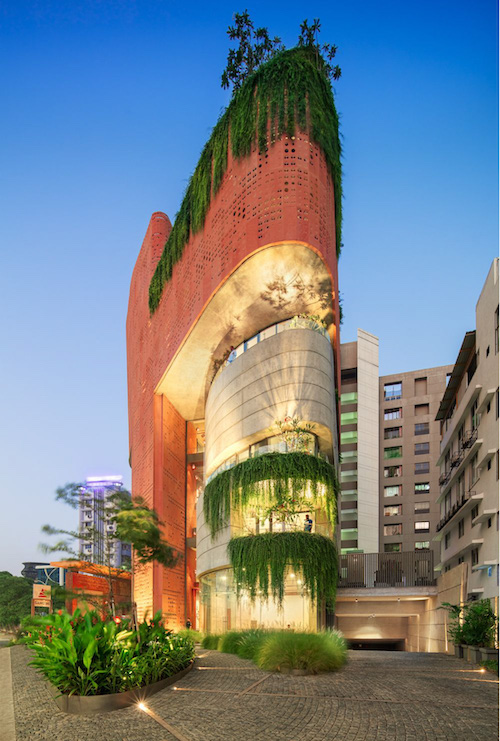 The design intent was to create a dynamic built volume that would be inviting to visitors. As such, cantilevered floor plates that defy the conventional grid structure with post-tensioned sweeping floors have been cast along with exposed concrete walls that are structural in nature.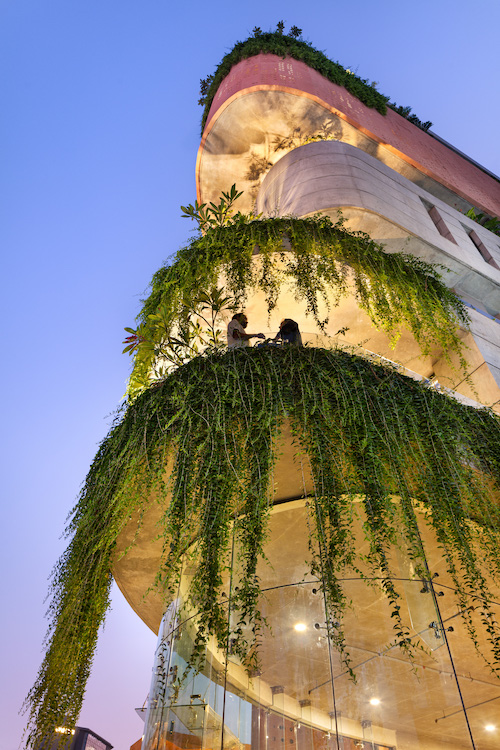 AN INVITING EXTERIOR
The eight-storey structure is thus visibly transformed into five storeys, which is a warmer, more approachable and composed space. From the entrance, the sight is directed along the sweeping skin into a double-height atrium, which opens into a court. Ample daylight is drawn into the various office levels and down through the building via the atrium. A small floor plate results in its segregation from the vertical core that comprises two lifts and a staircase.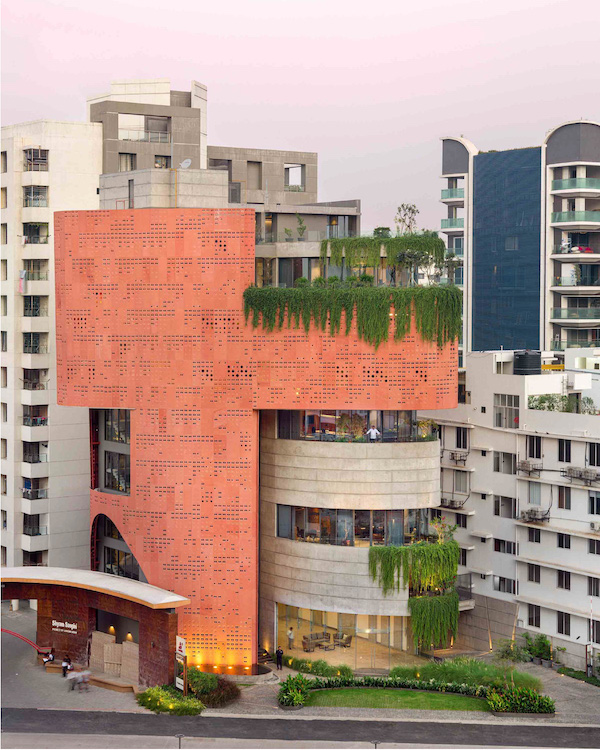 Guided by the building's orientation adopted through a sun path analysis, the environmental strategy enables programmatic and functional success. The stone 'skin' with three-dimensional perforations envelopes the core and provides shade from the harsh sunlight of the south and west throughout the day. The 'skin' wraps around on the fifth and sixth floor to unify the structure, creating an inviting volume with a toned-down scale that makes it look proportionate to the floor plate. A small floor plate results in its segregation from the vertical core that comprises two lifts and a staircase.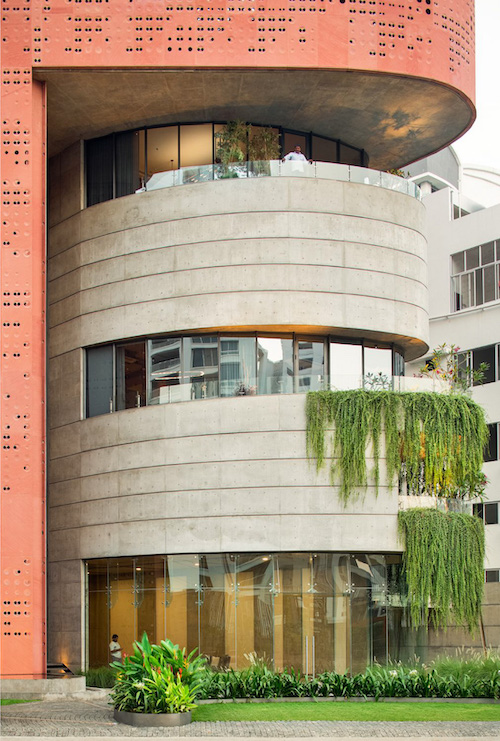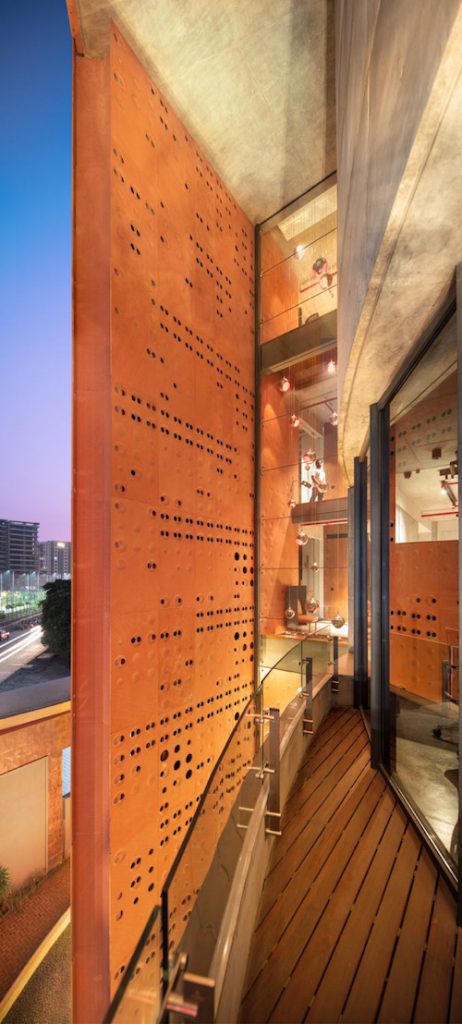 AN ELEGANT INTERIOR
The materials and finishes of the interiors are kept raw and natural. Most of the ceilings and walls are done in exposed concrete, with services such as electrical, air-conditioning, and fire safety equipment left bare, offering an industrial feel to the spaces inside.
The flooring is fashioned in light grey micro concrete on most of the layers, with the entrance, elevator passages and staircases done in exquisite granite. The furniture and partitions are customised as per functional needs and the nature of work. Adhering to the client's brief of keeping the interior spaces subtle yet elegant and opulent, natural materials are used with creativity, originality and innovation; the materials include stone, reclaimed wood, metal, marble, glass, ply and veneer, MDF, etc.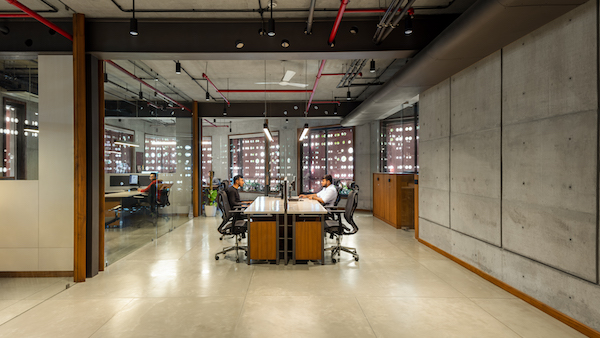 PASSIVE SYSTEMS
Along with the double-skin façade, the building also incorporates rainwater harvesting and drip irrigation systems that are used to optimise water consumption, radiant floors and ventilation systems that cater to cooling needs. Sangini House aims to achieve a Platinum Green rating.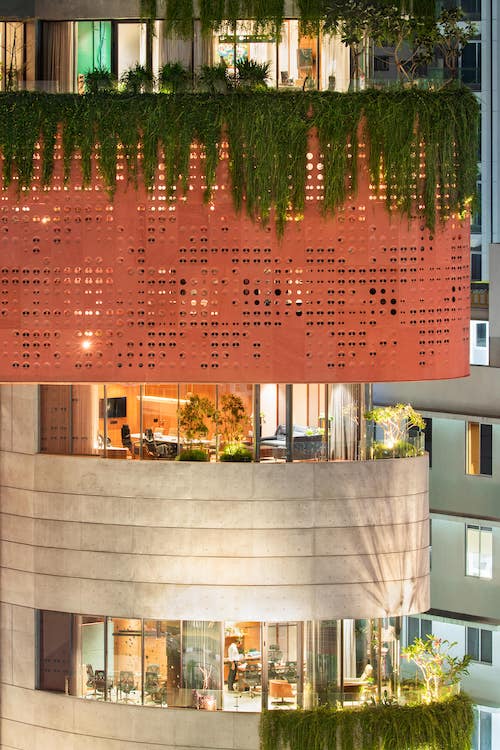 PROJECT DATA
| | |
| --- | --- |
| Project Name | Sangini House |
| Location | Canal Road, Vesu, Surat, Gujarat |
| Completion Date | 31 March 2019 |
| Site Area | 8,300 square feet (772 square metres) |
| Build-Up Area | 26,749 square feet (2,486 square metres) |
| Client | Adarsh Patel |
| Client's Firm | Sangini Group |
| Architecture firms | Urbanscape Architects; Utopia Designs |
| Principal Architects | Dinesh Panwar; Apurva Desai |
| Design Team (Architecture) | Vipul Nakrani; Urvakhsh Chichgar; Bhavin Swami; Dishant Patel; Suryaveer Patnaik; Mihir |
| Design Lead (Interiors) | Urvakhsh Chichgar; Vipul Nakrani |
| Design Team (Interiors) | Apurva Desai; Bhavin Swami; Dinesh Panwar; Unnati Patel; Riddhi |
| Structural Consultant | Hiren G Desai (Sai Consultants, Surat) |
| Electrical Consultant | Abtech Electricals |
| Landscape Design Consultant | I Design (Ashwini and Chintan) |
| Lighting Consultant | Mandala consultants |
| Images/Photos | Andre Fanthome; Noughts and Crosses |
Previously Published Projects