Institutional / 3rd Quarter 2022
Touch of Change: Writing New Memories Into Saigon's 'Frozen' Peninsula | FAP 2022 Merit
September 6, 2022
The neighbourhood in Thanh Da peninsula has been described as being 'frozen in time'. It is one of the oldest residential areas in Ho Chi Minh City (Saigon), bordered on all sides by the Saigon River and a canal, connected to the mainland by an access road. Due to a long history of stalled projects, the area is largely untouched by development when compared to its skyscraper-peppered surrounding districts.1
Within the area is Thanh Da Residence, one of Saigon's first apartment complexes built in 1960. It houses over 4,300 working-class households throughout 22 five-storey walk-up blocks. According to the team, this apartment complex is "one of the places that laid the foundation for the special community where people live, connect and grow together over the years." Despite the provision of open-air parks, markets and shops in the area, there is a lack of well-designed and programmed spaces where the community can actually engage in creative activities.
This proposal takes advantage of a disused high school at the heart of the complex. As it was initially built to be an elementary school, it failed to accommodate the number of high school students in the area. As the teaching activities have been moved elsewhere, this structure has stood empty for some time.
---
PUBLIC LIBRARY AS COMMUNITY CENTRE
The team proposed to reuse the school as a public library to provide a much-needed creative centre, which they hope would spark vitality into the old neighbourhood.

About 80 per cent of the existing school has been hardscaped, and the team identifies this lack of greenery as one of the factors that made the indoor atmosphere feel stifled. The structure was also that of a typical public school, with rooms of same sizes and monotonous design.
[This is an excerpt. Subscribe to the digital edition or hardcopy to read the complete article.]
1 https://e.vnexpress.net/news/news/25-years-of-construction-delays-freezes-saigon-peninsula-in-a-time-warp-3632017.html
---

FUTURARC PRIZE 2022: MERIT
Duyen Hong Anh Nguyen, Dang Anh Vy Nguyen, Thu Ngoc Ha Lam, Di Tuong Luu and Hoang Tu Uyen Pham are students at the University of Architecture Ho Chi Minh City, majoring in landscape architecture. With their background, they hope to contribute to the development of sustainable architecture across cultures and give a new perspective of reinterpretation in architecture.
PROJECT DATA
Project Location
Thanh Da Residence, Ward 27, Binh Thanh District, Ho Chi Minh City, Vietnam
Site Area
3,600 square metres
---
RELATED | FuturArc Prize 2022: Teams awarded at BCIAA Vietnam

FuturArc Prize 2022: Six teams awarded at BCIAA Vietnam | FuturArc
30 JUNE 2022 – Architecture students from Vietnam continue to set records for having the most winners for this cycle of FuturArc Prize (FAP). Six teams received their awards at the event of BCI Asia Awards (BCIAA) on 30 June 2022, comprising the 3rd Place winner and five merit recipients. With the p…

Matsubara Civic Library | FuturArc
Dotted with reservoirs to secure water for agriculture, Matsubara City has a characteristic landscape that is also speckled with tombs built in ancient times in its residential areas. Although the tombs are huge man-made structures, they came to resemble natural landforms and have become a part of t…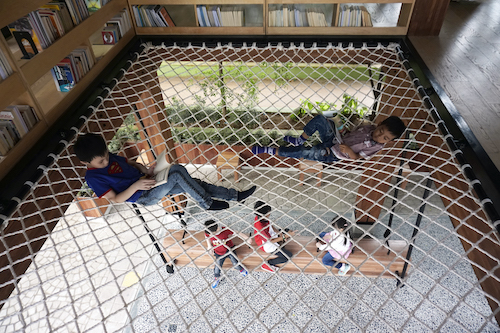 Microlibrary Warak Kayu | FuturArc
Microlibrary Warak Kayu is the latest addition to the architecture landscape of Semarang. and the fifth project within SHAU's Microlibrary series.

Previously Published Projects