Commercial / Jul - Aug 2017
Resorts and placemaking
A getaway to a resort is an ideal vacation for travellers seeking to destress from their urban hectic lifestyle, especially one that is set in a serene landscape.
Not only do these resorts offer a respite for weary tourists, they attempt to fit into their localities and implement environmentally friendly initiatives that seek to conserve, respect and respond to the fragile sites. They communicate the idea of eco-tourism by offering recreational activities that are in line with the site's parameters, and offer community involvement in the construction and maintenance.

In this story, we feature two resorts that are built unobtrusively into ecologically sensitive premises, and look at how they aim to be restorative developments in their respective ways.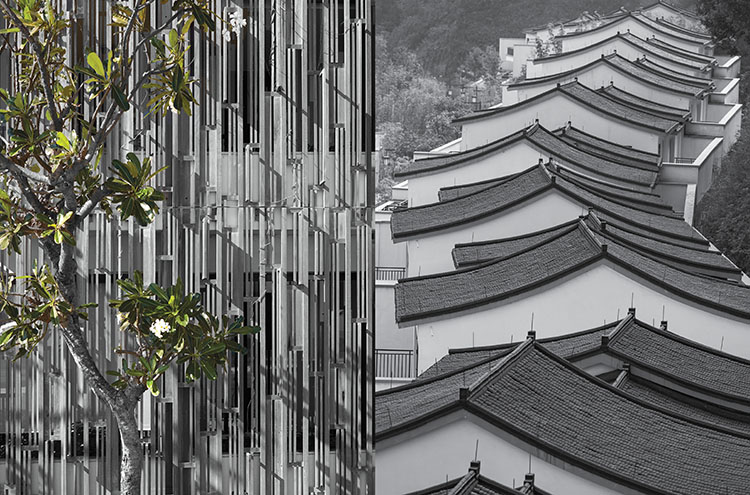 (Photo on the right) Close-up view of the bespoke vertical timber screen at Alila Seminyak
(Photo on the left) Sweeping dark-tiled roofs that reference traditional Chinese villages at Alila Anji
ALILA ANJI
TREADING LIGHTLY
A private resort accessible only to guests at an altitude of 1,600 metres, Alila Anji is tucked away in the hills of Anji, which was awarded the UN-Habitat Scroll of Honour in 2012 as one of the world's greenest cities. Developing a resort in such an environmentally sensitive site was something the architects took great pains—and six years—to do. They sought to preserve the serenity of the surroundings while keeping the resort's presence as unostentatious as possible; the property was built according to strict environmental and design standards following EarthCheck's guidelines and best practices.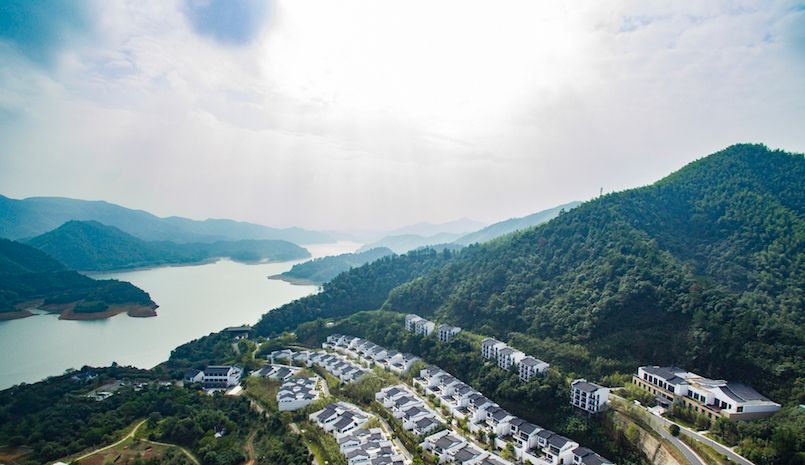 At the heart of Alila Anji's design and construction lies its relationship with the culture and heritage of the city. The resort references traditional Chinese villages in its 74 villas and suites—with clean, white exteriors and sweeping dark-tiled roofs, the architecture exudes a quiet elegance in the picturesque setting, providing a tranquil experience for guests.
As China's first national ecological county, Anji is dedicated to preserving its natural environment and developing pollution-free produce such as bamboo shoots and white tea. This project not only provides economic value but has also contributed to the growth of eco-friendly initiatives in the vicinity, minimising carbon footprint in an ecologically sensitive site.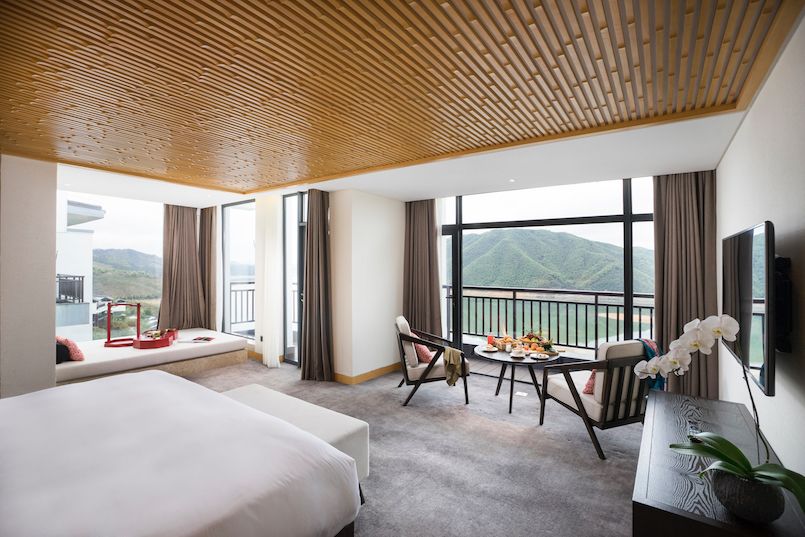 Project Name
Alila Anji
Location
The Meiziwan (Plum Tree Bay), Scenic Area, Hang Gai town, Anji County, ZHejiang Province, China
Completion Date
June 2016
Site Area
100 hectares
Number of Rooms
74 villas and suites
Client/Owner
MKH Properties
Architecture Firm
Beijing Zhong Waijiang
Main Constructor
Zhejiang Da Yun Construction
Images/Photos
Alila Hotels and Resorts

ALILA SEMINYAK
A TROPICAL SECRET GARDEN
In the face of challenging tourism demands and commercial pressures, this resort has emerged as a showcase of contemporary architecture in an ecologically sensitive location. It was mandatory to have 50 percent of open green spaces within the 4.75-acre site, for which the architects were originally tasked to design a 300-room resort. After consultations with the client, the architects were able to conclude with a 240-room development that recaptured 83 percent of the original green cover of the land by using vertical, roof and micro gardens throughout the property.
To reduce solar heat gain, 90 percent of existing trees were retained—larger trees were left on-site, and the rest were moved to a temporary nursery for replanting on-site after construction. The open layout allows the cluster of multiple buildings—akin to a typical Balinese residential compound—to break the mass and scale of the development, where the use of passive cooling, daylighting and shading is maximised.
SCREENED BEAUTY
A key feature of the resort is a bespoke vertical timber screen that has been integrated with the vertical gardens, green roofs and landscaped terraces. The screens not only serve as backdrop to the vertical plantings but also provide privacy and solar shading. The screen pattern is also applied as a recurring motif in the skylights, corridors, rooms, floors, signage, finishes and furniture. The architect has blurred the lines between the outdoors and indoors by using operable glazed sliding doors for the rooms, which offer natural cross ventilation for a large part of the year. When the sliding doors are opened, sensors are triggered and the air-conditioner is automatically switched off. To reduce the loss in temperature, fresh air supply to the rooms is pre-cooled with waste cold air from the rooms through insulated return air ducts. A transparent net fabric concealed in the balcony's ceiling prevents insects from entering and allows guests to have an option of a naturally ventilated environment.
LOCAL RESOURCES AND SOCIAL IMPACT
A narrow corridor, which leads to the entrance of the resort, has an adjacent drainage canal. During the construction phase, the architects worked closely with the landscape architect, construction team and the local residents to clean up the canal. Plants such as Vetiver grass were planted strategically to help clean the waste water. Roads and pathways at Alila Seminyak had been constructed with little to no concrete to allow for maximum groundwater recharge—permeable roads made up of porous blocks absorb rainwater back into the ground.
Alila Seminyak is the first resort in Indonesia to be accredited by EarthCheck 2013 Building, Planning and Design. It was also a finalist in the 2016 Asia Hotel Design Awards (AHDA) and shortlisted in the 2016 World Architecture Festival (WAF) Awards.
---
Project Name
Alila Seminyak
Location
Bali, Indonesia
Completion Date
October 2015
Site Area
19,205 square meters
Gross Floor Area
38,350 square meters
Number of Rooms
240
Building Height
24 meters
Client/Owner
PT Anaamaya Mitra Selaras
Architecture Firm
URBNarc Pte Ltd
Principal Architect
Gaurang Khemka
Design Team
Alejandro Moran; Maverick Larlosa; Vebrayani valentina; Abhsibakek Mathur; Agung Pamujadi; Rika Iam; KArolina vainsnoraite; Anita Rahman
Landscape Consultant
Salad Dressing Pte Ltd
Main Constructor
PT Acset Indonusa Tbk
Mechanical &Electrical Engineering
Arman Pratama Consultants
Lighting Consultant
Hadi Komara &Associaltes
Images/Photos
Aaron Pcocok; Alita Seminyak; URBNarc Pte Ltd
Previously Published Projects