Commercial / Mar - Apr 2016
Regeneration of Taoyuan International Airport, Terminal 1
March 22, 2016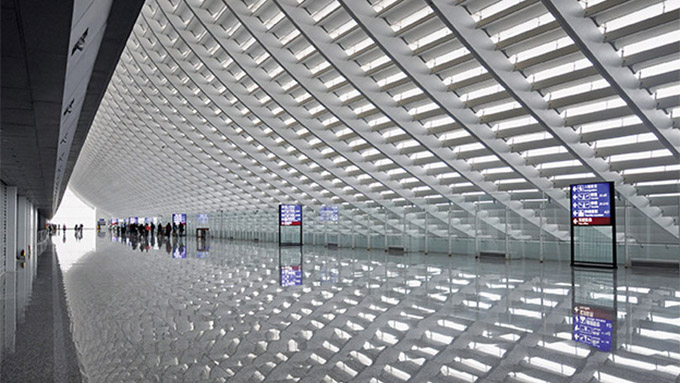 The Taiwan Taoyuan International Airport Terminal 1 was built in 1979 and its design was influenced by Eero Saarinen's Washington Dulles International Airport. Featuring a prestressed structure that was considered advanced at that time, the old Terminal 1 was serving an estimated number of 5 million passengers annually.
While still in good architectural condition, the 30-year-old terminal was already operating beyond its capacity and had become outdated. Due to subsequent rapid growth of passengers, a regeneration project was started not only to reestablish a new main gateway, but also to expand the terminal and increase passenger capacity to 15 million a year without tearing down the existing structure.
DESIGN

The goal of the redevelopment project was to create a sense of continuity with the past while accommodating change.
PROJECT DATA
Project Name
Regeneration of Taoyuan International Airport, Terminal 1
Location
Dayuan Township, Taoyuan County 337, Taiwan
Completion Date
June 2013
Site Area
33,719 square metres
Gross Floor Area
107,610 square metres
Building Height
4 storeys plus 1 basement
Clients/Owners
Civil Aeronautics Administration, Ministry of Transportation and Communications
Architecture Firm
Norihiko Dan and Associates
Principal Architect
Norihiko Dan
Design Team
Ming-Hsien Wang; Eiji Sawano; Austris Jankovskis; Ralitsa Kafova; Masato Shiihashi; Tadashi Yoshimura
Supervision Architect
SHEU Architect and Associate
Structural Engineer
Structure Design Group (Kunio Watanabe)
Mechanical Engineer
Uichi Inoue Equipment Laboratory
Air-conditioning
Uichi Inoue Equipment Laboratory
Interior Architect
Norihiko Dan and Associates
Landscape Architect
Norihiko Dan and Associates
Images/Photos
Norihiko Dan and Associates
Previously Published Projects