Commercial / 2022
Q Gallery Building: A large 'tree pot' in the city
July 20, 2022
Ho Chi Minh City as the largest urban area in Vietnam is facing problems of pollution and increasing temperatures, hampering citizens' quality of life. These problems are exacerbated by the growth of hardscaped land alongside a lack of green space.
According to the General Department of Forestry, the ratio of tree cover in Vietnam's large cities is presently at 2-3 square metres per person. This is well below the United Nations' minimum target of 10 square metres for each person, and only one-tenth compared to other countries such as Singapore at 30.3 and Germany at 50 square metres per person.
"The mission of architects is to not only fulfil the functional requirements of the investor, but also to ensure a contribution to urban greening," said the architects behind Q Gallery Building.
This office complex-cum-serviced apartment is located at a branch road to the Vo Van Kiet boulevard. The site is close to houses and schools, giving rise to the need for maintaining privacy and filtering pollution and noise to and from the building.
---
Design and materials

To deploy greenery in large scale and enhance the microclimate, the architects designed arch-shaped apartment balconies that will be suffused with trees. The office block beneath it is likened to a large pot, while the prominent balconies are the plants that spring forth.
A key technical challenge was to modularise the façade pots in a way that would make them most convenient for construction, while also handling the water supply and drainage for the potted plant system. The solution was to use fibreglass-reinforced concrete panels, which are ultra-light and durable for the water collection system. On the office levels, a combination of solid 'fins' and glass, oriented accordingly from the 2nd to the 6th floor, helps to limit radiation by shading the façade.
The project fulfils the client's requirements of creating a distinct identity while demonstrating a rationale from function to form, based on the desire to create a large 'tree pot' in an attempt to Green the city.

---
PROJECT DATA
Project Name
Q Gallery Building
Location
Vo Van Kiet Street, District 1, Ho Chi Minh City, Vietnam
Status
Under construction (Technical Design)
Expected Completion
June 2023
Site Area
831.7 square metres
Gross Floor Area            
6,254 square metres
Building Height
15 floors; 4 basements
Client/Owner   
Q Gallery
Architecture Firm          
A+ Architects
Principal Architect
Vu Hoang Kha
Main Contractor
APlus Build
Mechanical & Electrical Engineer
KONI
Civil & Structural Engineer
T&B.Cons
Images
A+ Architects
---
Related stories:
Between inside and outside: Small offices, Vietnam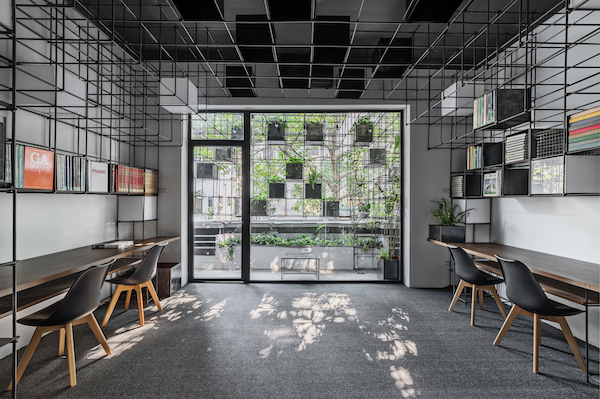 Between inside and outside: Small offices, Vietnam | FuturArc
Two architecture studios, two different ideas, and one objective: a look at how architects in Vietnam are using their own offices as test beds for architectural solutions to bring greenery back into compact built spaces in dense urban areas. SYMBIOSIS OFFICE The city of Hue, once taking the title of…

276 Office by A+ Architects | FuturArc
Binh Duong, a province adjacent to Ho Chi Minh City as Vietnam's economic and cultural capital, is being developed to hold industrial estates. Sitting in this context is the site of 276 Office, which serves a company that provides water and waste treatment solutions for industries. They wanted a wor…
Maximising nature with out-of-the-box office designs

Maximising nature with out-of-the-box office designs | FuturArc
As various places in the world are choosing to move from a fully or partially remote work arrangement to going back to offices, there is a growing desire to not be cooped up in air-conditioned boxes, incorporating more of Nature for fresher and 'cleaner' air. In the wake of lessons learnt from the c…
Previously Published Projects