Institutional, Residential / May - Jun 2016
Pioneer and Crescent Halls, Nanyang Technological University, Singapore
May 7, 2016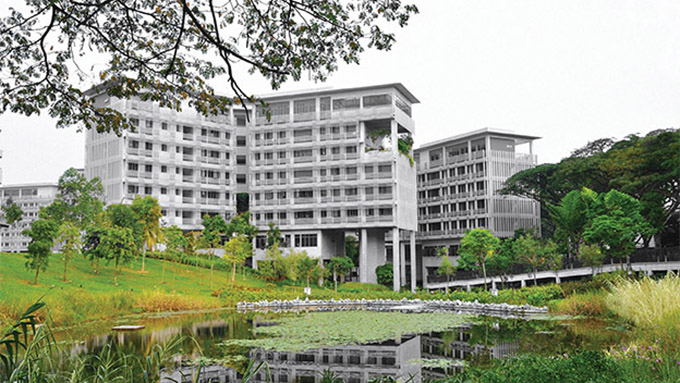 Within the green network at the Nanyang Technological University's (NTU) Garden Campus are eight tree-like blocks that serve as student dormitories— each one has a three-directional planar formation that resembles branches stemming from a tree trunk. Despite a spatial constraint of the site, the blocks are positioned in such a way that maximise their interaction with greenery, wind and water. This synergy of the green and blue infrastructures seeks to enhance the quality of life of the students and communities.
ECOLOGY

What used to be an open, swampy drain that cuts across the valley of the site and a muddy lotus pond at the top of the valley have now been transformed. Instead of a conventional cut and fill, the architects wanted to respect the original terrain and has modified the existing drain into water bodies that are capable of cleansing storm water following the guidelines from the ABC Waters design features. The lotus pond has been converted into a sedimentation basin while the open drain is now a wetland and a retention pond, with rain gardens and cleansing biotope added. These water bodies are not only visually pleasing but also act as a holistic treatment train that cleanses storm water before it enters the public drains. The integration of naturalised water bodies and living quarters creates a Green environment where flora and fauna can thrive, enhancing the biodiversity of the site as compared to its former state. While this feature is opened to the campus as an educational tool on natural habitats, it hopes to become a prototype for future private or public residential developments locally and regionally. The waterscape has since obtained the ABC Waters Certification from the Public Utilities Board (PUB) after a thorough verification of the design, implementation and performance on-site.
ENVIRONMENTALLY FRIENDLY AND USERSENSITIVE DESIGNS

The student bedrooms are designed with a double skin façade that regulates sunlight and wind. On the outer skin, the grid-like aluminium louvres minimise direct solar glare and heat gain, and are positioned horizontally or vertically in order to optimise the shading intensity according to the solar glare simulations for the façade's respective orientations. On the inner skin, the double-glazed casement windows catch the wind when opened and allow an increased airflow through the bedrooms. This 'breathing' façade system not only gives the building texture and depth, but also provides physical comfort and wellness to the residents. In addition, the roof is fully cladded with photovoltaics and solar hot water panels, which help maximise energy savings.
PROJECT DATA
Project Name
Pioneer and Crescent Halls, Nanyang Technological University, Singapore
Location
Nanyang Crescent, Singapore
Completion Date
18 July 2014
Site Area
34,050.06 square metres
Gross Floor Area
34,967.98 square metres
Number of Rooms
860 single bedrooms, 195 double bedrooms
Building Height
53.50 metres
Client/Owner
Office of Development Facilities Management, Nanyang Technological University
Architecture Firm
RSP Architects Planners & Engineers (Pte.) Ltd.; Toyo Ito & Associates, Architects
Principal Architect
Lee Kut Cheung; Toyo Ito
Main Contractor
Santarli – Zheng Keng Joint Venture
Civil & Structural Engineer
KTP Consultants Pte. Ltd.
Mechanical & Electrical Engineer
Mott MacDonald Singapore Pte. Ltd.
Quantity Surveyor
WT Partnership (S) Pte. Ltd.
ESD Consultant
Building System and Diagnostics Pte. Ltd.
Landscape Architect
Sitetectonix Pte. Ltd.
ABC Waters Specialists
Greenology Pte. Ltd; CPG Consultants
Images/Photos
RSP Architects Planners & Engineers (Pte.) Ltd.; Toyo Ito & Associates, Architects; Building System and Diagnostics Pte. Ltd.
Previously Published Projects