Commercial / Mar - Apr 2016
Onagawa Station
March 22, 2016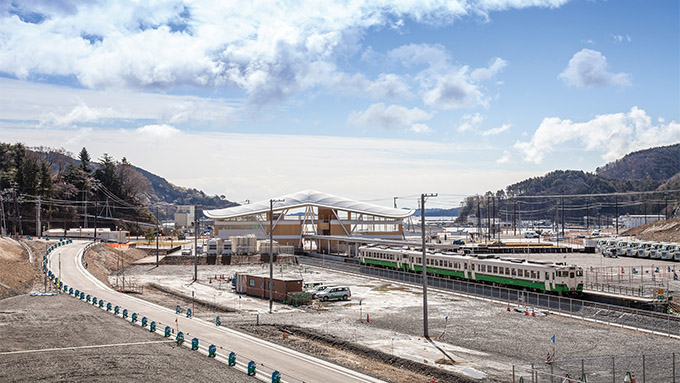 In March 2011, the Great East Japan earthquake spawned a series of massive tsunamis that claimed thousands of lives and damaged many coastal areas of the country. Onagawa station, a terminal along the Ishinomaki Line, was among those affected. The station and nearby railway tracks were destroyed. Four years later, the reconstruction of the new station, built approximately 150 to 200 metres inland from the old building, was completed.
The Onagawa Station has one bay platform, serving a single track, connected to the station building by a footbridge1. There is a large plaza positioned adjacent to the terminal. The restored three-storey building consists of retail shops, waiting areas on the first floor, a public hot spring facility on the second floor and a viewing deck on the third floor. The station also features an integrated community centre on the upper floors.
The architect Shigeru Ban designed the shape of the roof based on an image of a soaring gull with its wings spread, symbolising the thoughts and prayers offered to the rebuilding efforts of the disaster-stricken area. The lattice roof structure and the use of pale wood are visible throughout the interior. Local residents involved in the site's recovery were invited to hand paint tiles that were subsequently made into two murals decorating the spa areas.
PROJECT DATA
| | |
| --- | --- |
| Project Name | Onagawa Station |
| Location | Onagawa, Miyagi, Japan |
| Completion Date | February 2015 |
| Site Area | 559.91 square metres |
| Gross Floor Area | 899.51 square metres |
| Building Height | 9.832 metres |
| Clients/Owners | Onagawa City |
| Architecture Firm | Shigeru Ban Architects |
| Principal Architect | Shigeru Ban |
| Main Contractor | Toda Corporation |
| Mechanical & Electrical Engineer | Chiku Engineering Consultants |
| Civil & Structural Engineer | Hoshino Architect & Engineer |
| Images/Photos | Hiroyuki Hirai; Shigeru Ban Architects |
Previously Published Projects