Commercial / Nov - Dec 2016
Novartis campus
November 7, 2016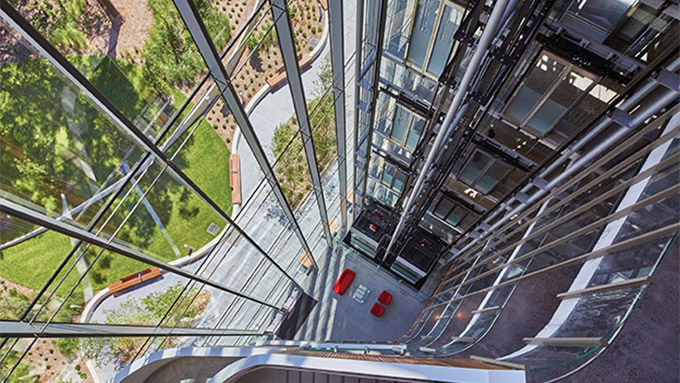 The towering six-storey wall of glass of the Australian Novartis building immediately draws one's attention—soaring ceilings and a curved timber-clad stairway overlooking the atrium winds from floor to floor, creating an open and modern effect. In line with demonstrating Novartis as a transparent organisation, glass is used as façade material, inviting natural lighting while visually connecting the occupants to nature.
OPEN TO COLLABORATION
The architects have taken the open concept to the next level in designing this office—they emphasise, through the use of open spaces with multiple functions, an increasing interaction between and within businesses and different divisions. Doing away with barriers like cubicles, this layout promotes sociability and interaction and encourages collaboration between colleagues. In order to develop a framework that offers both choice and flexibility, there is no assigned seating; it depends on user needs.
Open spaces towards the centre of the building have been customised for teams doing group work. This also creates a series of interactive opportunities and promotes communication between levels, departments, businesses and associates. The stairs lead to the collaboration zones at the centre of each floor, bypassing four glass lifts and a kitchen. There are also quiet areas for privacy away from this central space. Seats by the window offer natural lighting where the brightness can be adjusted with blinds to suit individual preferences. Employees can also choose to spend time on the rooftop or in the garden.
PROJECT DATA
Project Name
Novartis Campus
Location
Macquarie Park NSW 2113, Australia
Completion Date
December 2015
Building Height
6 storeys; 28 metres
Client/Owner
Novartis Pharmaceuticals Australia Pty Ltd
Architecture Firm
HDR | Rice Daubney
Director of Design
Paul Reidy
Main Contractor
Ganellen
Mechanical & Electrical Engineer
AECOM
Civil & Structural Engineer
Taylor Thomson Whitting Pty Ltd
Images/Photos
Tyrone Branigan; HDR | Rice Daubney
Previously Published Projects