Commercial, Social / Jul - Aug 2016
Nest We Grow
July 22, 2016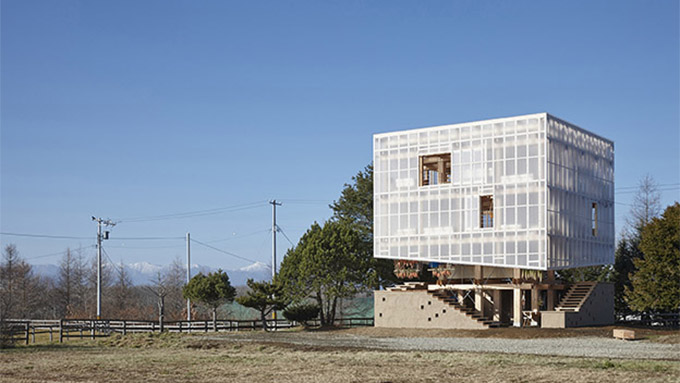 The primary purpose of Nest We Grow—a food hub that is part garden, part kitchen—is to bring the community together to store, prepare and enjoy local foods in a welcoming and festive atmosphere that touches all five senses. An open, public structure, it was completed in just over six months due to a short building season, under the supervision of Japanese architect Kengo Kuma.
Conceived by six graduate students (from China, US and Taiwan) and their professors from UC Berkeley's College of Environmental Design, it transposes a Californian approach to an Asian setting. In particular, it considers how modest materials and actions are embraced in Berkeley and how this would work in a remote, rural part of Japan known for its extreme weather conditions, while paying tribute to the Japanese agricultural landscape of fields, forests and a river.
The project won an international design-build competition, which searches for innovative, environmentally friendly ideas that respond to the site and local culture, and is open to a limited number of universities. This results each year in the construction of an experimental building located in the Memu Meadows Centre for Research on Environmental Technologies, a former horse-racing farm in the village of Taiki on the island of Hokkaido.
Design team member Hsin-Yu Chen said, "Our relationship to shared spaces and how they can influence the surrounding community come from our experiences in Berkeley. There is a natural vibe of a supportive community, which stems partly from the community gardens that are dotted around the neighbourhoods. These gardens not only act as open spaces in a fairly residential area, but also create improved meeting places for community members to engage with one another and the natural environment. The architecture of Berkeley speaks of a simple but well-crafted construction typology through the Arts and Crafts Movement that is still prominent in the area, which highlights traditional craftsmanship. We sought out this language for our design to take advantage of the materials and local craftsmanship still found in Japan."
Wood was the main material employed, which acts as both structure and finish for most of the building: glulam for the columns and beams, plywood for the floor surfaces and dimensional lumber for the planking used as walkways.
A heavy timber construction technique from the US using large sections of wood resulted in the composite column, which combines smaller pieces of wood to form a larger column. The method of joining materials was shaped by native carpentry traditions and the Japanese material market. Nine composite columns in locally sourced laminated larch composed the main structure of the Nest, each formed from four 150- by 150-millimetre columns, linked by steel plates.
Local craftsmen notched two pairs of 75- by 250-millimetre beams into the composite columns at regular distances, a technique stemming from traditional Japanese carpentry that helps to bolster structural stability. The interior design and furniture, such as concrete stools and wood bench, were made using residual materials left over from the construction process.
PROJECT DATA
Project Name
Nest We Grow
Location
Memu Meadows, Taiki-cho, Hokkaido, Japan
Completion Date
November 2014
Site Area
85.4 square metres
Gross Floor Area
129 square metres
Building Height
10.1 metres
Client/Owner
LIXIL JS Foundation
Architecture Firm
Kengo Kuma & Associates; UC Berkeley College of Environmental Design
Principal Architects
Kengo Kuma
Design Team
UC Berkeley College of Environmental Design: Hsiu Wei Chang; Hsin-Yu Chen; Fanzheng Dong; Yan Xin Huang; Baxter Smith; Max Edwards (Instructors: Dana Buntrock; Mark Anderson)
Main Contractor
Takahashi Construction Company
Mechanical & Electrical Engineer
Tomonari Yashiro Laboratory at the Institute of Industrial Science, University of Tokyo (Bumpei Magori; Yu Morishita)
Civil & Structural Engineer
Masato Araya
Images/Photos
Shinkenchiku-sha Co., Ltd.; Erieta Attali; UC Berkeley College of Environmental Design; Hsin-Yu Chen
Previously Published Projects