Commercial / Sep - Oct 2016
Nanoco-Panasonic Lighting Showroom
July 22, 2016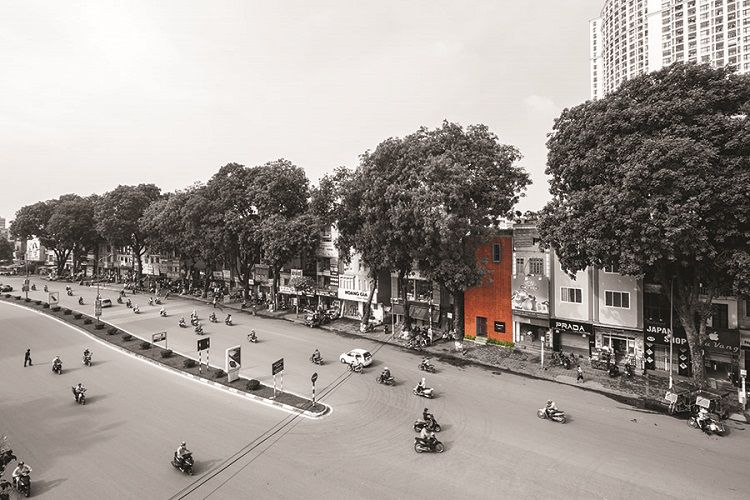 Located in a developing area in the city of Hanoi, the lighting showroom is, well, a showpiece that exemplifies the use of simple local materials like terracotta blocks done right. With limited openings, the perforated blocks have created a statement façade by way of vertical stacks, achieving a simple yet abstract volume. At night, the showroom 'lights up' like a lantern with a latticed screen, befitting the purpose of this project. Terracotta is a traditional building material in Vietnam, often used for its porous characteristic, which allows for natural ventilation.
The structural gasket was locally produced and applied to the double skin wall to support the inner façade made of glass. Inside, the use of a steel (sourced locally) staircase and vinyl flooring complements the colour and warmth of the terracotta blocks, which are visible from the interior.
Perforated terracotta blocks also cover the exhibition gallery on the top floor, which not only create an interesting play of shadows, but also allow daylight to illuminate the space. In addition, the slit skylights, which are partially covered by bougainvillea, also provide visitors with natural light and a visual connection to the sky. There is also a small bay window framing the view of the street. The gallery space has already been used for several architectural exhibitions in Hanoi.
PROJECT DATA
Project Name
Nanoco-Panasonic Lighting Showroom
Location
83 Duong lang, Dong Da District, Hanoi, Vietnam
Completion Date
January 2016
Site Area
72 square meters
Gross Floor Area
383 square meters
Buidling Height
13 meters
Client Owners
Fortune-Nano Electrical Company (Nanoco)
Architecture Firm
Vo Trong Ngihia; Takashi Niwa
Principal Architects
Vo Trong Ngihia; Takashi Niwa
Main Contractor
Dai Duong JSC
Images/Photos
Hiroyuki Oki; Vo Trong Architects
Previously Published Projects