Commercial / May - Jun 2016
Naman Retreat
May 7, 2016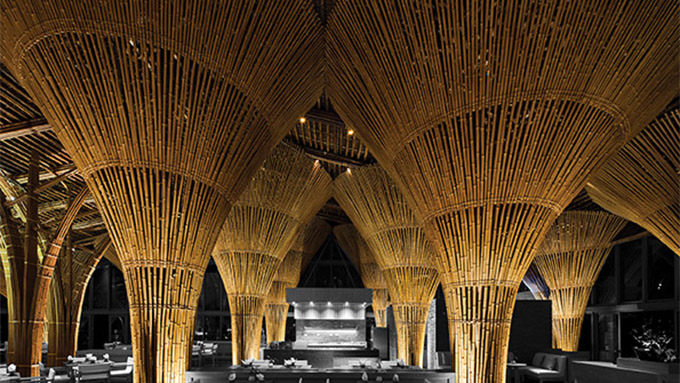 Situated in the middle of Vietnam between Da Nang and Hoi An cities, this project is located in an area with many tourist attractions, such as the ancient town in Hoi An and beaches. The brief was to create a resort that would correspond with Vietnam's handicrafts, traditions and climate. The resort has an overall eco-friendly concept and was built with a mix of greenery, stone and bamboo.
GREEN FAÇADE AND OTHER ECO-DESIGN STRATEGIES

The buildings of the resort have been designed to withstand the local climate and provide evaporative cooling for the guests' comfort. Babylon Hotel, the tallest building in the resort, is designed with a system of vertical concrete louvres covering the façade—a prototype of double skin layer, adding available spaces for interlaced greening, while reducing heat from direct sunlight and allowing for natural wind flow. It is a visible landmark from the direction of the coastline and stands out from the rest of the nearby buildings. The 32-room, three-storey building is arranged in an L-shaped layout enclosing a swimming pool.
BAMBOO USE AND TECHNIQUES

For the central facilities of the resort—the conference hall, restaurant and bar, and the beach bar—bamboo has been applied extensively. There are two types of bamboo used in the buildings: Luong bamboo for the straight columns, chosen for its strength and length that can reach up to 8 metres; and Tam Vong bamboo for the arches, for its flexibility. The design follows the features of each bamboo type to combine them in the most efficient way.
PROJECT DATA
Project Name
Naman Retreat
Location
Da Nang, Vietnam
Completion Date
March 2015
Site Area
3 hectares
Gross Floor Area
9,452 square metres (Babylon Hotel: 2,480 square metres; conference hall: 773 square metres; beach bar: 143 square metres; Hay Hay Restaurant and bar: 2,124 square metres and 100 square metres)
Number of Rooms
81
Building Height
15 meters
Client/Owner
Thanh Do Investment Development and Construction JSC
Architecture Firm
Vo Trong Nghia Architects
Civil & Structural Engineer
Viet Structure JSC
Main Contractor
Thanh Do Investment Development and Construction JSC
Subcontractors
Vo Trong Nghia Architects; Vinaconex 25 JSC; Thanh Quan JSC
Images/Photos
Hiroyuki Oki; Vo Trong Nghia Architects
Previously Published Projects