Commercial, Design Idea, Online Exclusive Feature, Social / 2020
Modular design of mobile hospitals for the treatment of COVID-19
by VHL Architecture; Danang Architecture University
April 16, 2020
With the critical global situation of the COVID-19 pandemic, healthcare systems all over the world are facing a serious shortage of patient beds and ventilators due to the constantly increasing number of COVID-19 patients.
As such, VHL Architecture has cooperated with Da Nang Architecture University to introduce a new design for the assembly of mobile hospitals in order to resolve the grave inadequacy of hospital beds in countries around the world. The architects address how the new model is able to ensure the full functions and facilities of a medical examination and treatment facility while being built for mass production at a factory. The model also aims to offer low installation costs to meet the current poor economic conditions.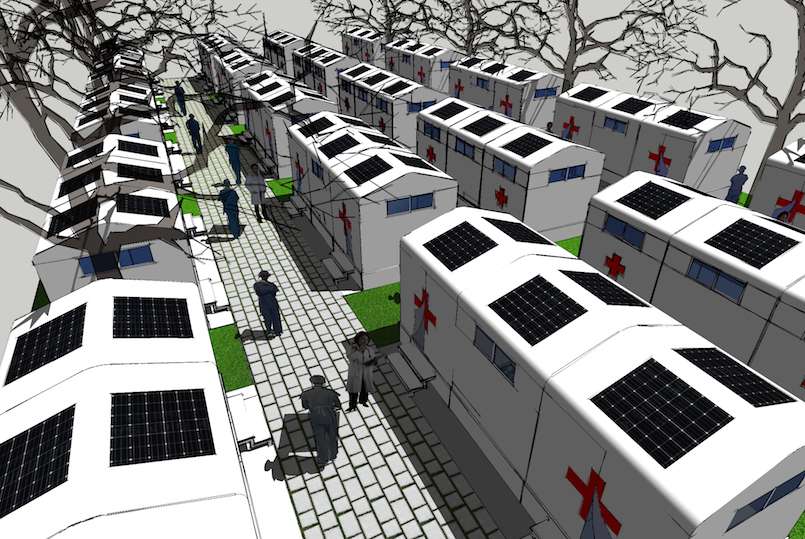 The basic size of this 20-foot container can be divided into four parts to ensure that the transportation of the model can be moved easily anywhere, from urban to remote rural areas. The materials required include iron tubes, cement board and tarpaulin (cover canvas), most of which are easily available in the construction market and are sold in most localities. With government funding, the parts can be mass produced at a factory and assembled easily on-site on any flat terrains (a park, a field, or in the yard of a hospital), where no piling is needed. Even students and trainees can assist in the set-up, since there are no special skills involved—these components are modularised, with simple instructions for installation. In addition, without the need for site clearance and a handover, the project can be assembled quickly. Governmental aid is crucial with regards to cost, as well as the daily technical and operational requirements in order to upkeep the functions of a medical facility.
An iron box is put together using small detachable screws. Medical equipment and devices such as the oxygen ventilator and ECMO machines can be placed in the box; other specialised equipment can be placed underground to save space. The floor can be made up of lightweight cement panels with standard dimensions of 1.2 by 2.4 metres.
A solar panel system, which is supported by an IoT network connection, can be mounted on the roof, contributing to energy savings. Two solar panels, generating 1.2 kilowatts, will be needed for each treatment room unit to power the medical devices, and a backup battery placed underground can be tapped into when there is insufficient solar power. In addition, the electric system in the unit can also be connected to the national grid for emergencies.
No
Material Name
Quantity
Unit Price (USD)
Total Cost (USD)
1
Iron tube (30 by 60 millimetres)
6
4
24
2
Cemboard
5
30
150
3
Canvas tarps
1
10
10
4
Squat toilet
1
45
45
5
Basin
1
42
42
6
Shower
1
55
55
7
Faucet
1
35
35
8
Vinyl flooring
1
67
67
9
Electrical appliances including light switches, fans, etc.
1
85
85
10
Solar panels
2
105
210
11
Backup battery
2
80
160
12
Plastic box
3
55
165
Total cost
1048
The size of a room unit is 2 by 2.4 metres, with one bed and enough space for medical examinations and treatment processes. The washroom for each room ensures privacy for each patient.
Feasibility of realisation
This model is adapted to respond to epidemics, natural disasters, wars or asylums, so they can be deployed as soon as there is an outbreak, depending on the need from governments, communities or organisations.
They can become a reality once the following three factors are accounted for:
Contextual factor: When hospitals are overloaded with patients, or there are remote places without beds, this model can be easily transported to any location.
Economic factor: With a relatively low cost/price of about US$1,000, any factory or mechanical workshop can produce the required parts (VHL Architecture will supply the whole blueprint).
Functional factor: This model is equipped with the full functions and facilities for medical examination and treatment to take place.
Firms: VHL Architecture; Danang Architecture University
Design Team: Vo Huu Linh; Vo Huu Hieu; Nguyen Hong Son
Previously Published Projects