Institutional / 1st Quarter 2022
Mito Civic Center
March 16, 2022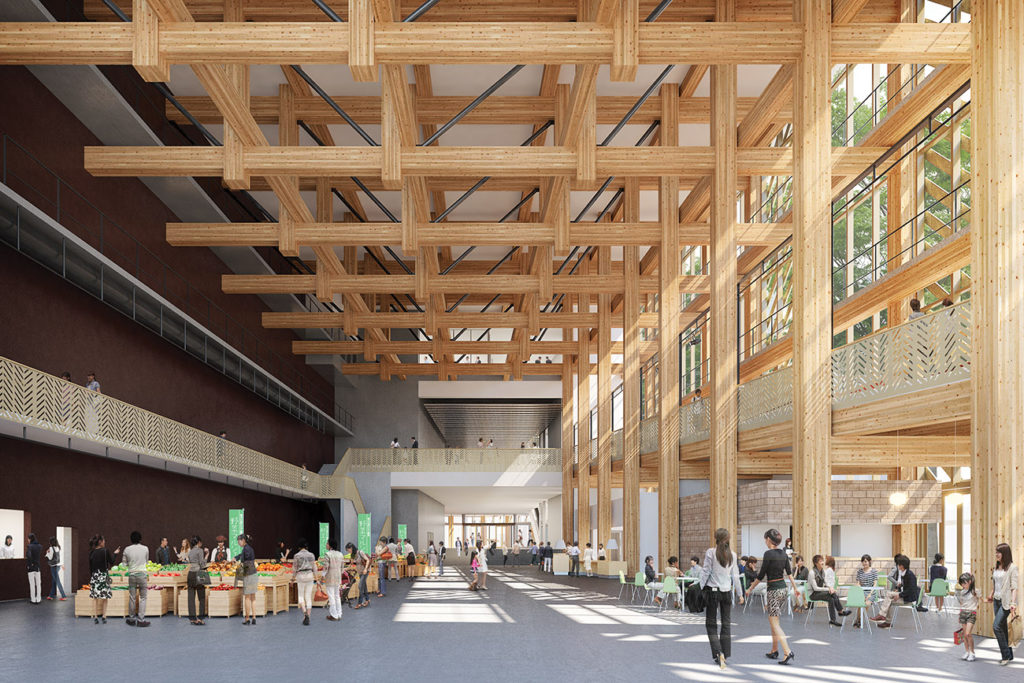 Known for the Art Tower Mito designed by Arata Isozaki, the city of Mito will be getting a new civic centre, a complex planned for a site adjacent to the tower. While the Art Tower is a complex of galleries and small halls, each dedicated to art, music or theatre—the new multipurpose centre, with its 2,000-seat multipurpose hall, will provide local citizens with a place they can use for a variety of events.
The south side of the site faces a shopping street that stretches from the station, so transparent spaces such as studios and meeting rooms will be placed there. A 500-seat mid-sized hall, a large conference room and galleries, all of which can be used for trade shows and conventions, have been placed in the central section.
The salient feature is that the perimeters of the large hall, enclosed with concrete walls, will be enveloped in a pre-modern yagura tower-like structure made solely of wooden posts and beams. The entrance area beside the large hall is even named Yagura Plaza, and is designed as a multipurpose space that is more open than the hall, to be used for semi-outdoor markets, product exhibitions, public viewing events and other events.
[This is an excerpt. Subscribe to the digital edition or hardcopy to read the complete article.]
RELATED: The FuturArc Interview | Toyo Ito

Toyo Ito | FuturArc
For someone as highly acclaimed and awarded as Toyo Ito—who is the recipient of The Royal Gold Medal from The Royal Institute of British Architects; The 22nd Praemium Imperiale in Honor of Prince Takamatsu; The Pritzker Architecture Prize; The UIA Gold Medal, to name a few—one would think he might b…
---
PROJECT DATA
Project Name
Mito Civic Center
Location
Mito City, Ibaraki Prefecture, Japan
Design Period
August 2016 to March 2019
Construction Period
April 2020 to October 2022 (scheduled)
Principal Uses
Theatre; gallery; retail
Designed in collaboration with
Yokosuka Mitsuo Architectural
Structural Engineer
ARUP
M&E Consultants
ES Associates; Ohtaki E&M Consulting Office
Acoustic Engineer
Nagata Acoustics
Lighting Design
Lighting Planners Associates (LPA)
Constructors
Takenaka Corporation; KABUKI CONSTRUCTION; SuzukiRyo Corporation; Aoi Kensetsu Kogyo; Sekine Komuten JV
Structure
Reinforced concrete; steel; wood
Scale
4 storeys; 2 basements
Site Area
8,284.95 square metres
Building Area
6,952.37 square metres
Total Floor Area
23,169.58 square metres
---

Previously Published Projects