Commercial / Nov - Dec 2017
Mapletree Business City II
November 23, 2017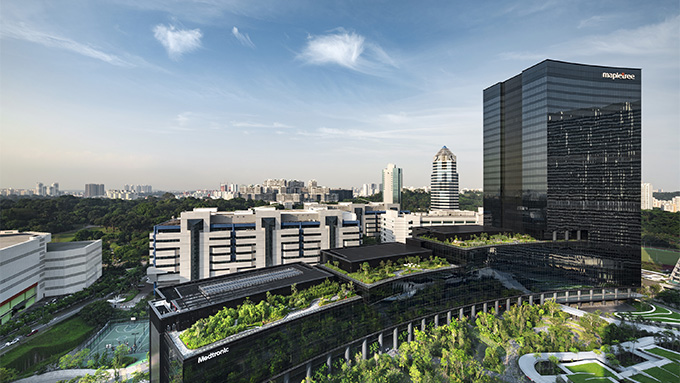 Architects and landscape designers have been taking into account the natural and urban ecosystems by embedding designs that address the physical and emotional needs of users, as well as incorporating climate-responsive strategies. Mapletree Business City (MBC) II is an example that seeks to embrace a modern working lifestyle with environmentally friendly urban spaces that allow nature to thrive. MBC II is the second phase of the MBC development.
Located in the 13.5-hectare Alexandra Precinct at southwest Singapore, the site is also in close proximity to the Kent Ridge Park, HortPark and Labrador Park. The main idea is to have modern business spaces set amidst generous landscaping and a garden setting that offers respite from the bustle of work. In this new development, 70 per cent of the site area is covered with greenery. This design not only provides a comfortable microclimate for outdoor spaces in Singapore's tropical weather but also defines different spatial typologies through topographical conditions.
MBC II was designed to meet stringent international Green certifications. Annually, it saves 8.6 million kWh of electricity. The building also offers better air quality with its installations of primary/secondary filters, with ultraviolet-light air treatment to kill bacteria and airborne germs. Covered walkways and travelators are provided for commuters to promote the use of public transport. The integrated business hub also features eco-friendly parking lots and bicycle lots to encourage users towards more environmentally friendly modes of commuting. 
PROJECT DATA
Project Name
Maple Business City II
Location
Singapore
Completion Date
2016
Overall Site Area
108,500 square meters (MBC II)
Landscape Area
280,500 square meters (MBC II)
Client/Owner
Mapletree Business City Pte Ltd
Architecture Firm
DCA Architects Pte Ltd
Landscape Architect Firm
Shma Company Limited
Landscape Architects
Prapan Napawongdee (design director); Kwanchanok Kongchoksamai; Jitsupa Thunhomit; Supika Sukjamsai (landscape architects); Tanee Sawasdee (horticulturist)
Softscape Contractor
Tropical Environment Pte Ltd
Main Contractor
Shimizu Corporation
Images/Photos
Wilson Thngthunya; Shma Company Limited
Previously Published Projects