Landscape / Sep - Oct 2017
Mangrove Tetrapods
September 23, 2017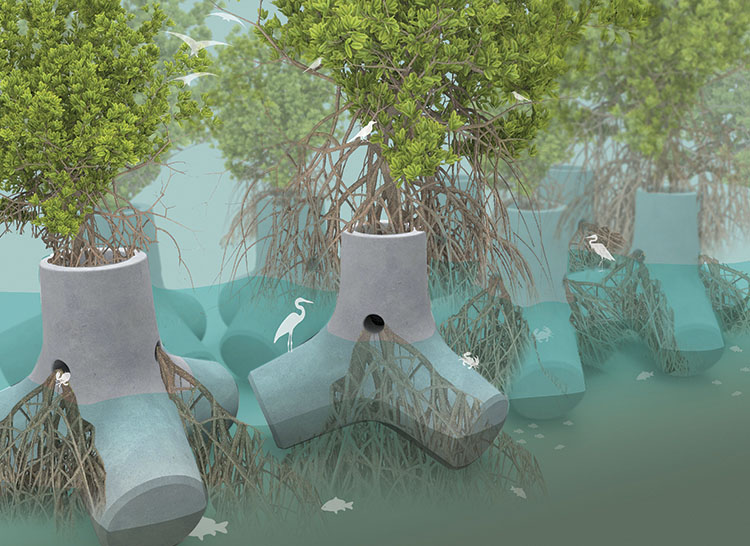 We have all seen these giant concrete structures by some beaches. Tetrapods—meaning having four legs in Greek—are those quirky four-pronged armour units designed to protect the coastline by dissipating the force of incoming waves—the water flows around, rather than against, it. Although they reduce displacement by their interlocked web structure, these artificial systems tend to be dislodged over time by the sheer force of the ocean waves, and have been criticised for marring the beauty of natural coastlines.

In 2016, based on the function of tetrapods, a group of designers decided to marry the concepts of artificial and natural sea defences to create a hybrid structure that is equipped with a planted pot (hence the name TetraPOT). These hollowed structures, weighing a ton each, house mangrove seeds held in biodegradable pots that decompose within two to three months as the roots grow downwards to reach for water. When the sea level goes up, a certain amount of water will be collected in the recess part inside each pot. As such, the concrete exterior of TetraPOTs will protect the mangrove saplings as they grow—the maturing roots can grow out of their pots' pre-drilled holes and intertwine to prevent soil erosion, offer water filtration and form a natural habitat. With much of the world's mangrove forests under threat from greenhouse effect, the designers envisioned that this can strengthen the environment with a thriving ecosystem. They hope that by randomly distributing TetraPOTs along coastlines, it will create a stable and 'deep-rooted' defence of trees and fully grown root systems to keep the blocks in place, resulting in more eco-friendly methods of protecting shorelines.
Unlike common tetrapods, TetraPOTs require less material (concrete) as the space within is hollow, which results in less manufacturing processes and time. With the tree roots aiding the stability of the blocks' positions, there is no need for maintenance either. To boost these advantages, there is an ongoing research about the structure's design, together with studies on the growing habitat and life cycle of mangroves.
The designers also plan to conduct small-scale wave simulation experiments on TetraPOT, and consult different experts (e.g., civil engineers, architects, designers and botanists) to conduct detailed scientific research and analysis for improvements and feasibility. As such, a new and better manufacturing process could be defined to save more material, time and labour. By understanding the overall project cost and business model, the designers will be in a better position to cooperate with governments and companies for implementation. The pots are normally manufactured at the shores where they need be placed. Since the designers are based in Shanghai, China, they are currently working with the Shanghai municipal government to test TetraPOT on Chongming Island.
PROJECT DATA
| | |
| --- | --- |
| Project Name | TetraPOT |
| Location | Coastal Areas |
| Status | Conceptual Design |
| Completion Date | Work in progress |
| Site Area | Taiwan or Shanghai as the first experiment starting point |
| Product Height | 1.5 meters x 1.5 meters x 1.5 meters (length x width x height) |
| Client Owner | Sheng-Hung Lee; Wan Kee Lee |
| Principal Architects | Sheng-Hung Lee; Wan Kee Lee |
| Main Contractor | Sheng-Hung Lee; Wan Kee Lee |
| Mechanical &Electrical Engineer | Sheng-Hung Lee; Wan Kee Lee |
| Civil &Stuctural Engineer | Sheng-Hung Lee; Wan Kee Lee |
| Images/Photos | Sheng-Hung Lee; Wan Kee Lee |
Previously Published Projects