Commercial, Landscape / 4th Quarter 2019
Mandai Eco-Resort
by Alakesh Dutta
December 19, 2019
In 2023, Singapore will open a new eco-resort in the Mandai precinct, for which construction is expected to commence next year. The yet unnamed resort will advance Singapore's distinctive advantage of having a primary forest within the limits of a first-world metropolis—one of only few cities in the world to do so — that gives residents an exclusive foray into nature at their doorstep.
The eco-resort will provide residents and tourists an alternative short-stay option with an all-rounded immersive experience of being in a tropical rainforest. The resort's spaces and programmes are being planned to offer guests, residing in its 338 rooms (with 24 tree houses shaped like seed pods), a low-carbon lifestyle and a constant awareness of the surrounding rainforest through unblocked views and a blurred boundary between the built and the unbuilt; thereby lending an intimate connection with the natural environment in a less intrusive manner.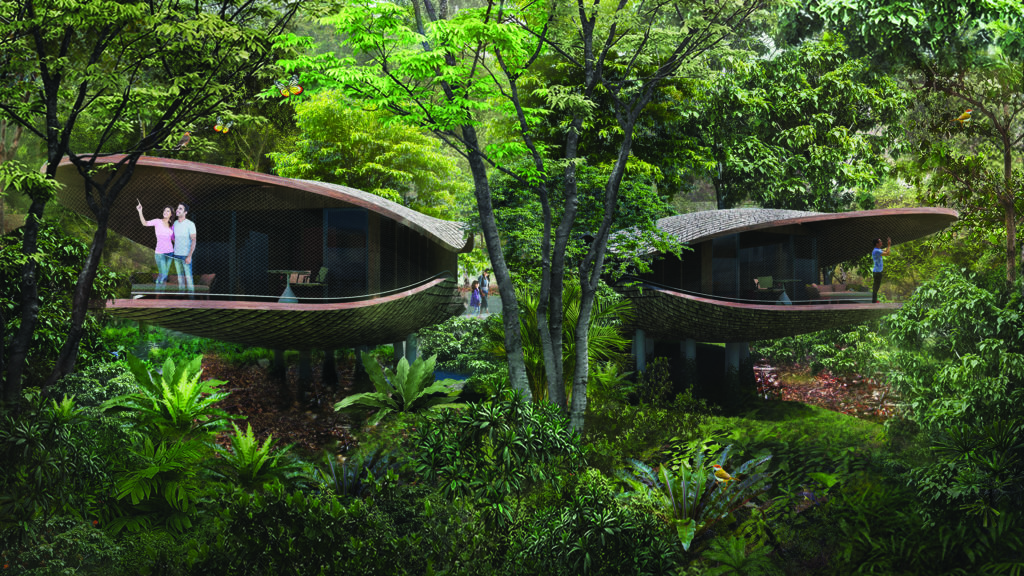 Banyan Tree will operate the resort and it will be their first in Singapore. Beyond creating an immersive experience of living within a rainforest in Singapore, the resort, above all, hopes to provide guests with a conscious and mindful stay through its facilities, amenities and programmes. There will be significant emphasis on engaging the guests to promote environmental awareness, sustainable best practices (including reducing energy and water consumption in their rooms, practising recycling and disposing food waste responsibly) and the conservation of biodiversity.
PROJECT DATA
| | |
| --- | --- |
| Project Name | Yet to be named |
| Location | Mandai, Singapore |
| Expected Completion | 2023 |
| Site Area | 4.6 hectares |
| Number of Rooms | 338 (tentative) |
| Building Height | 4 storeys |
| Client/Owner | Mandai Park Holdings |
| Architecture Firm | WOW ARCHITECT |
| Principal Architects | Wong Chiu Man; Maria Warner Wong; James Tan Teow Leong |
| Mechanical & Electrical Enginee | Arup |
| Civil & Structural Engineer | Web Structures |
| Images/Photos | Mandai Park Holdings; WOW Architects |
Singapore: A Perspective on Urban-Nature Symbiosis
by Nirmal Kishnani
Singapore has a population of 5.7 million and an average density of 7,500 people per square kilometre within 720 square kilometres of land. The physical form of the city evolved over four successive Concept and Master Plans. The first Concept Plan in 1971 had an urban core surrounded by a ring of housing estates. The 1990s witnessed the emergence of several regional hubs, meant to decongest the centre. In the post-2000 plans, sustainability and liveability became buzzwords with targets for consumption and waste, and a position on natural assets.
Through the decades, the single most consistent driver has been the Garden City vision, introduced in 1963. Under this, greenery would become a key ingredient in the planning process, managed by the National Parks Board (NParks). As a result, Singapore's green cover between 1986 and 2007 shot up 20 per cent even as population increased by 70 per cent.
Singapore's relationship to her forests and natural assets, what little is left, has always been characterised as a matter of pragmatism. Land is limited; priorities must be calibrated. The Garden City mandate did not prohibit, say, the clearing of natural habitats for developments that were greened subsequently. Greening was less about ecology then, more a social and economic ambition to make Singapore liveable. Satisfaction, well-being and buy-in were the goals from the early days of planning. City in a Garden as a vision statement later elevated the role of nature and natural systems. But the raison d'être is, arguably, unchanged. The physical form of the city and its attributes are valued for their impact on quality of life, and as differentiators in the competition between cities.
Is this focus on liveability, as a basis for managing nature, sufficient at a time when we are seeing widespread ecosystem losses globally? Some would argue that an anthropocentric view of nature gets in the way of a much-needed ecological worldview in which ecology is valued for itself, and we seek equal partnership with nature. Others counter that cities like Singapore, pressed for space, should, at the very least, strive for coexistence. Here, the form of the city sets aside room for patchworks of habitats and connectors, and itself becomes nature-like, mimicking patterns and processes endemic to natural systems. We see this in the way the Eco-Resort in Mandai is discussed, i.e., how design seeks to minimise impact and appear sensitive to where it is. And while there is disagreement on whether a resort should be sited in a forest, no matter how sensitive its design, there is agreement that a bio-centric approach to the greening of urban areas is a good thing. Singapore leads the way in urban-natural symbiosis, the creation of new hybrid networks like the PCN that simultaneously create room for people and biodiversity.
This article is an excerpt from the chapter, Dissonance: Five Cities, in the book Ecopuncture: Transforming Architecture and Urbanism in Asia, by Nirmal Kishnani. It traces the challenges of Asian urbanisation, and links ecological impact to social and economic imperatives. The four other cities in this chapter are Bandung, Hanoi, Mumbai and Seoul. A meta-analysis of their systemic failures is summarised as ecopuncture opportunities at the building and urban scales.
Previously Published Projects