Institutional / Jan - Feb 2017
Lung Luong Elementary School
January 7, 2017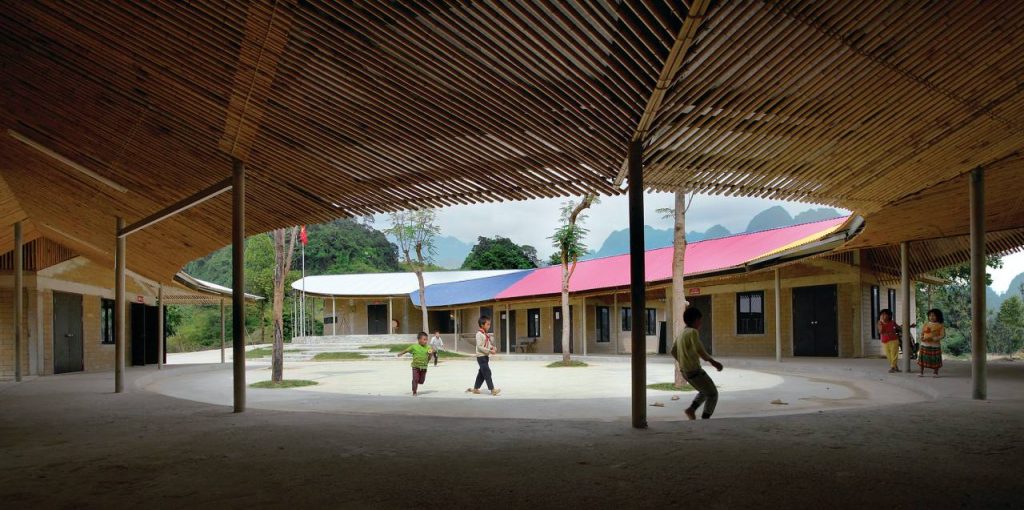 Akin to a jungle flower with lively colours, Lung Luong Elementary School creates a strong visual impact with vibrant rooftops for each block. Embedded deep in the terrain, the areas between the classrooms have become flexible open spaces where students can be closer to nature. The architects brought to life the concept of 'a school being a mountain and a mountain being a school': the structure was 'built' into the mountain landscape, which provides a distinctive learning experience for the students. It is hoped that every angle brings different inspirations to the children during lessons—the diverse blocks of the school present a static yet dynamic form in the midst of nature.
Lung Luong Elementary School is a meaningful project for the ethnic children in the highlands, as most of them do not have the opportunity to attend school. The purpose of the school is to bring education to the students by creating a better learning environment that is resistant to the harsh weather conditions, yet simple and affordable to construct.
BUILDING DESIGN AND MATERIALS

The architecture takes into consideration the standards for lighting, ventilation and soundproofing. The school is equipped with classrooms, function rooms, a multipurpose room, a library, a kitchen and dormitories. In keeping with the surroundings, the building has a minimalist design that features natural materials such as bamboo, wood, bricks and tiles.
PROJECT DATA
Project Name
Lung Luong Elementary School
Location
Lung Luong Village, Thuong Nung Commune, Vo Nhai District, Thai Nguyen Province, Vietnam
Completion Date
2016
Site Area
4,035 square metres
Gross Floor Area
1,413 square metres
Number of Rooms
20
Architecture Firm
1+1>2 International Architecture JSC
Principal Architects
Hoang Thuc Hao; Son Vu
Main Contractor
1+1>2 International Architecture JSC
Images/Photos
Son Vu; 1+1>2 International Architecture JSC
Previously Published Projects