Landscape / Sep - Oct 2017
Lingang Bird Airport
September 23, 2017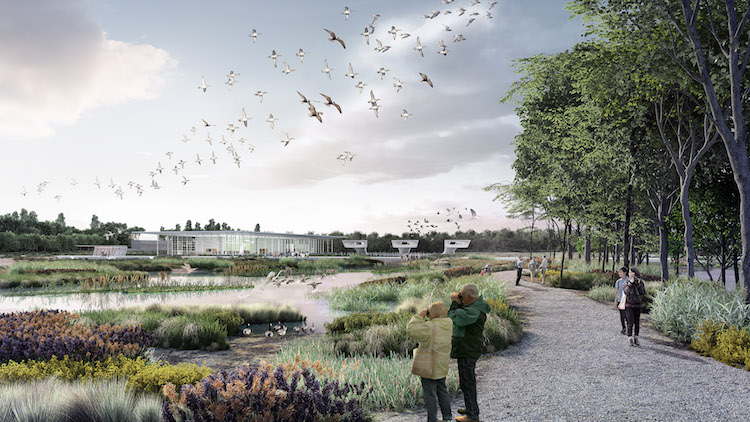 Lingang Bird Airport is envisioned as a revitalising public space, where it will breathe life into the Tianjin shoreline while functioning as an ecological conservation area. This design has won an international competition (2016 Landscape Concept Design for Stage 2 Lingang Economic Zone (North Zone) Wetland) with the proposal of a wetland bird sanctuary on a degraded landfill site, which is located along the key migration route known as the East Asian-Australasian Flyway. It seeks to respond to targeted environmental conditions, offering refuge for several endangered bird species. The architects have collaborated with an ornithologist to "embed the complex interactions of site soils, feed sources, wetland vegetation and water management into the overall design", and hope to ultimately deliver constructed wetlands and a parkland.
This project will utilise advanced water treatment processes to help shape a progressive environmental vision. It will consist of the following main components: the use of treated waste water, where it will be pumped into the pond, reed and mudflats in the northern part down into the southern zone; water management, where a re-circulation of treated water will be enabled via water pumps and channels throughout the site; and sponge city concepts, such as having a green roof on the central building. Renewable energy will be used to move recycled waste water and harvested rainwater through the wetlands. Functioning as a pilot project in China's sponge city programme—an ecologically friendly alternative to the country's sprawling urban developments—it is hoped that the Lingang Bird Airport will be able to address the issues of flooding and surface run-off with its passive designs and blue-green infrastructures.
The site will comprise 14 bird hides; a 20-hectare forest; a 3,500-square-metre visitor and research centre called the Water Pavilion, which will cater for an anticipated visitation of 500,000 people per year; and a 7-kilometre extensive network of nature trails around the site's perimeter for walking or cycling. 
PROJECT DATA
Project Name
Lingang Bird Airport
Location
Tianjin, China
Status
Construction due to commence in Q4 2017
Expected Completion
2018
Site Area
110 hectares
Gross Floor Area
3,500 swuare meters (Water Pavillion)
Site Facilities Areas
WAter Pavillion's ground floor and 200-seat theatre ; 2,800 square meters; first floor offices; 450 square metrs; café 670 square meters; maintainance buildings ground floor; 950 square meters; level 1; 950 square meters
Client/Owner
Tianjin Lingang Industrial Area
Architecture Firms
McGregor Coxall
Sub-consultant Firms
CHROFI
Principal
Adrian McGregor (McGregor Coxall)
Collaborators
Avifauna Research &Services Pty Ltd; Vlad Vernica
Images/Photos
Mcgregor Coxall
Previously Published Projects