Commercial / Jan - Feb 2016
Kki Sweets and The Little Dröm Store
January 22, 2016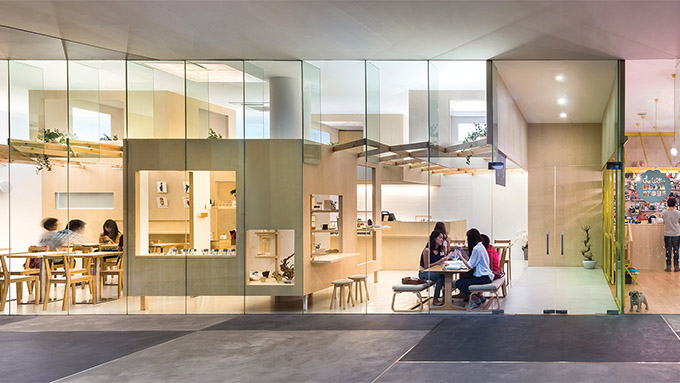 DRAWING PARALLELS

The two brands—Kki Sweets and The Little Dröm Store—share a storefront at the School of the Arts (SOTA) building in Singapore. Although the design brief was simple—they need to retain their distinctive identities while not looking like two completely separate entities—the main challenge was to create something that would meet the standard of the award-winning school building and to make something new despite the influence of such a commanding piece of architecture.
The team found a solution inspired by Harold Bloom's Anxiety of Influence. Using two of Bloom's methods—Daemonisation (or 'counter-sublime', which looks at the original source of inspiration that will naturally supersede the precusor) and Apophrades (or 'return of the dead', which is about direct engagement with the end objective of confronting the original design)—the designers tapped into the structure of SOTA and sought not only to produce an interpretation of the building but also to provide another aspect from which the school can be understood.
The result is a shop space that is an embodiment of the SOTA building into its most essential element—a datum plane and the volumes that it segregates. The datum plane within the shop is designed as a porous trellis so that the entire diagram can be observed and experienced from within. To achieve the top volume, the designers cut through the ceiling to install steel rods on the concrete to hang the trellis.
PROJECT DATA
| | |
| --- | --- |
| Project Name | Kki Sweets and The Little Dröm Store |
| Location | School of the Arts, Singapore |
| Completion Date | August 2014 |
| Gross Floor Area | 136 square metres |
| Clients/Owners | Kki Sweets; The Little Drom Store |
| Design Firm | PRODUCE WORKSHOP Pte Ltd |
| Builder | PRODUCE WORKSHOP Pte Ltd |
| Project Team | Pan Yicheng; Loh Jian Hao, Jay; Don Yap; Stanley Tan; Teo Xiao Wei; Chua Hong Zhi; Iven Peh; Chantal Tan |
| Images/Photos | PRODUCE WORKSHOP Pte Ltd; CI&A Photography (Edward Hendricks) |
Previously Published Projects