Institutional, Online Exclusive Feature / 2021
Kindergartens: Gardens for and of Children
by Dinda Mundakir
September 10, 2021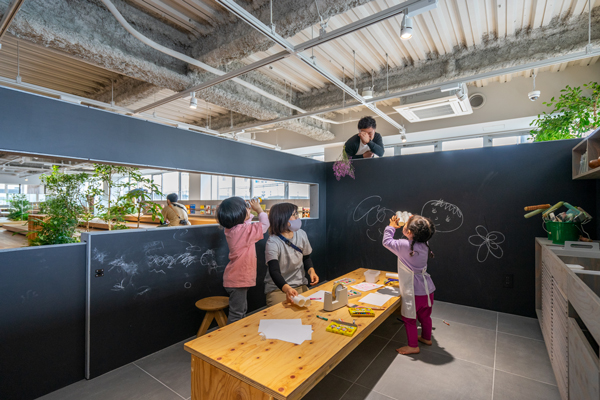 The pedagogue who invented kindergartens as a form of early education, Friedrich Froebel, envisioned the institution as a garden. Derived from the German words kinder and garten, it signifies both a garden for children—a location where they can observe and interact with nature—and also a garden of children, where they themselves can grow and develop.
This dual meaning of balancing nature and psychosocial development is what these teams of designers continually explore. The architectural team Youji no Shiro, which means Castle for Children, has specialised in designing spaces for children since 1991, creating around 540 kindergarten projects in their 30-year run. Alongside the creative team KIDS DESIGN LABO, they make up the children's spaces design section of HIBINOSEKKEI, an architectural office established since 1972 in Japan.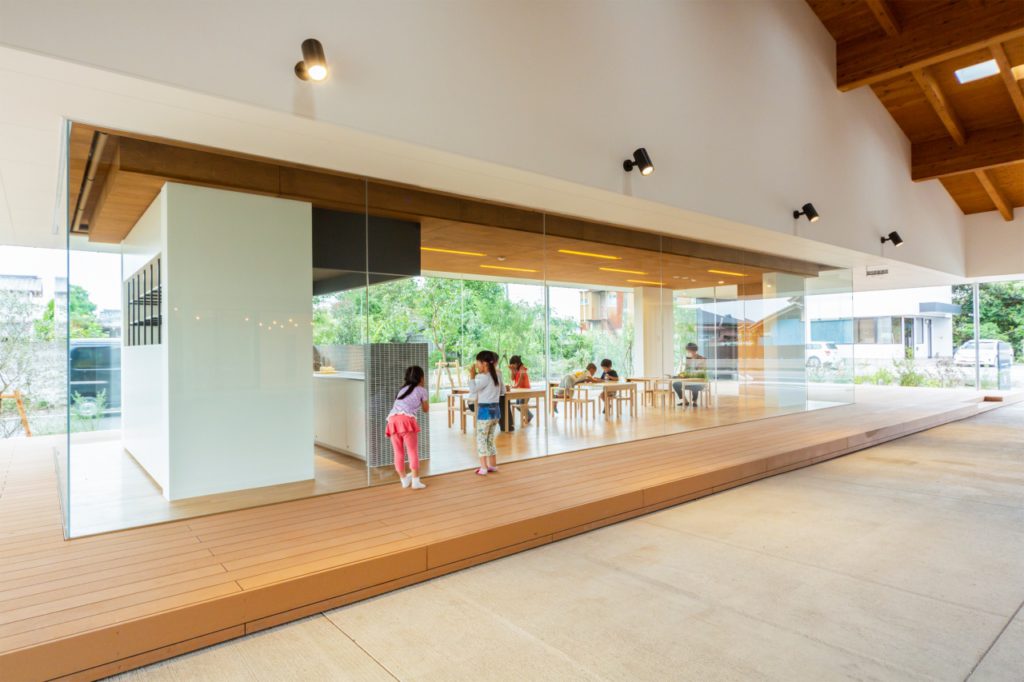 In the office's early years, there was a societal shift in how children were supposed to be brought up. The declining birth rate in Japan was a serious issue, and with fewer children, the architects began to rethink existing preschool architecture. They considered that the norm of classrooms in the same size and shape lined up against a common corridor was not adequate for early education.
Thus, a hallmark of HIBINOSEKKEI's projects is this disavowal of the typical classroom. Instead of boxed-in rooms, they design open layouts that allow more fluid divisions of space. Partitions tend to be low-height; permeable with openings or due to using transparent materials; or interactive, such as in the form of bookshelves or climbable nets. Demarcations between different spaces are often simply carried out with different floor heights, using low-rise steps that are suitable for young children.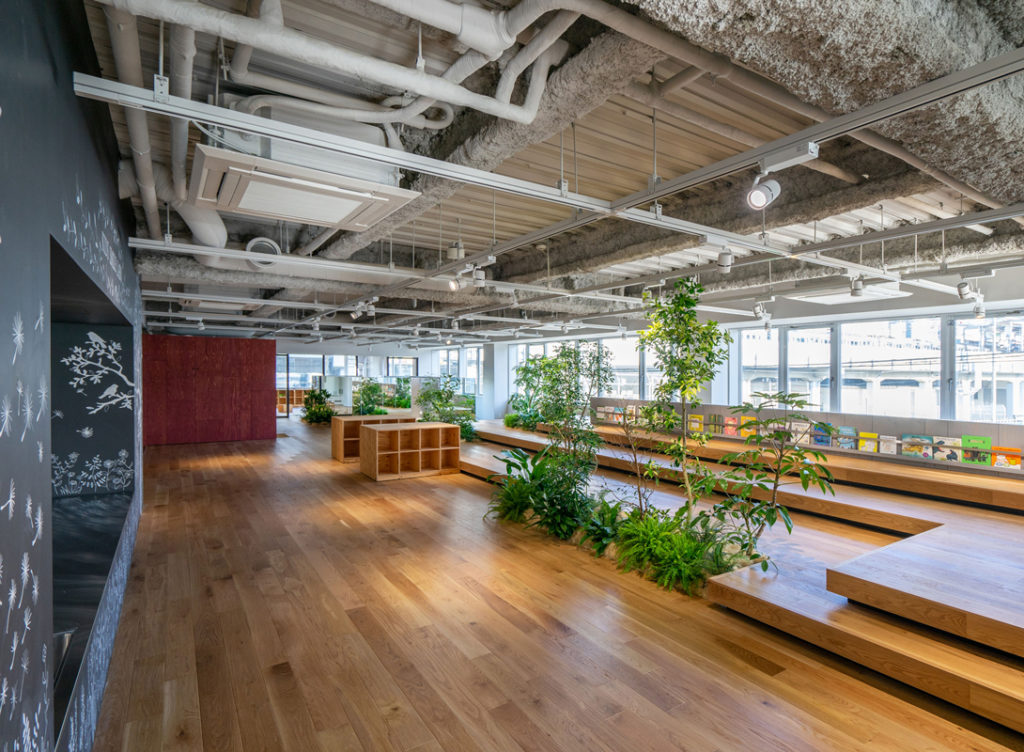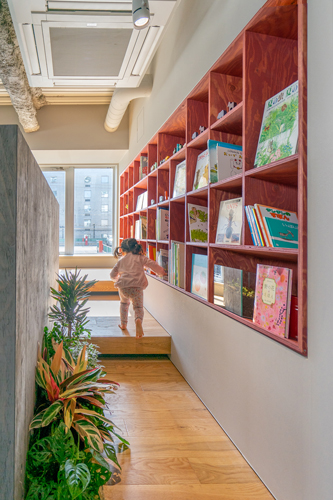 The fluid spatial flow results in a more organic interaction among the children and teachers, as well as with nature—be it surrounding nature, or enclosed greenery within the spaces. In landed sites such as OM Nursery, the space features full-length windows that bring in views of the bordering garden. The cafeteria also opens up to a kiddie pool, where children can play with water. These spaces are connected by open corridors, allowing for fresh air within the building at all times, an important advantage for school re-openings in light of the COVID-19 pandemic.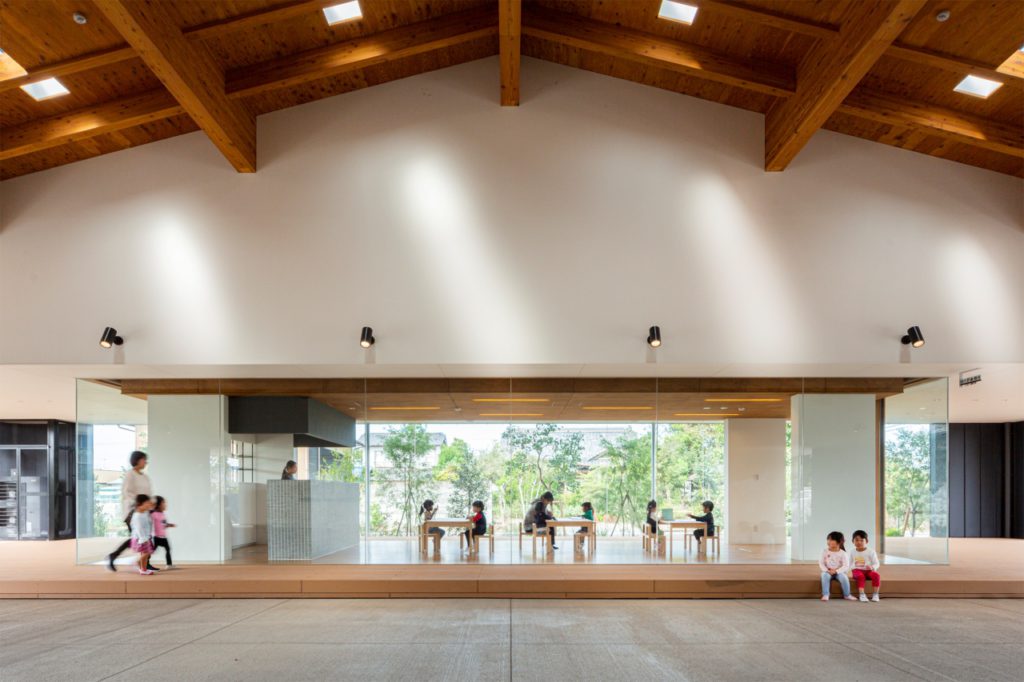 In contrast, KIDS SMILE LABO Nursery is located at the second floor of a building, thereby limiting its openness to the surroundings due to safety considerations. As a result, the architects oriented the spatial programme inwards, making the space compact with low partitions, while mirrored surfaces and sliding doors help create a wide-open feel. For cross-ventilation, wide windows on three sides could be opened to enable air exchange after operational hours. The interior design for this nursery further incorporates plants and natural wooden finishes, resulting in a warm ambience that is close to nature.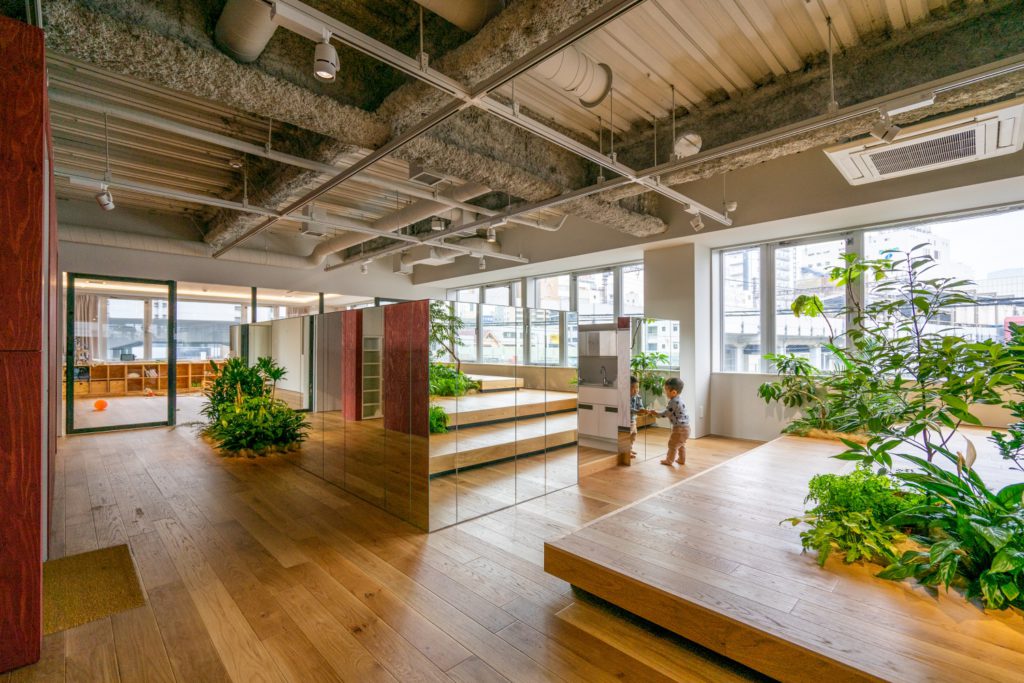 PROJECT DATA
Project name: OM Nursery
Location: Hitachi-Omiya, Ibaraki, Japan
Firm: HIBINOSEKKEI; Youji no Shiro; KIDS DESIGN LABO
Site area: 6,036.06 square metres
Building area: 1,781.73 square metres
Total floor area: 1,199.03 square metres
Construction: Wooden; Single-storey
Completion: August 2020
Photo credit: Toshinari Soga (studio BAUHAUS)
PROJECT DATA #2
Project name: KIDS SMILE LABO Nursery
Location: Atsugi, Kanagawa, Japan
Firm: HIBINOSEKKEI; Youji no Shiro; KIDS DESIGN LABO
Total floor area: 340.08 square metres
Completion: March 2021
Photo credit: HIBINOSEKKEI
Previously Published Projects