Commercial / Nov - Dec 2018
K11 Aterlier King's Road
November 7, 2018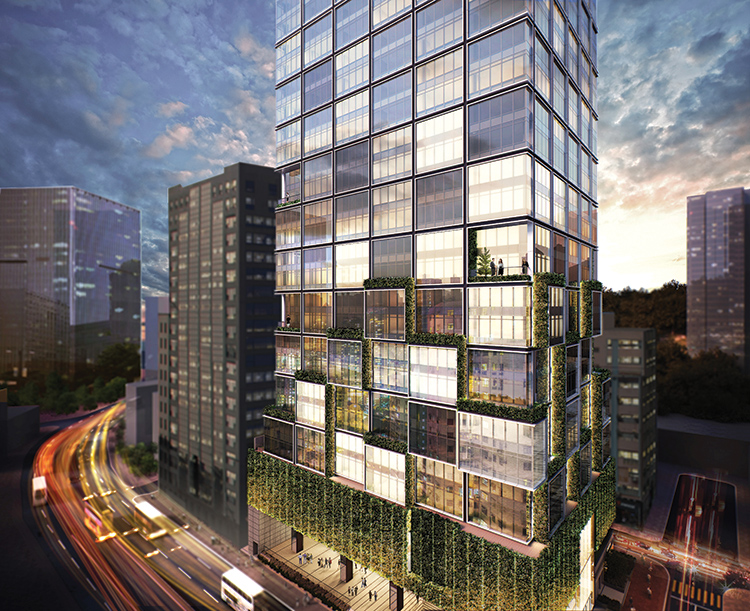 As a commercial redevelopment project, K11 Atelier King's Road addresses some of the common issues of office buildings, such as sub-par indoor environmental quality for human health; isolation from the local community; and underutilisation of space during non-working hours.
The project is the world's first building to have achieved the WELL Building Standard's (core and shell) Platinum level (i.e., highest) pre-certification. This generally means the project has adopted features recognised by each of the WELL concepts (www.wellcertified.com). Highlights include the inclusion of a fitness trail on the rooftop; demand-response ventilation to ensure a high indoor air quality in both common and tenant areas; and the consideration of healthy eating by including an urban farm and attracting F&B tenants with sustainable food options. In addition to building design, management plans have been created to ensure that the operations will promote the well-being of tenants.
Green coverage at the rooftop farm and fitness area serves to encourage occupants to embrace a low-carbon and mindful lifestyle. The rooftop will also be installed with a wind turbine and solar photovoltaic thermal panels (PVT) to partially support the building's energy consumption. A wide variety of health and wellness elements are incorporated into the building design, including indoor air quality; acoustic intrusion; thermal and olfactory comfort; health nourishments; fitness; glare preventive light, etc.
Based on computational fluid dynamics analysis, a microclimate modifier is designed to purposely enhance the thermal comfort and maximise the usable period of seating areas. By incorporating various seating options, occupants can enjoy the comfortable sky garden throughout all seasons. Urban farming, together with healthy food vending, provides fresh and healthy food choices for building occupants while engaging them with farming/gardening. A smart building environmental performance dashboard incorporated with various sensors informs occupants about the real-time environmental conditions in building and health-related news.
PROJECT DATA
| | |
| --- | --- |
| Project name | K11 Aterlier King's Road |
| Location | 728 King's Road, North Point, Hong Kong |
| Expected Completion | End 2019 |
| Status | The R.C. superstructure complete |
| Site Area | Approx. 3,019 square metres |
| Gross Floor Area | Approx. 45,285 square metres |
| Building Height | Approx. 125 metres |
| Client/Owner | New World Development Company Limited |
| Architectural Firm | P&T Architects and Engineers Ltd |
| Principal Architect | P&T Architects and Engineers Ltd |
| Main Contractor | New World Construction Company Limited |
| Mechanical &Electrical Engineer | Ove Arup & Partners Hong Kong Ltd |
| Sustainable Engineer | Ove Arup & Partners Hong Kong Ltd |
| Civil &Structural Engineer | C M Wong & Associates Limited |
| Images/Photos | New World Development Company Limited |
Previously Published Projects