Landscape, Residential / 1st Quarter 2019
Jackfruit Village
April 13, 2019
Covering a total area of 1.7 hectares and surrounded by a lake in the south and southwest, the existing development site is home to 38 jackfruit trees and 13 pomelo trees, typical of rural areas in northern Vietnam.
The main idea was to have the nucleus of the project—the ancestral house that will serve as a place of worship and meditation as well as a community space—to be located in the centre, and the residential units spreading out from the middle, hugging close to the surrounding trees, and making the most of the shade for the common yards.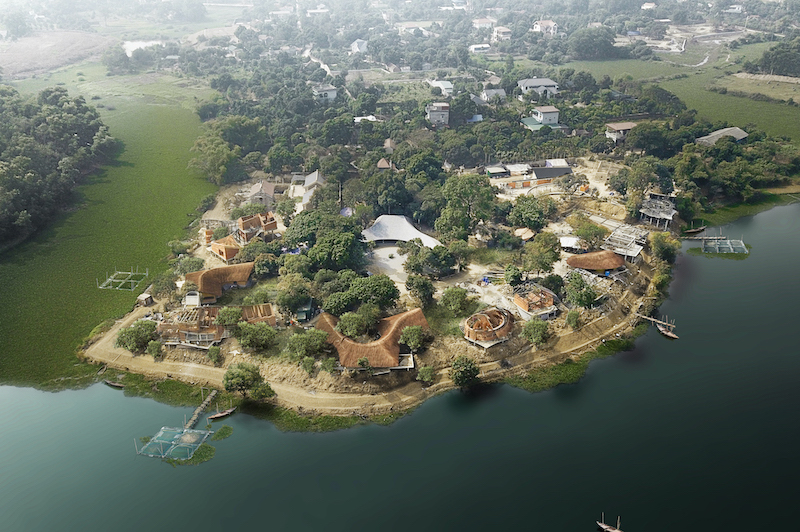 Based on the topography, the ground floors are elevated to avoid pests like termites, reducing humidity as well as allowing for natural surface drainage. Living spaces are arranged according to the landscape and vegetation, closely associated with nature.
Applying a VAC model (VAC in Vietnamese stands for vuon, ao, chuong that means garden, pond, livestock pen) with an existing fruit tree garden, cage fish farming along with a livestock farm, abundantly supplies clean, organic food for the workers and users during the whole process, from construction to operation.


The project uses a five-chamber septic tank and wetlands technology to treat waste water for irrigation and toilet. The ecosystems create a closed cycle that can be self-sufficient, renewable and maintainable in the long term. The buildings with their alternately solid and hollow spaces make them seem transparent, maintaining a harmonious relationship between the built and natural elements.
This project incorporates local, eco-friendly materials alongside modern technology (to create a new architectural morphology but still user-friendly and sustainable): adobe bricks and broad thatched roofs, which offer shading and mitigate solar radiation; wood; bamboo; and leaves are the main materials.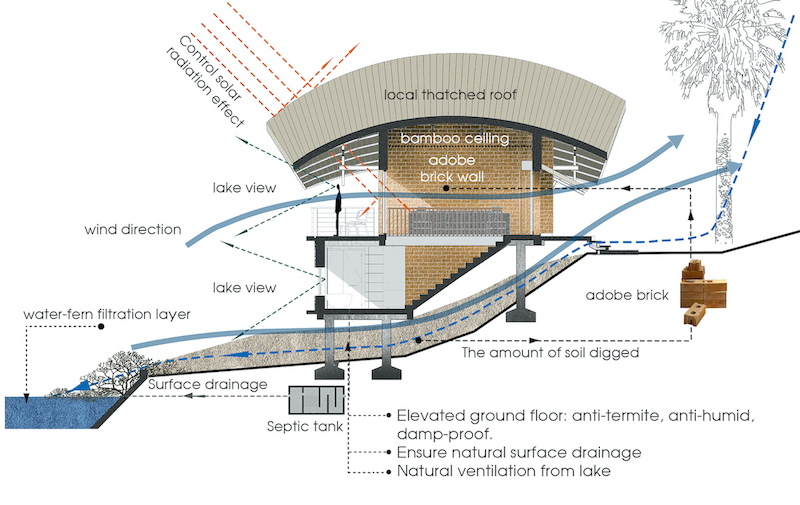 Due to difficulties in transporting materials to the site, earth bricks were made from soil from the foundation excavation process. Bamboo and palm leaves were purchased and treated on-site, minimising transportation costs and time.
The progress from design to completion has been extremely difficult. The materials needed to undergo changes and improvement due to the specificity of the project. Even though the project design was created on new ideas and solutions, it still had to be based on available elements, which was a huge challenge that required the architects and construction engineers to work closely together.
The construction process created work for the surrounding households and workers, which effectively helped boost their income and living standards. The locals took advantage of traditional construction technology and materials but elevated them accordingly in a more contemporary design context to create new solutions.
The design also brought a positive impact on the community, helping them to improve their outlook in aesthetics, as well as new and more progressive living models. The project aims to contribute to a new image of Vietnamese rural life, evoking more creative and smarter ideas while still retaining its essence and values.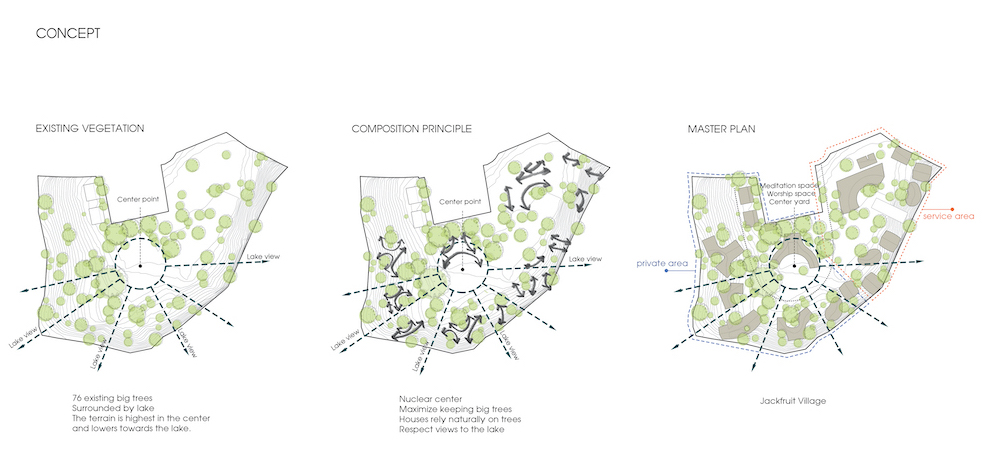 PROJECT DATA
| | |
| --- | --- |
| Project Name | Jackfruit Village |
| Location | Trai Lang village, Co Dong Commune, Son Tay town, Hanoi, Vietnam |
| Status | Under construction |
| Expected Completion | May 2019 |
| Site Area | 17,000 square metres |
| Gross Floor Area | 2,800 square metres |
| Client/Owner | Tran Manh Hung |
| Achitecture Firm | 1+1>2 Architects |
| Principal Architect | Hoang Thuc Hao |
| Design Team | Do Minh Duc; Le Dinh Hung; Duong Van Manh; Pham Hong Ngoc; Phung Ngoc Ha Ly |
| Main Contractor | Nguyen Gia Phong |
| Mechanical & Electrical Engineers | Le Xuan Vuong; Le Xuan Thang |
| Civil & Structural Engineers | Nguyen Hong Chuong; Giap Duc Phuc; Ninh Van Quang; Do Hong Kien |
| Images/Photos | 1+1>2 Architects; Do Minh Duc |
Previously Published Projects