Commercial / 1st Quarter 2021
INTEGRATED PRODUCTION FACILITY FOR ORGANIC INDIA
April 20, 2021
Production centres are moving away from their typical energy-guzzling, waste-generating convention. The designs are now more sensitive about their impact on natural resources and ecosystems, seeking to minimise cost, material wastage and energy consumption.

The facility is designed to support the production, processing and administrative functions for holistic wellness. Two sets of axes intersect the facility's footprint; the resulting interstitial spaces emerge as courtyards, lightwells and lawns that provide space for interaction and relaxation for the staff. The facility's built vocabulary has been articulated in brick and concrete, with clean lines and planar symmetry. The use of simple reinforced concrete frames (RCC) for the building blocks, in addition to local influences such as the application of bricks as the predominant infill material, aim to create a Green built environment.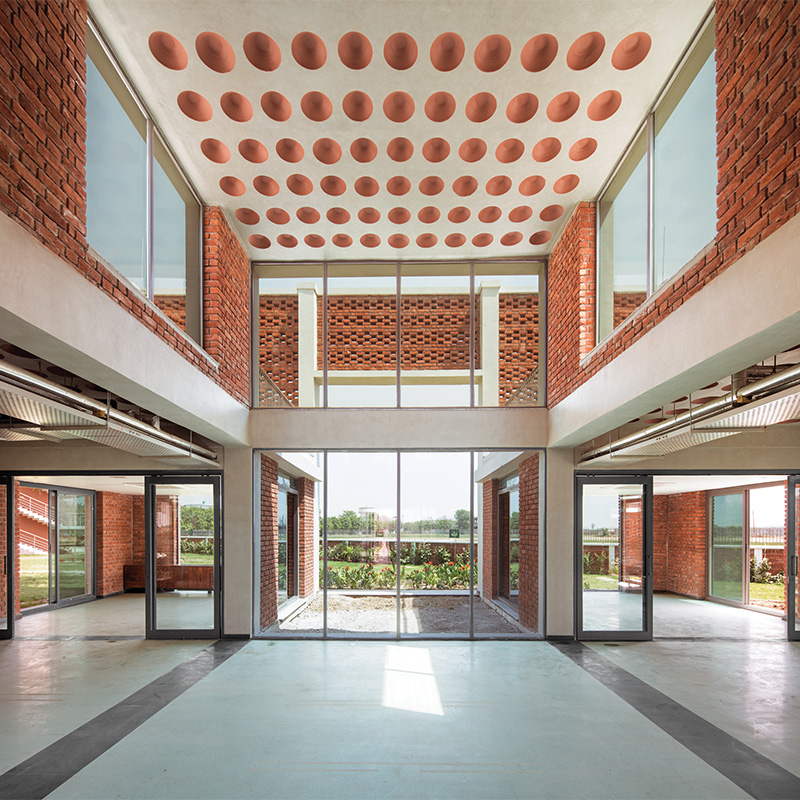 This facility seeks to offer physical and psychological well-being to both the production and administration staff in their built environment, creating a campus that offers passive designs in terms of material use and energy consumption. The expansive open spaces; permeable built fabric; as well as the focus on community and prioritisation of the workers' safety and comfort have created an architectural template for future properties of the company.
Previously Published Projects