Construction, Online Exclusive Feature / 2022
Inflatable Chapel device designed for domestic helpers in Hong Kong
November 4, 2022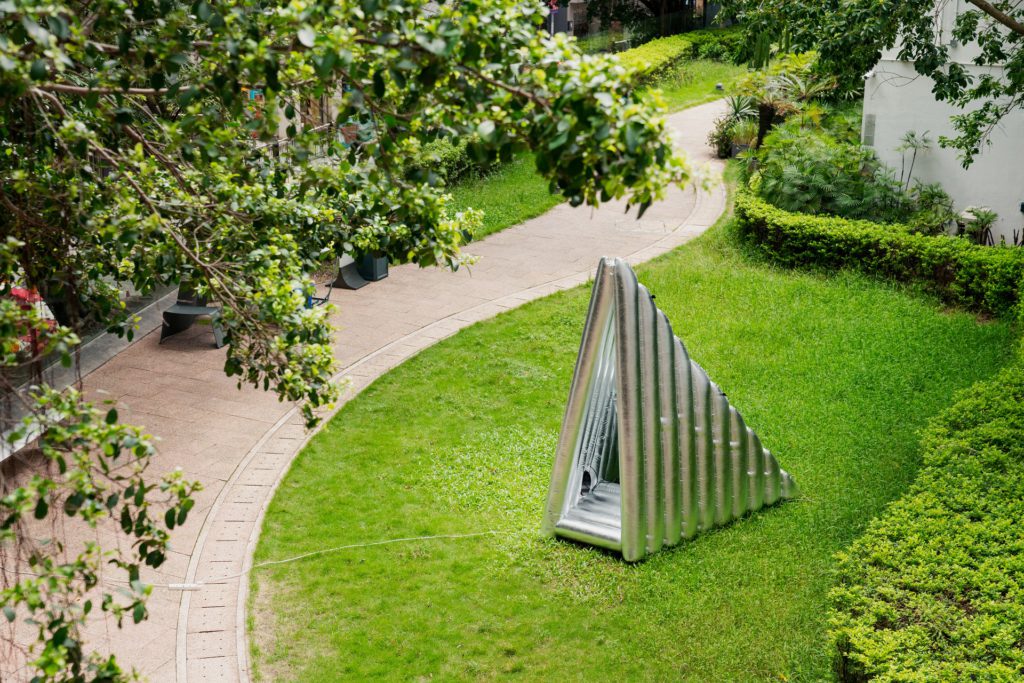 Hong Kong is one of the world's most densely populated regions. At the same time, it has one of the lowest birth rates worldwide (and all-time lowest recorded) at 0.774 per woman of child-bearing age as of 2021.
According to the designers behind this project, 10 per cent of Hong Kong's workforce or around 400,000 people are domestic helpers, contributing some HKD12.6 billion to the economy or 3.6 per cent of the GDP.1 About 99 per cent of domestic helpers are women.2 "They are an indispensable part of our community, and their welfare deserves our attention," wrote the designers.
The working conditions of live-in domestic helpers has been subject of much scrutiny and protests, including their lack of rest days.3 A key activity for domestic helpers in Hong Kong during their days off is attending church or social gatherings, taking place in religious facilities or publicly accessible spaces like city parks. But during the pandemic and continued social distancing measures, such spaces and mass gatherings faced restrictions.

Borrowing from the creative and adaptable force of the Situationist art movement to question the context in unusual circumstances, the designers came up with Inflatable Chapel as a portable and reusable personal space bubble. This spatial device is envisioned to resonate with social distancing measures in public areas.
The temporary and spontaneous nature draws upon makeshift structures/furniture from corrugated cardboard that domestic helpers often use in parks, creating temporary cityscapes on the street. "Such adaptability is of the same essence of the resilience of Hong Kong in difficult times," wrote the designers.
The installation is on display at North Point Pier during the 2022 Hong Kong & Shenzhen Bi-City Biennale of Urbanism\Architecture, running till 26 November 2022.
1 https://edition.cnn.com/2022/01/04/sport/divas-hong-kong-cricket-domestic-workers-spt-intl/index.html
2 https://edition.cnn.com/2020/07/09/asia/hong-kong-helper-live-in-rule-intl-hnk/index.html
3 https://www.theguardian.com/cities/2017/mar/10/sunday-sit-in-inside-hong-kong-weekly-domestic-worker-resistance
---
PROJECT DATA
Project Name
Inflatable Chapel
Project Location
Hong Kong
Status
Completed
Completion Date
August 2022
Architecture Firm
Napp Studio & Architects
Design Team
Aron Tsang; Frida Law; Wesley Ho
Photography
Jimmy Ho
---
Take part in FuturArc Prize 2023: Cross-Generational Architecture, where we are seeking Green design ideas with a focus on societal issues. Register exclusively from FuturArc App; download now from App Store or Play Store!

Previously Published Projects