Institutional / Sep - Oct 2016
Ilima Primary School
September 7, 2016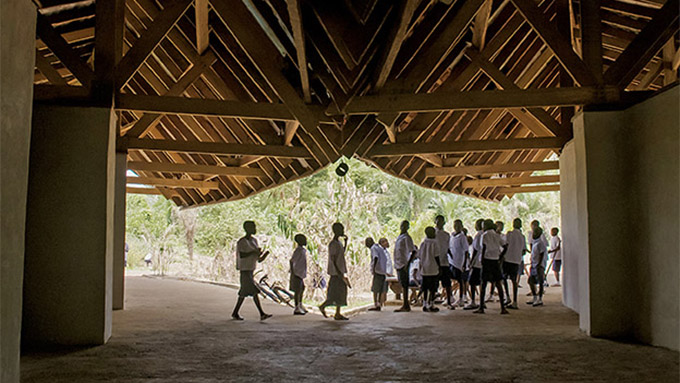 The Ilima Primary School is a community school located in a deep and remote part of a Congolese jungle village. Its isolated site and harsh tropical climate make the construction of permanent structures challenging1. The architects overcame such constraints by seizing local opportunities—they optimised the construction process by applying vernacular materials in creative ways, and also by using local labour, hence resulting in a school with a low carbon footprint.
Built entirely of materials sourced from the almost inaccessible site, the school epitomises the ethos of the architecture firm with local fabrication and labourintensive processes. Testing with different mixes of palm oil and anthill clay, a compressed stabilised earth block machine was used to create mud bricks that strengthened the school's walls. Local artisans and the architects also experimented with modified earth mixes and regional trees to make the building's walls and roof shingles. The team also collaborated with local conservationists to identify suitable trees, which were then hand-sawn, planed, and crafted into the timber trusses, roof framing, furniture and architectural details of the final facility. Expert craftsmen wove reed door panels and crafted furniture.
With no mechanical ventilation and zero electricity, the building is designed with an open clerestory to accommodate the hot climate. School walls only go up to two-thirds of the ceiling to allow for unrestricted airflow, which encourages natural ventilation and daylighting for comfortable classrooms. Heavy rains are common in the area—a large suspended roof provides shelter and also shade from direct sunlight. Surface catchments and gutter systems allow for rainwater harvesting to be used in agriculture1. The architects designed construction documents for graphic representation, allowing often illiterate workers to assemble the building's complex roof frame.
PROJECT DATA
Project Name
Ilima Primary School
Location
Ilima, Democratic Republic of the Congo
Completion Date
May 2015
Site Area
1,000 square metres
Gross Floor Area
800 square metres
Number of Rooms
8
Client/Owner
African Wildlife Foundation
Architecture Firm
MASS Design Group
Principal Architects
Andrew Brose; Michael Murphy; Alan Ricks
Images/Photos
Thatcher Bean; MASS Design Group
Previously Published Projects