Commercial, Design Idea / 4th Quarter 2022
Hue Hotel Wave Front: Activating the beachfront with public access
December 7, 2022
The tropical teardrop-shaped island in Mindanao, Philippines, is often known as the country's surfing capital with white-sand beaches, beautiful sunsets, as well as natural rock and cave pools.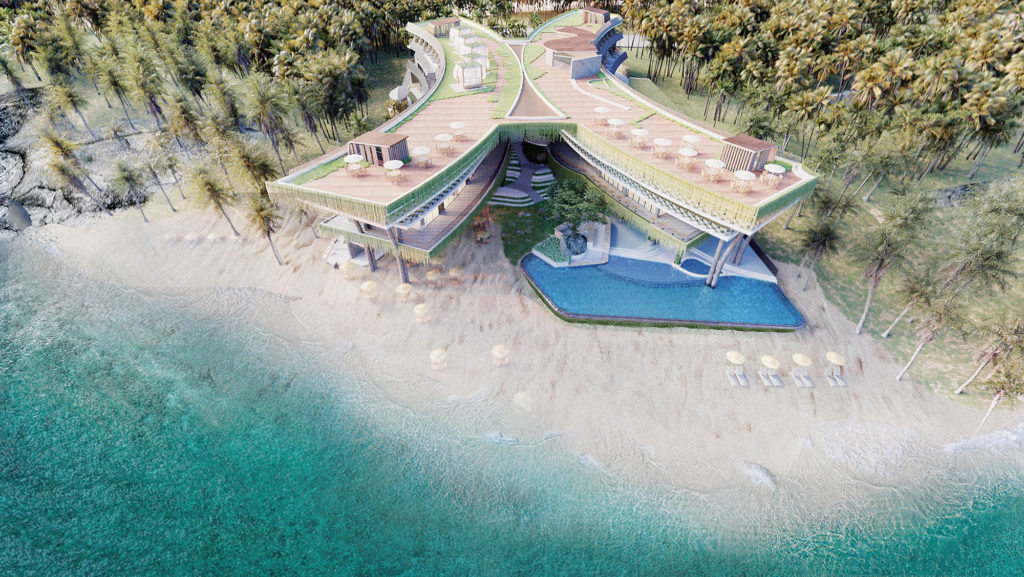 At the heart of Hue Hotel Wave Front's architecture lies the intention by the owner group to connect the local residents with guests/tourists, developed around a common love for the sea and surfing. It aspires to share the joy of the surf sport to not only the hotel guests, but also to welcome the locals to enjoy the activities together. This translates to an open access of the hotel's beachfront to the public, uncommon for beach hotels/resorts that typically close off their beaches for guests only.
All 75 guestrooms have been designed to be located on the upper floors for privacy, whereas the ground floor will be transformed into a communal space with public facilities such as surf shop, restaurants, clinic and stores, accessible to everyone.
Based on the latest renderings shared by the architecture team, there are allocations made for planters to be built alongside the handrails and other pockets of greenery throughout the hotel, which will aid to reduce localised temperatures (heat). There are also semi-open spaces on the ground floor that will allow for natural cooling and ventilation, thus, less reliance on mechanical cooling or air-conditioning. This resonates well with the hotel's architectural principle of openness that responds to its beach/seaside location.
[This is an excerpt. Subscribe to the digital edition or hardcopy to read the complete article.]
---
PROJECT DATA
Project Name
Hue Hotel Wave Front
Location
Mindanao, Philippines
Status
Documentation completed
Site Area
7,500 square metres
Gross Floor Area
8,280 square metres
Number of Rooms
75 rooms
Building Height
10 metres
Client/Owner
Luana Lifestyle and Leisure Hotel., Inc
Design Architecture & Landscape
Design Team: Takashi Niwa; Vu Thi Thanh Huong; Tran Thi Thu Trang; Nguyen Le Khanh Duy; Nguyen Van Khuong
Collaborators: Noémie Schweisguth; Rhiddhit Paul
3D Visualisation: Tran Thanh Tung (Takashi Niwa Architects)
Architectural Design (Local Partner)
NS Incorporated
Plumbing Design
JMRT Engineering Consultancy
Electrical Design
ATM Engineering
Mechanical Design
Frozen Fluid International Corporation
Structural Design
Sean Bryner Rey
Fire Protection Design
JMRT Engineering Consultancy
Images/Photos
Takashi Niwa Architects
---
Related stories from Philippine Focus:
Quezon City: Setting up an infrastructure of sustainability

Quezon City: Setting up an infrastructure of sustainability | FuturArc
What is behind the local and global talk of sustainable urban development in Quezon City, and what results is it getting on the ground?
Master-planning Happier Philippine Cities

Master-planning Happier Philippine Cities | FuturArc
A happier city is the palpable link between well-being and urban planning. This concept takes a kaleidoscopic approach of components …

Previously Published Projects