Institutional / Jan - Feb 2017
Heriot-Watt University Malaysia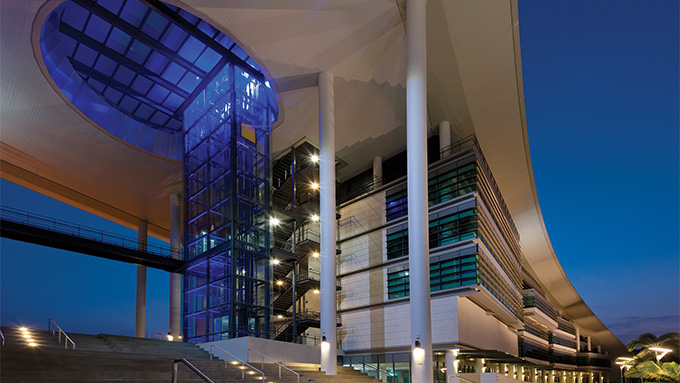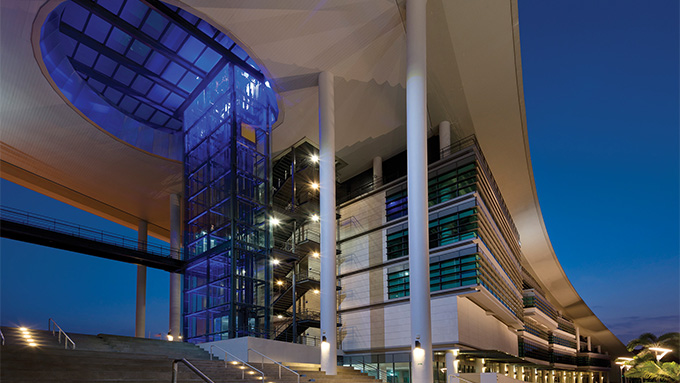 CONVERGING NATURE AND TECHNOLOGY
Completed in July 2014, the Scotland-based Heriot-Watt University Malaysia's campus is the first purpose-built Green campus (GBI-certified) in Malaysia. The campus, owned by the Putrajaya Holdings Sdn Bhd (PjH), is located on a 6.2-acre site fronting the view of Putrajaya's Precinct 5 waterfront commercial district. Currently, the first phase of the campus is a 37,460-square metre, 3- to 6-storey structure that houses educational facilities such as laboratories; lecture halls; classrooms; library; auditorium; and administrative offices, along with many other breakout spaces for 4,000 students and when fully developed, will support a vibrant community of up to 6,000 students.
THE GREEN CONTINUUM
Designed by Hijjas Kasturi Associates, the team created a design where the scheme 'peels' open from the ground to reveal 'hidden treasures' in the form of knowledge spaces. Conceptually, by 'peeling' the earth up and creating an earth berm, the campus appears to depict "human-scale buildings plugged into the earth". This concept was translated into an arching 300-metre-long, 30-metrewide green roof, curving from the ground to the top floor, making it the first green roof of its kind in Malaysia. This iconic roof reinforces the concept of a "green continuum" of the network of parks and open spaces along the edges of the Putrajaya Lake. Besides the green roof, the campus is also landscaped all around. In fact, up to 80 percent of the site plan area is covered by a combination of hard and soft landscaping. These strategies enable the building to anchor well to the site and create a seamless integration between the campus building and the surrounding context i.e., the greater urban park structure of Putrajaya.
Inevitably, the "green continuum" facilitates the physical and visual connection between the building users and the local community (i.e., youth, students, passers-by and people from outside the building). On top of this, the promenade level of the campus is dedicated to retail areas where building users and the local community can gain access to the university's cafeteria, bakery, cafés and a convenience store while taking advantage of the lakeside promenade. Together, these public amenities, including the shared landscape, help to create an active streetscape along the lakeside promenade during and after office hours. This allows the Putrajaya community or visitors of the Putrajaya Lake and parks to feel united with, rather than alienated by, the building.
Project Name
Heriot Watt University Malaysia
Location
Precinct 5, Putrajaya, Malaysia
Completion Date
July 2014
Site Area
6.2 acres
Gross Floor Area
37,460 square metres
Building Height
3 to 6 storeys
Client/Owner
Putrajaya Holdings Sdn Bhd
Architecture Firm
Hijjas Kasturi Associates Sdn
Principal Architect
Serina Hijjas
Main Contractor
Pembinaan Mitrajaya Sdn Bhd
Mechanical & Electrical Engineer
Perunding Wangsa Sdn Bhd
Civil & Structural Engineer
T&T Konsult Sdn Bhd
Previously Published Projects