Institutional / 2nd Quarter 2022
Harvard University Science and Engineering Complex: World's first hydroformed façade
June 15, 2022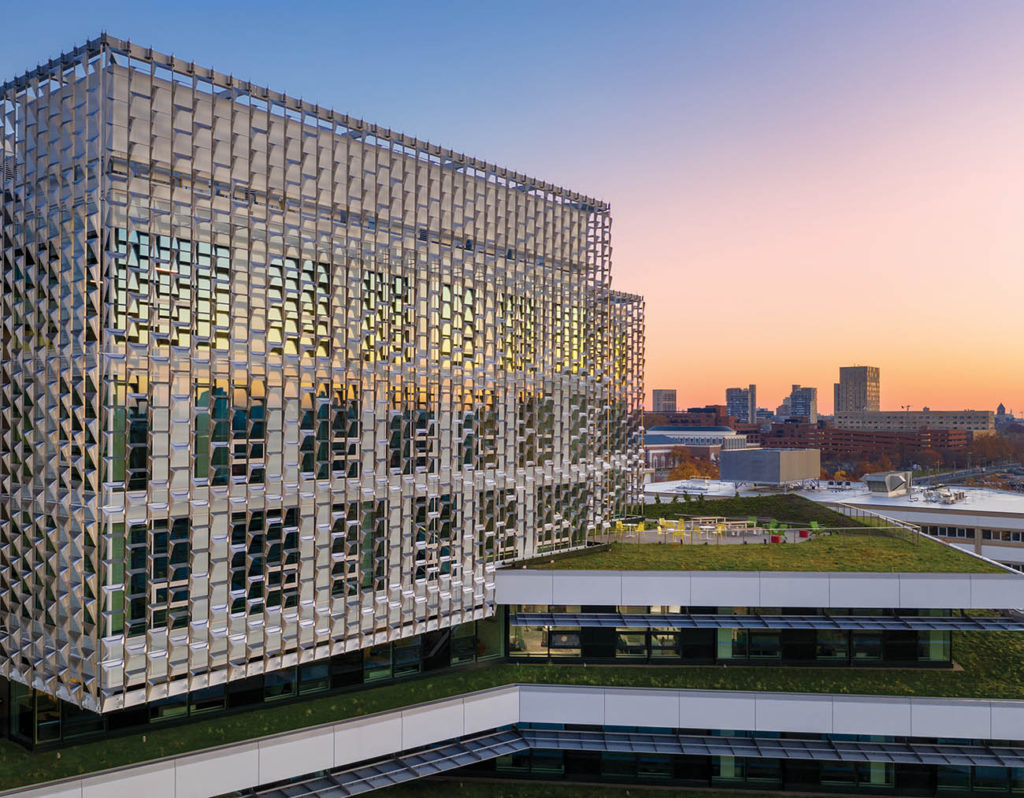 Completed in 2021, the complex in Allston, Massachusetts, features the world's first hydroformed tensile exterior façade system sheathing research areas on the upper floors, which plays a vital role in both energy performance and occupant comfort.
The fixed sunshade is geometrically calibrated to lower peak cooling loads by up to 65 per cent. It mixes solar control with material innovation, using 12,000 panels in 14 different shapes fabricated from 1.5-millimetre-thick stainless steel that has the delicacy and lightness of fabric—bridging customisation and mass production.
RELATED: Commentary | Igniting Insights from Other Insights
Commonplace in the industrial equipment and automotive industries, hydroforming, using pressurised water to shape metal sheets against a single mould, produces stiffer components with less material and at cheaper prices than traditional methods, thereby reducing the embodied energy of the parts.
A year of researching how to apply the hydroforming technique to these components resulted in 90 per cent savings of embodied carbon compared to the folded aluminium shades of Behnisch Architekten's earlier projects. The building has received LEED Platinum certification and Living Building Challenge (LBC) Petal certification in Materials, Beauty, and Equity.
[This is an excerpt. Subscribe to the digital edition or hardcopy to read the complete article.]
---
PROJECT DATA
Project Name
Harvard University Science and Engineering Complex (SEC)
Location
Allston, Massachusetts, USA
Completion Year
2021
Site Area
20,234 square metres
Architecture Firm
Behnisch Architekten, Boston
Partners-in-Charge
Stefan Behnisch; Robert Matthew Noblett
Project Leaders
Christine Napolitano; Erik Hegre
Team 
Magdalena Czolnowska; Michelle Lee; Chup Chiu; Michael Cook; Yewon Ji; Heinrich Lipp; Niki Murata; Ryan Otterson; Laetitia Pierlot; Abigail Ransmeier; Jaime Sevilla Lugo; Martin Werminghausen; Piper Ainsley; Chang-Ping Pai; Abhishek Sakpal; Christian Voermann
Photography
Brad Feinknopf

---
PROJECT: Agora Cancer Research Pole

Agora Cancer Research Pole | FuturArc
Behnisch Architekten's first project to introduce a highly-sophisticated, geometrical fixed sunshading grid, the Agora Cancer Research Pole in Lausanne, Switzerland, aims to offer sun protection that allows practically unobstructed views of the environment while keeping the summer sun out, facilitat…
PROJECT: Adidas World of Sports Arena

Adidas World of Sports Arena | FuturArc
For the Adidas World of Sports Arena office in Herzogenaurach, Germany, the façade elements are larger than on Agora to match its monumental scale, more structurally complex and attached on each floor to a vertical frame. Highly challenging as the building's thermal envelope is fully glazed, the fix…

Previously Published Projects