Institutional, Online Exclusive Feature / 2022
Fernvale Community Club, Hawker Centre and Market
November 16, 2022
In line with our ongoing design competition FuturArc Prize (FAP) 2023: Cross-Generational Architecture, we are highlighting projects along the theme for your inspiration. Click here to learn more about the brief!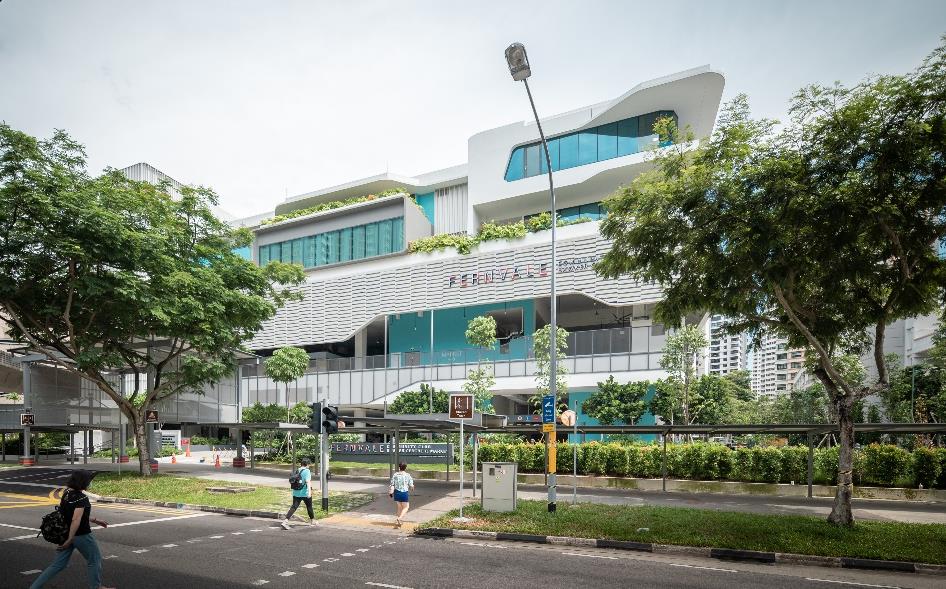 By 2030, it is expected that approximately a quarter of Singapore's population will be over 65 years of age,1 with several scenarios predicting a slight increase in the birth rate as well.2 In response, the built environment sector and government authorities have been increasing efforts to create inclusive spaces. This entails enabling people of all ages/abilities to freely access, move and participate in all aspects of life.
One such project that has been awarded a Universal Design Excellence Award 2022 by the Building Construction Authority (BCA) is Fernvale Community Club, Hawker Centre and Market.
This five-storey integrated development provides a mixture of social and communal facilities. These include a childcare centre; activity rooms; multi-purpose hall; gym; food and beverage spaces including a hawker centre; and market. Altogether, it is positioned as an inclusive lifestyle hub for the benefit of the neighbourhood.
---
Public activity
The building opens up its distinctive atrium to the main road, connected to the LRT station and adjacent commercial mall. This space is provided with benches and a landscaped area, gearing it as a 24-hour open public space for mass activities and events.
Throughout the development, floor level changes are minimised to allow seamless movement and circulation that is suitable for all users.

---
Spaces for all ages
Facilities and furniture within the development are catered for children and elderly use, such as toilets with lowered basins and grab bars.
The hawker centre at the third level features a family seating area, with low tables and benches for children or wheelchair users. This family seating zone is located near the lactation room and pram parking space.
A foyer at the fourth level provides generous space for studying or simply waiting. Such areas are provided to support residents who are attending classes at the seminar/activity rooms, dance studios, culinary studio and multi-purpose hall.
A child-friendly activity space is located on the fifth level. This entails the childcare centre, children's activity rooms, children's jogging track and deck spaces. There are also lactation room and family washroom available for families with young kids. For general public, there is an open-air roof garden, a sky terrace, all-ages playground and fitness corner.
---
PROJECT DATA
Project Name
Fernvale Community Club, Hawker Centre and Market
Location
21 Sengkang West Ave, Singapore
Project Status
Completed
Completion Year
2022
Site Area
6,705 square metres
Gross Floor Area
12,242 square metres
Client
People's Association
Architecture Firm
AGA Architects Pte Ltd
Developer
People's Association
Photos/Images
AGA Architects Pte Ltd
---

1 https://www.channelnewsasia.com/singapore/singapore-population-increase-two-year-decline-marriages-birth-rate-2968081
2 Citizen Population Scenarios, https://www.population.gov.sg
Previously Published Projects