Construction, Online Exclusive Feature / 2022
FAP 2022 Juror Project Highlight: Carlos Bañón's award-winning AirMesh
January 10, 2022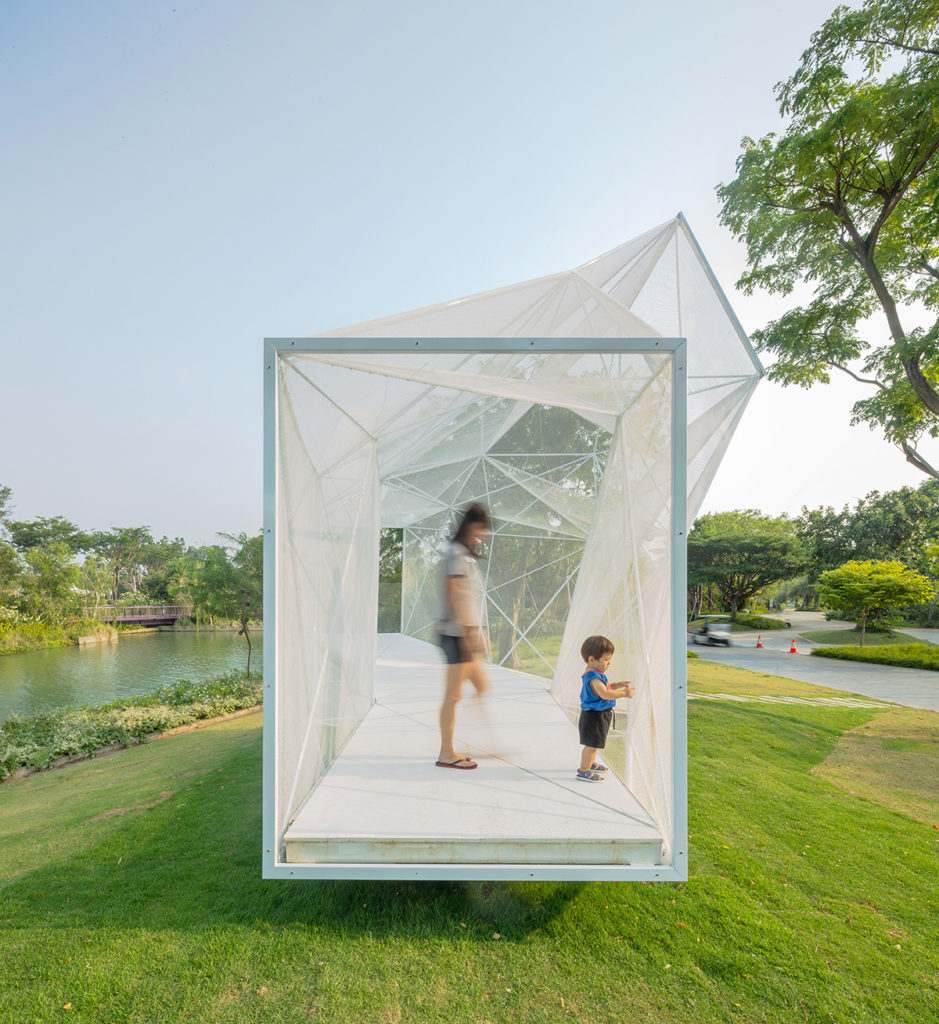 AirMesh, designed by Carlos Bañón, FuturArc Prize 2022 juror, is an award-winning pavilion which serves as both a gathering space and a light sculpture made out of stainless-steel 3D-printed components. The design follows Eurocode regulations and is the first 3D-printed structure that has been approved by the Singapore Building Construction Authority (BCA) for occupation as a temporary functional structure for three years. The space frame comprises 216 bars of different lengths and sections with 54 unique printed nodal joints, weighing 700 kilogrammes in total. Despite its delicate and fine appearance, it can withstand loads 16 times its weight—more than 11 tonnes.
The manufacturing of the printed nodes uses a metal binder jetting process with curing and sinterisation and bronze infiltration post-processing above 1,100 degrees Celsius. After being cooled down, the nodes were powder-coated in white and then labelled with removable stickers. The labels indicated the node number, and at each branch, the length and diameter of the bar that is connected to that branch.
Conceptually, its form is defined by the directions of views from the pavilion to the surroundings. The parametric volume captures the highlights in the landscape while creating subtle shadows inside with its two-layered breathable porous skin. Read more below excerpts from Bañón about the application and future potential of 3D-printed components to promote circular systems and efficiency in reducing waste, and even building vertical farms.
---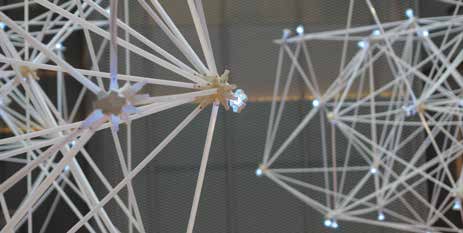 Q: How scalable is the technology behind AirMesh? How can this help shape the future of construction?
A: The AirMesh is not a one-off pavilion. To conceive it, we developed a robust design-to-fabrication workflow for more than five years that can be used across materials and scales for any possible form. It redefines bottom-up design and manufacturing of space frame structures—which is a well-established typology in construction—by introducing additive manufacturing of complex components. We initially tested it at a furniture scale in the AirTable project, then we scaled the concept to a pavilion in the AirMesh project, developing a concealed, easy-to-assemble connection system, even by non-trained workers. Only a team of six erected the pavilion in less than two days. In a sense, we have made an ultra-high-performance structure more accessible to more people.
However, while 3D printing increases the freedom and control over the manufacturing, assembly and building operation phases, a set of restrictions could limit the application of existing additive manufacturing technologies in construction: reduced build volumes, high printing costs and untested connection details. Therefore, our vision was to overcome those limitations by creating an innovative design-to-fabrication process that unlocks the maximum efficiency in material distribution and geometric freedom.
We have worked closely with the Singapore's BCA to make AirMesh robust and code-compliant. We are now applying the system to develop vertical farm structures to help achieve 30 per cent of Singapore's nutritional needs by 2030.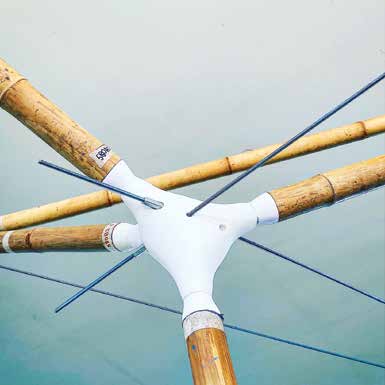 Q: What [initially] interested you about 3D Printing?
A: For an architect and technologist driven by innovation like me, 3D printing opened a whole new set of opportunities in architectural design. It allows new strategies to achieve more sustainable products and spaces while redefining bottom-up aesthetics and geometric complexity. Circularity can be achieved as material is only used when needed. More informed decisions can be made to address sustainable issues at the early stages of the intervention when changes are less costly.
To name one example, we have worked with bamboo structures and 3D-printed components in biopolymer plastic to create affordable shelters such as the Sombra Verde project for the Singapore Urban Design Festival 2018 and the AirBamboo project for the Singapore Archifest 2020. It is an organic construction with a low-cost budget and reduced prefabrication carbon footprint. Using entry-level 3D printers, we parametrically design the connectors between bamboo poles that have been 2D-scanned previously, fitting the irregular profile of each bamboo pole perfectly. The result is a more resource-efficient construction method for bamboo structures, tested at various scales and functions.
What do you hope to see in Singapore's built environment sector in the coming years?
A: Nowadays, our society is more aware of the need to gear towards a more sustainable way of utilising resources. It affects all kinds of industries, including energy harvesting, food production, travel and construction. So, we are experiencing an exciting revolution in the built environment sector that will still take some time to become fully mainstream. However, the path is being set and the agents involved—the government institutions; developers; designers; material manufacturers; and educators—are exploring sustainable and resource-efficient strategies in their businesses. The current pandemic has accelerated the transformation of this traditionally slow sector in adopting new technologies, and Singapore's agenda is set to carry the flag of sustainable construction. Although most buildings will still be made the same way, I see that the built environment landscape is changing rapidly.
Originally published in Construction Plus Singapore/Malaysia Q3 2021 issue.
---
PROJECT DATA
Project Name
AirMesh
Location
Gardens by the Bay, Singapore
Completion Year
2019
Architecture Firm
AirLab
Lead Architects
Carlos Bañón; Felix Raspall
Gross Floor Area
28 square metres
Lead Researcher
Anna Toh Hui Ping
Research Team
David Rosen; Vahid Hassani; Jenn Chong; Sourabh Maheshwary; Sihan Wang; Liu Chi; Huang Kunsheng; Luo Qihuan; Aurelia Chan; Cheong Yilei
Contractors
TCP Engineers; PTL Consultants; WoodFix


Previously Published Projects