Social / May - Jun 2016
Earth Village
May 22, 2016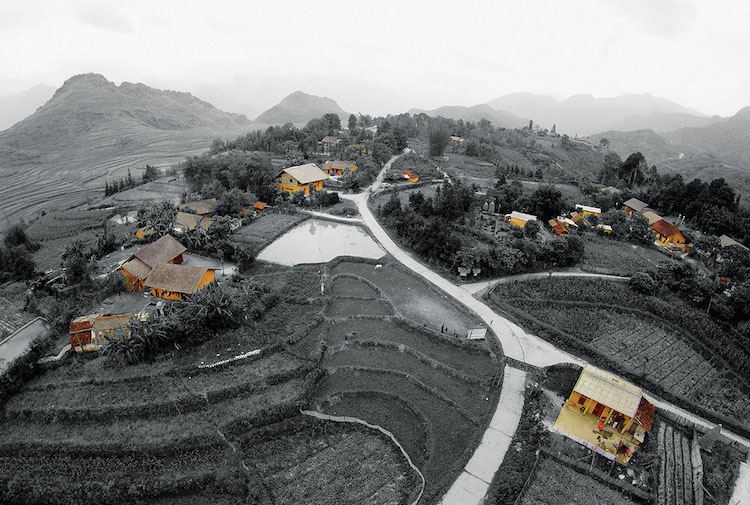 Nam Dam is a village that is located in the Quan Ba District of Ha Giang, the most northern province in Vietnam. Situated on the mountain top and covered with rich forests and terraced fields, this place is inhabited by the Dao ethnic minority and recognised for its cultural characteristics: traditional costumes; festivals; brocade; cuisines; herbal baths; and rammed-earth buildings.
Nam Dam was isolated because of the mountains and the lack of connection with other areas and infrastructure, leading to low standard of living for the locals and difficulties for children to get access to education. The sparse farmland and severe weather meant that there was only one crop harvest in a year. The houses and cattle barns were in close proximity to one another, resulting in contamination of the environment and spread of illnesses. Hence, the village was moved to the bottom of the mountain with the assistance of architects and Caritas Switzerland, an NGO. This was also a chance to advance the locals' quality of life, promote tourism and protect regional character.
LOCAL INVOLVEMENT

The new village is made up of clusters that comprise five to seven households each. This way of division could foster community well-being: a household unit can work together to facilitate better experience for visitors. A large shared pond that collects water for everyday usage and a biogas tank are placed on each unit area. Fifty buildings have been gradually constructed using indigenous building techniques and components since 2002.
PROJECT DATA
Project Name
Earth Village
Location
Nam Dam Village, Queen Ba Commune, Ha Giang Province, Vietnam
Completion Date
2014
Site Area
458 square meters
Building Height
6 to 7.5 meters
Client Owner
Quan Ba People's Committee; Caritas Sqitzerland (Vietnam)
Architects Firms
1+1>2 international Architecture JSC; Caritas Switzerland (Vietnam); Ha Giang local workers
Principal Architects
Hoang Thuc Hao; Nguyen Duy Thanh
Main Contractor
1+1>2 international Architecture JSC
Mechanical & Electrical Engineer
1+1>2 international Architecture JSC
Civil & Structural Engineer
1+1>2 international Architecture JSC
Quantity Surveyor
1+1>2 international Architecture JSC
Images/Photos
1+1>2 international Architecture JSC
Previously Published Projects