Social / May - Jun 2016
Cyberjaya Community Recycling Collection Centre
May 7, 2016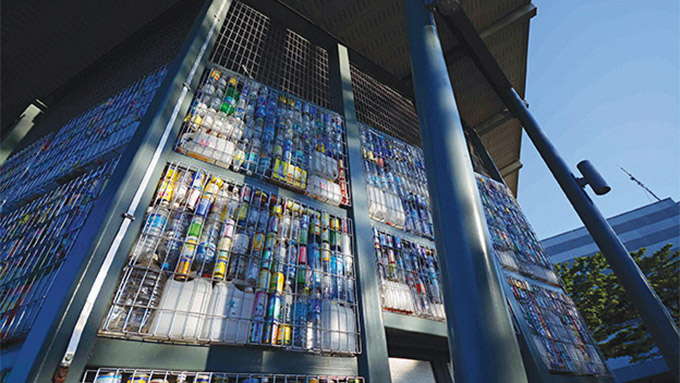 Cyberjaya is a 7,000-acre township with a daytime population of around 64,000 people. Currently a work in progress, it intends to accommodate approximately 250,000 people once completed. With science and information technology development at its core, the city is also planned to be one of Malaysia's Green townships, together with Putrajaya, the government administrative centre of Malaysia.
Since the town is being promoted as a future Green city for people to work, play and live, efforts are being made to encourage its residents to practise the segregation and recycling of waste. What was lacking—before the completion of this building—is a collection centre for recycled materials. A site of approximately 10,716 square feet was allocated to the centre for the collection of items that are no longer being used or working. This is to encourage local residents to recycle their waste and earn money at the same time, rather than throwing them away. Located within the park-and-ride area in the city centre, it is run by Alam Flora, which will disseminate the collected items to various recycling centres.
DESIGN APPROACH

This pilot project was built by Cyberview Sdn. Bhd., and is a prototype concept that can be replicated elsewhere. The centre was designed to be a Green-certified building and used various materials that are considered Green or recyclable. It is built on an area of approximately 1,200 square feet, which includes the main entrance; foyer and lobby; seating area; receiving centre; prayer room; restroom; and waste segregation and storage area. A playground area was also included within the grounds, and a mezzanine floor was added to accommodate for used clothes to be sold.
PROJECT DATA
Project Name
Cyberjaya Community Recycling Collection Centre
Location
Cyberjaya, Selangor Darul Ehsan, Malaysia
Completion Date
11 November 2014
Site Area
995.52 square metres
Gross Floor Area
111.48 square metres
Building Height
3.6 to 6 metres (various heights)
Client/Owner
Cyberview Sdn. Bhd.
Architecture Firm
ATSA Architects Sdn. Bhd.
Principal Architect
Azim A. Aziz; Zulqaisar Hamidin
Civil & Structural Engineer
Sigma Jelas Engineers Sdn. Bhd.
Mechanical & Electrical Engineer
Sigma Jelas Engineers Sdn. Bhd.
Main Contractor
SH Envisage Sdn. Bhd.
Quantity Surveyor
SH Envisage Sdn. Bhd.
Images/Photos
Mohd Amirul Haziq; ATSA Architects Sdn. Bhd.
Previously Published Projects