Commercial, Online Exclusive Feature / 2021
Creative reinterpretations of historic colonial-era buildings
December 29, 2021
Many cities in Asia have a number of colonial-era buildings that remain standing till today. Often, these buildings were conceived as public institution, built with good 'bones' to support their lives for decades—if not centuries—to come. Yet, many of these buildings have stood empty and unused. This could be due to their functions falling out of relevance, or the architecture falling out of favour, deemed as being 'too old' as a result of rapid urbanisation in the city context that hankers for new and newer.
Some of these buildings could still be reused, if not for their historical value, then surely from a sustainability stance of minimising demolition and all its negative effects. If so, keen, thorough analyses need to be done to determine their present-day condition; past history and morphology; and not least their surrounding community's needs and characteristics, in order to establish and sustain the new functions.
In line with our ongoing student competition FuturArc Prize (FAP) 2022: Reinterpretation, we present several examples of reinterpreted institutional buildings that have successfully heralded a new era of vibrance. Click here to learn more about the brief and to submit your entries for FAP!
---
M Bloc Space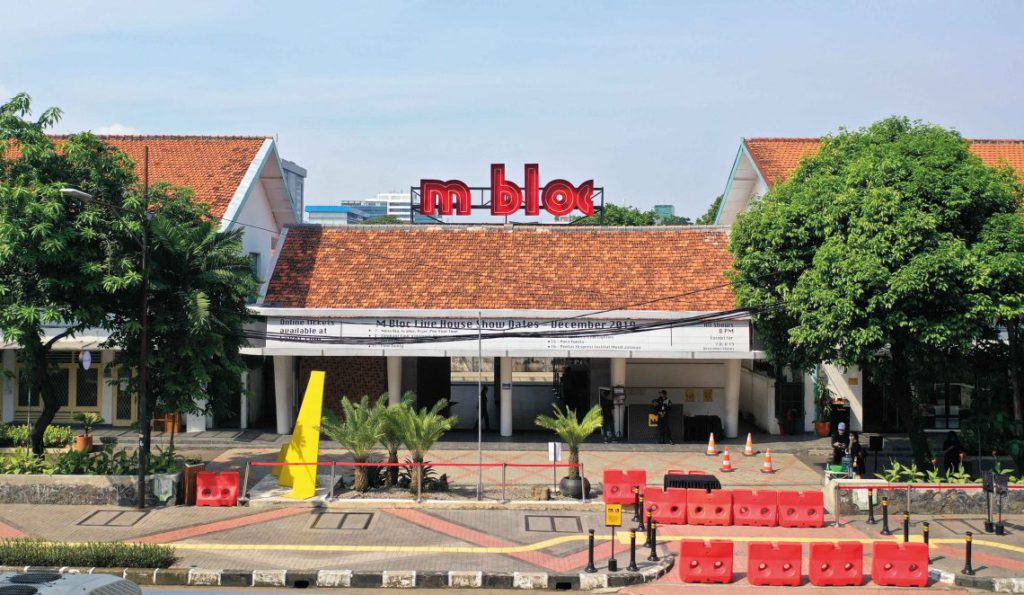 The old mixed-use complex belonging to Indonesia's state-owned banknote/securities printers and minting company Perum Peruri had sat idle for years. It happened to sit at the heart of Kebayoran Baru, a district rich with history—Jakarta's first 'garden city' was established here; in the present day, an integrated public transportation hub has also been partially constructed, drawing a fresh influx of activity towards the surrounding neighbourhoods.
Perum Peruri then sought the expertise of Arcadia Architects to inject new functionality within the complex. Catering to Jakarta's flourishing creative community, collaborative spaces have been devised within the unused residential buildings, while the offices and old factory are used for a variety of event spaces, shops and restaurants that are soon flocked by Jakartan youth. A new plan is being devised by the state-owned company for further reuse of the heritage colonial factory.
Read more about this project (in Indonesian) here: https://www.constructionplusasia.com/id/m-bloc-space/.
---
De Tjolomadoe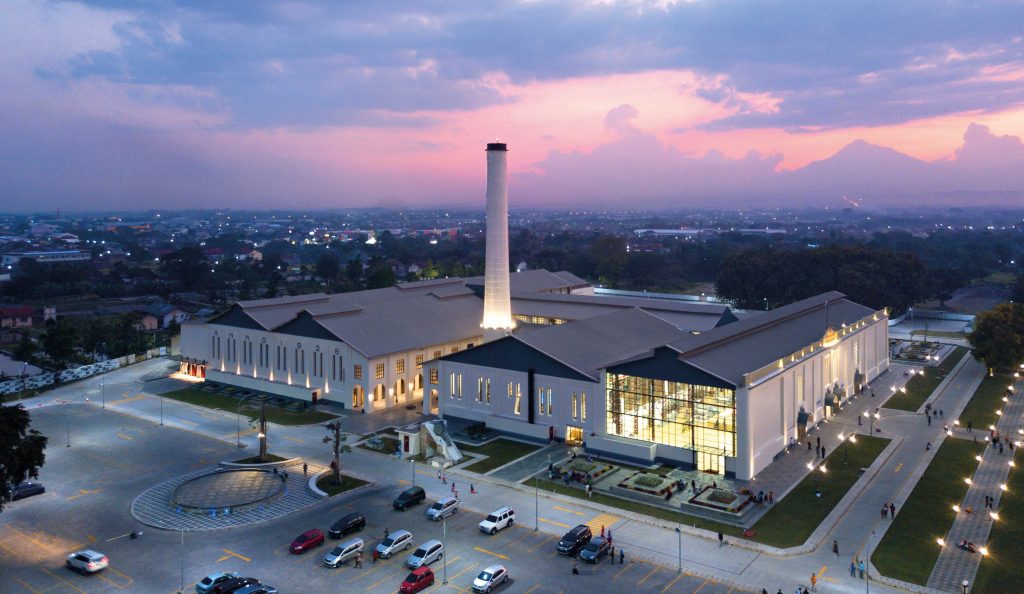 There is a strong historical background behind the Colomadu Sugar Factory building in Karanganyar Regency, Central Java, which was constructed in the 1860s. After about two decades of stopping operations since 1997, the building became neglected and degraded due to a lack of maintenance out of insufficient resources to sustain it. This prompted Indonesia's Ministry of State-Owned Enterprises (BUMN) to devise a strategy to revitalise it.
Airmas Asri Architects designed and rebranded the building to preserve its olden-day feel: it is now named De Tjolomadoe, which is an old spelling of the factory's name. The spatial changes have transformed it to a cultural centre and commercial destination to increase economic productivity of the Karanganyar area, as well as to develop aspects of art, heritage and tourism in the regency.
Read more about this project (in Indonesian) here: https://www.constructionplusasia.com/id/de-tjolomadoe/.
---
The Saw Emporium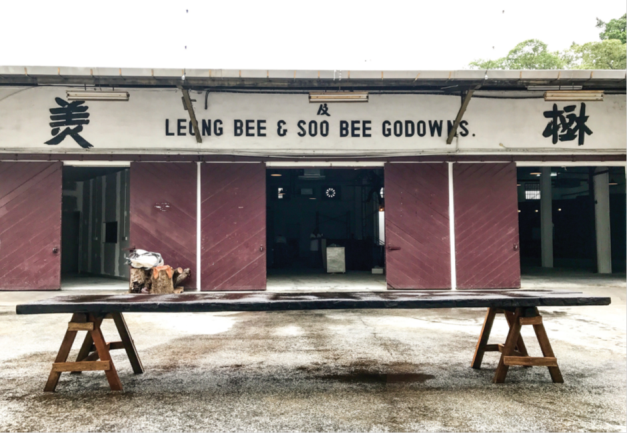 Penang's first sawmill, The Saw Emporium, was transformed into a multi-concept dining area. Located within Georgetown's heritage enclave, this manufacturing facility had been standing for almost 70 years. Its fourth-generation owners wanted to honour the history of the building with its art deco façade, while repurposing it into a new focal point for the surrounding residential neighbourhood, where the community can gather for good food, ambiance and conversations.
To accomplish that, The Steamship Merchants as the designers aimed for a sensitive reuse of the existing structures with minimal construction, using materials sourced from the site. Wood is a constant theme, with best-in-its-day architecture and finishing evident throughout the space. Apart from a repurposed 5-metre-long timber dining table in the courtyard, salvaged sawmilling parts and wood from the former sawmill have been incorporated into the design. Tiles, furniture and design elements—from the days when the site housed building supplies—were also salvaged and reused.
Read more about this project here: https://www.constructionplusasia.com/my/the-saw-emporium/.
---
Former Fire Station in Bukit Timah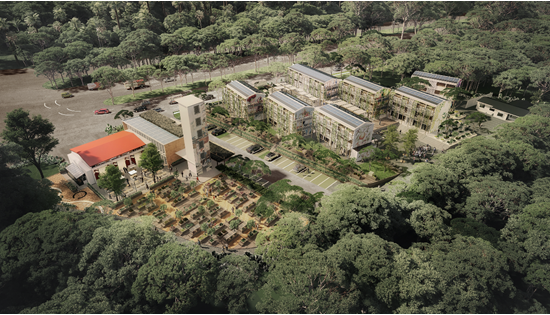 Singapore's historical former fire station dates back to the 1950s during the post-World War II era and sits within a mixture of factory buildings and natural landscape, namely the former Ford Factory, Bukit Batok Memorial, Bukit Timah Nature Reserve, Bukit Batok Nature Park and recreational trails. The state wanted to repurpose it as a model for carbon neutral and sustainable urban infrastructure that could promote healthy living, community interaction and integration with nature.
Thus, the redevelopment will feature community event spaces and allotment gardens to experiment with sustainable food production and food waste management. It will also bring together a vibrant mix of uses such as farm-to-table food and beverage experiences; health and wellness activities; and nature-related workshops that seek to make good use of outdoor spaces. Environmentally sustainable features such as enhanced waste management strategies, sustainable construction and low-carbon mobility initiatives (such as the provision of shuttle buses and EV charging stations) will be implemented throughout the tenancy. Trails and murals will showcase the heritage of the former Bukit Timah Fire Station and its surrounding area.
Read more about this project here: https://www.ura.gov.sg/Corporate/Media-Room/Media-Releases/pr21-32.
---


Read more:
Previously Published Projects