Commercial / 2nd Quarter 2019
Chennai Airport | FGLA 2019 Merit
May 14, 2019
The form of the airport terminal has been designed to take after a pair of wings in flight—the function of the two 'wings' is to serve as structural portals, culminating into a roof system to shade the airport. The buildings, with 300-metre twin wing-like 'hovering' roofs on both sides, provide shade to the south-facing elevation and protect departing passengers from heat gain.
SPATIAL PLANNING
The H-shaped plan contributes to the efficiency of this airport. The seven visible facets have created transparent ingress to the terminal as how a conventional four-façade system would do in an ordinary terminal.
LANDSCAPING
Besides bringing visual respite for travellers, the vertical landscaping also helps blur the boundaries between inside and outside. The building has been designed around two green courtyards labelled as the central green spine. The two wings are connected by an elliptical glass tube that is positioned amidst the vertical landscaping, enabling visitors to walk among the greenery. The vertical gardens consist of stainless steel structural lattices to provide support for hanging plants.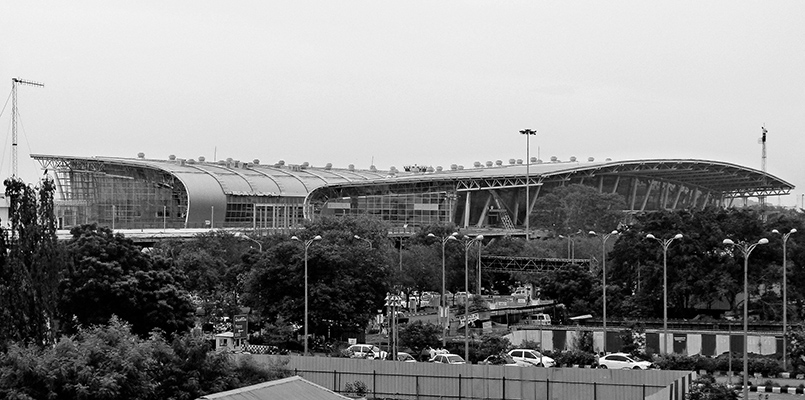 PROJECT DATA
| | |
| --- | --- |
| Project Name | Chennai Airport |
| Location | Chennai, India |
| Completion Date | April 2012 |
| Site Area | 1,152 acres |
| Gross Floor Area | 200,000 square metres |
| Building Height | 25 metres |
| Client/Owner | Airport Authority of India |
| Architecture Firm | Creative Group |
| Principle Architects | Prof Charanjit Singh Shah; Ar Gurpeet Shah |
| Main Contractors | HPI; CCCL |
| Mechanical & Electrical Engineer | M/s VS Kukreja Pvt Ltd |
| Civil & Structural Engineer | Charu Engineering Consultants |
| Landscape Architect | Creative Group |
| Environmental Consultant | Creative Group |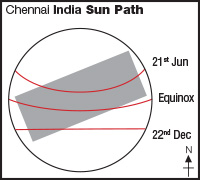 Previously Published Projects