Commercial / Sep - Oct 2018
Ccasa Hostel
September 23, 2018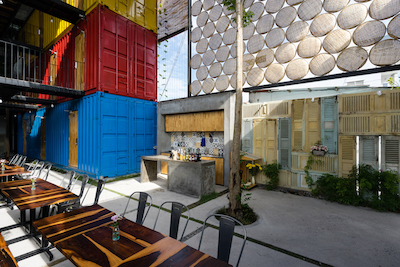 A five-minute walk from the beach, Ccasa Hostel is the first hostel in Nha Trang, Vietnam that was built from shipping containers. What immediately draws the eye are the colourful repurposed steel containers that lend a charming vibe to the establishment. In Spanish, casa means home, and Ccasa (pronounced as C-casa) is short for Container Casa—a container house. In addition, locally produced flat winnowing baskets and recycled wooden windows had been put together as a screen, referencing Vietnamese architecture.

With a site area of just 195 square metres, the architects focused on offering guests multifunctional spaces for socialising. The aim was to allow backpackers to feel at home, providing communal areas such as the living room as well as an outdoor kitchen and dining area, and an entertainment area on the terrace roof. The resting areas were reduced to the minimum to give room for shared spaces, hence increasing the connection between travellers.
The three functional blocks are for serving, sleeping and washing. The serving block is made of steel frames and black painted metal sheets, and the washing block was built with concrete and perforated bricks to improve natural air circulation. The sleeping block consists of three repurposed shipping containers that were painted in different colours to differentiate the types of bedrooms—the designs of the bedrooms themselves were inspired by train cabins. Fully furnished with beds, reading lights, power plugs and individual lockers, there are also curtains for each bed for privacy.

Open connecting bridges with trees growing through the voids replace stuffy corridors, and large hammocks that are hung across the light wells on the terrace roof offer guests a respite in 'suspension'. An outer steel frame with climbing plants 'wraps' around the hostel, acting as a second skin to shield from direct sunlight and offer a cooler microclimate.
Project Name
Ccasa Hostel
Location
Nha Trang, Khanh Hoa, Vietnam
Completion Date
6 August 2016
Site Area
195 square meters
Gross Floor Area
195 square metres
Number of Rooms
10 rooms
Building Height
12 meters
Client/Owner
TAK Architecture Co Ltd
Architectural Firm
TAK Architecture Co Ltd
Principal Architect
Bgo Tuan Anh
Images/Photos
Quang Tran; TAK Architecture Co Ltd
Previously Published Projects