Residential / 2022
'Burrows' on the façade: Scoop House by ZED Lab
March 24, 2022
This house's curvilinear openings appear to be scooped out of its monolithic cuboid mass—bringing to mind the burrows of an ant farm that offer glimpses of its inhabitants to and from the outside world.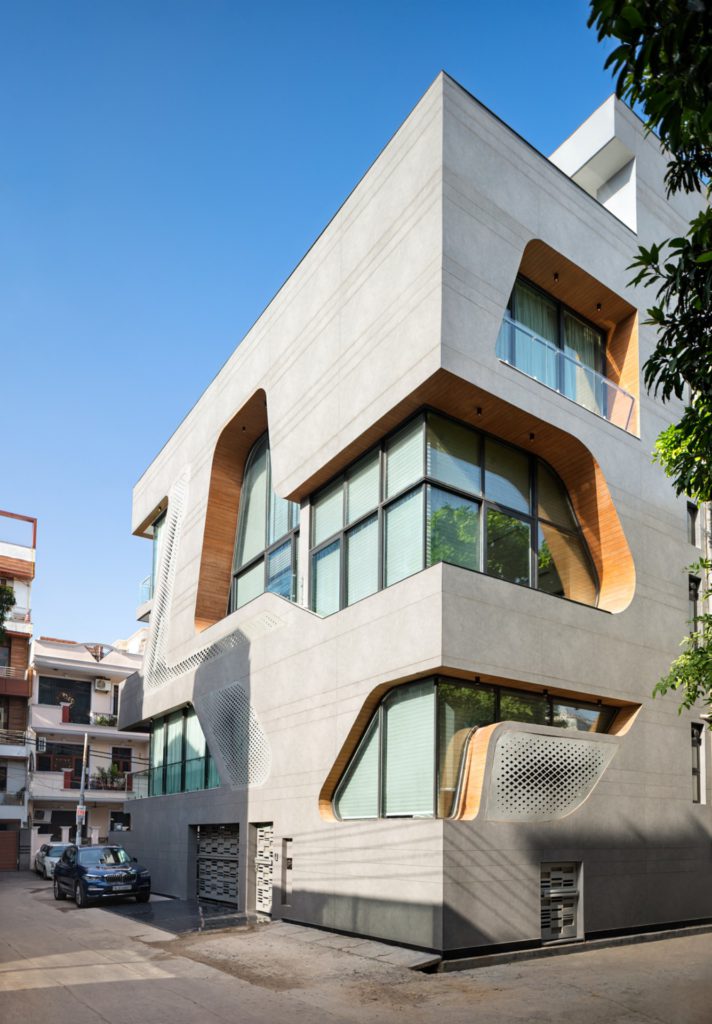 Indeed, with its double-height volumes, almost 70 per cent of the house is visually permeable from various viewpoints. To maintain privacy, the house is designated into 'day' and 'night' spaces: activity spaces are open and visible, while resting spaces like the bedrooms can be shielded using curtains and screens.
Located at a corner plot amidst a residential area in New Delhi, Scoop House's curvatures break the monotony of the surrounding flats. Its fluid shape had actually been inspired by a large tree canopy on a neighbouring community garden, which is revered from the house's south-east windows. However, this uncommon façade posed challenges in its construction, which are resolved through a careful choice of materials and execution techniques.

The façade was erected its own structure to avoid putting extra weight on the construction. This consisted of lightweight steel that was sandwiched between two layers of fibre boards, finished by dry-clad slabs for the exterior wall.
This self-shading, 2-feet deep 'cavity' creates an air insulation gap on the outermost layer, thereby reducing heat transfer into the inner spaces. Parts of the wall have also been shaded using CNC-cut perforated screens akin to jaali. In creating this complicated façade, local builders have been trained to upgrade their skills.
To minimise electricity consumption, the wide windows allow natural daylighting for the spaces, while the atrium enables a stack effect through cross-ventilation. Solar cells and solar-powered pumps, as well as rainwater harvesting facilities, have also been installed to optimise the on-site resources that are available in its densely built-up neighbourhood context.
---
PROJECT DATA
Project Name
Scoop House
Location
Anand Vihar, New Delhi
Completion Date
December 2021
Site Area
1,620 square feet
Gross Floor Area
6,338.92 square feet
Number of Rooms
8
Building Height
43 feet
Client/Owner
Dishant Arora
Architecture Firm
ZED Lab
Principal Architect
Sachin Rastogi
Main Contractor
LS Associates
Mechanical & Electrical Engineer
Design Solutions
Civil Engineer
LS Associates
Structural Engineer
Razdan (Design Solutions)
Photos
Andre J Fanthome (Studio Noughts And Crosses)
---

Previously Published Projects