Commercial, Online Exclusive Feature / 2022
Lights, books and greenery at Tamagawa Takashimaya Grand Patio
October 28, 2022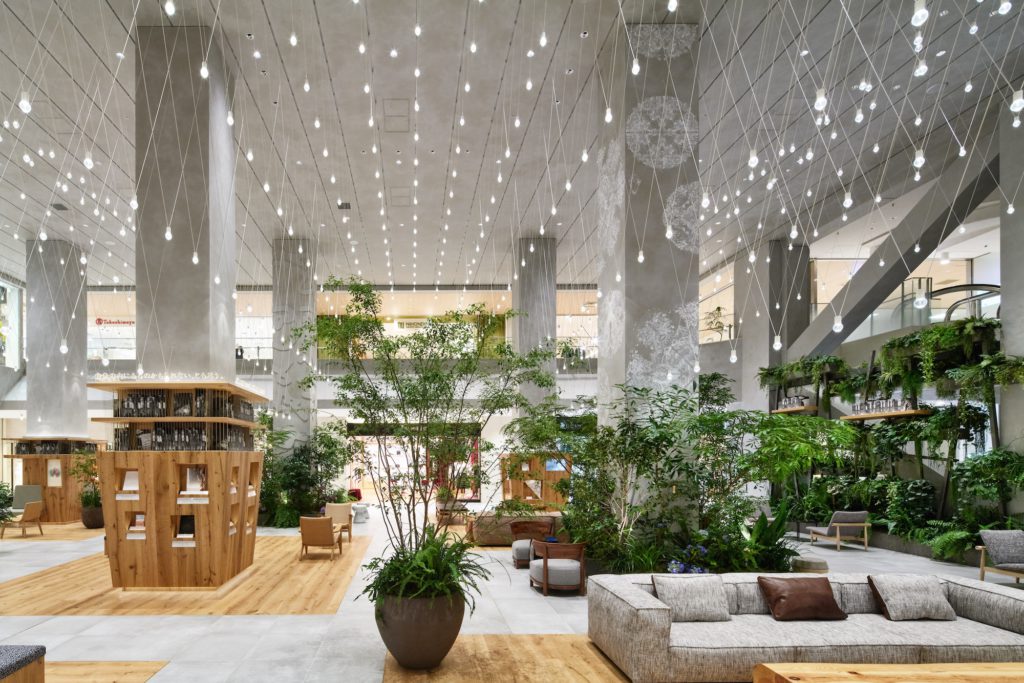 Amidst the barrage of virtual commerce, physical spaces have been offering increasingly personal and meaningful spatial experiences. This renovation of Tamagawa Takashimaya, a fifty-year-old shopping centre, transforms its spacious atrium into a cross between a library and an art gallery. It is designed as an intimate enclave that resembles a park in some places and a private library in others, offering a relaxing space for visitors to encounter books and art.
Three primary elements compose the space: an assemblage of lights, park-like greenery and shelves that foster an experience of discovering stories.
---
Let there be light
Comprised of 669 bulbs and 1338 cords, the assemblage of lights is the most distinctive feature of the space. To vary the height of the suspended bulbs, the architects constructed four ceiling vaults between the columns. Bulbs are suspended from two thin cords, hung at convergent 40-degree angles. The white lines overlap to form a 'nimbus cloud' overhead, illuminated by the suspended bulbs.

The architects performed weight calculations and made mock-ups to determine the weight that would prevent the longest cords, measuring 5 metres, from slackening. To ensure safety if the hanging bulbs are ever knocked, half of the cords are reinforced with stainless steel wires to prevent bulbs from falling, and the bulbs themselves are made of carved acrylic rather than glass.
Since visual comfort through 'just right' lighting is an important element in reading, the acrylic cavities had to be carefully tested to avoid too-bright illumination. The architects also experimented with different forms to avoid distorted light reflections.
---

Interior greenery
To bring a park-like ambiance into the space, planters were selected to reference the district's history as a resort area in Tokyo. The assortment of native Japanese plants was inspired by famous wooden resorts such as the Karuizawa and Todoroki Ravine, where city dwellers frequented to escape the summer heat. Sustainably sourced materials, like scrap wood, was used extensively for the finishes and furnishing. Some of the planters included space for seasonal plantings, bringing the four seasons inside.
Discovering knowledge
Books provide a glimpse into various slices of the world. To easily connect visitors with suitable books, the shelves were arranged to display book covers. A book director also selects meaningful quotes to display under each book. One shelf is devoted to art, with books and tools that were important to artists to give visitors a behind-the-scenes look at the creative process.
Two of the columns in the atrium are decorated with artists' murals, evocative of the experience of reading. Additional bookshelves in the second-floor café hold hundreds of books about bread and coffee, further taking the idea of supplementing physical experiences with a wealth of more information through books.
---
PROJECT DATA
Project Name
Tamagawa Takashimaya Grand Patio
Project Location
3-17 Tamagawa, Setagaya-ku, Tokyo, Japan
Status
Completed
Completion Date
April 2020
Total Floor Area
55,416.33 square metres
Designed Area
2,058.2 square metres
Client
Toshin Development Co.,Ltd (Takahiro Minamikawa)
Architecture Firm
Yuko Nagayama and Associates
(Yuko Nagayama; Shoichi Hirota; Hideo Yokota)
Interior Design
Yuko Nagayama and Associates
Design Development
Nihon Sekkei, Inc.
(Takao Yuki; Masayuki Hamachi; Yoshifumi Karasawa)
Landscape Design
Daishizen Inc.
(Taichi Saito; Akira Masuda; Miyu Yoshizawa)
Lighting Design
Izumi Okayasu Lighting Design (Izumi Okayasu)
Art Curation
Sakie Takasu
Contractor
Tokyu Renewal Co., Ltd.
(Kosuke Hirokoshi; Yoshiyuki Yasuhara; Yuji Otsuka; Yasuhiko Eto)
Photography
Daici Ano
---

Previously Published Projects