Commercial, Online Exclusive Feature / 2021
Bird Nest by VTN Architects
June 25, 2021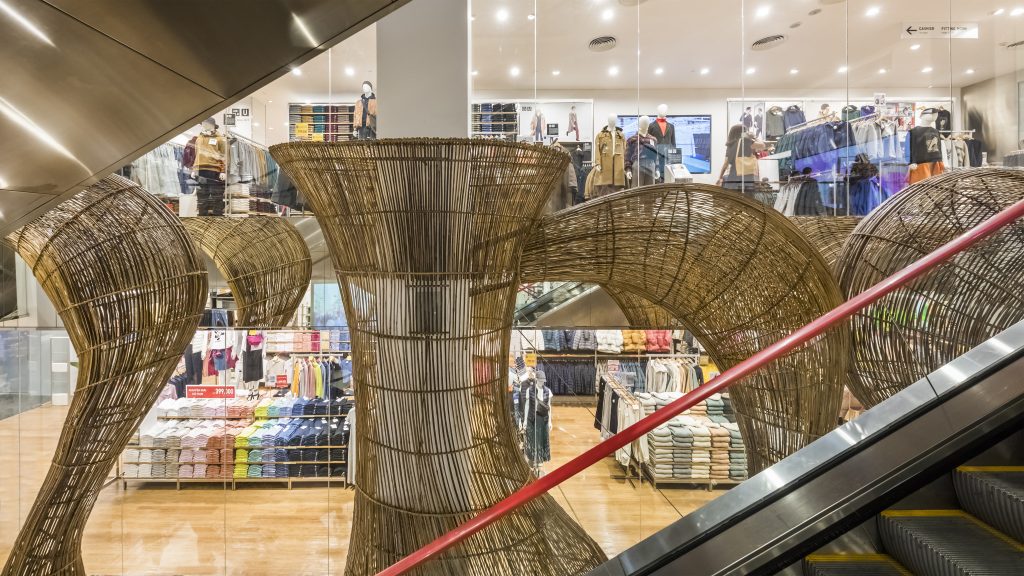 Designed by VTN Architects (Vo Trong Nghia Architects), who are known for their traditional Vietnamese architecture approach, installed a memorable artwork named Bird Nest. It is a soaring bamboo installation right in the heart of Uniqlo's flagship store at the central part of Ho Chi Minh City, Vietnam.
Complementing the Japanese fashion house's philosophy of comfort and use of sustainable materials, the idea of the art project was inspired by its namesake to suggest a sense of protection and nurturing, security and warmth. The bamboo installation adds to the store's familiar and friendly atmosphere that welcomes customers across all levels of the retail space.
The artwork was carefully adjusted with the intention of keeping customers' views engaged with the shopping area, while still enabling them to appreciate the installation as they travel along the escalators. The design team also created a resting area made of bamboo benches under the towering structures to allow customers to rest and take in the artwork.
The smooth, curved surfaces were created by using bamboo strips woven one by one into the steel frames by hand; local bamboo craftsmen worked hard at it continuously for 10 days. Such a bamboo installation symbolises the simplicity and ingenuity of Vietnamese culture through the use of traditional material and craftsmanship, further creating a connection between traditional Vietnamese culture and modern design.
"We hope this installation art will convey a protective and nurturing image as well as prosperity and growth. Moreover, we hope this work shows respect for Vietnamese culture through the use of bamboo and local craftsmanship," said VTN Architects.
Snapshot: Bamboo & brick in Vietnam
When one thinks about traditional Vietnamese architecture now, one might think of bamboo as the archetypal material used. If one were to have a quick look at projects highlighted in recent years from Vietnam, one could be forgiven for this assumption. Architects such as Vo Trong Nghia has—dare we say—revolutionised the use of bamboo in Vietnamese architecture in the past few years. Calling it the 'green steel of the 21st century', Vo has said, "Bamboo is bendable. This is an important character. Using bent bamboos, the structure obtains unique shape and beauty. With proper treatment—soaking in mud and smoking it—bamboo becomes as durable as timber." And bend them he did. The way bamboo has been applied—as seen in these two projects for example—one would think it is the most malleable material in the world. Notwithstanding, his use of bamboo is both awe-inspiring and a splendid sight to behold.


For more about bamboo architecture in Vietnam, click on the link below:
Snapshot: Bamboo & brick in Vietnam
PROJECT DATA
| | |
| --- | --- |
| Project Name | Bird Nest |
| Site Area | 30 square metres |
| Client | Uniqlo Vietnam Co,. Ltd |
| Building Height | 9.39 metres |
| Location | Uniqlo Ho Chi Minh City |
| Architecture Firm | VTN Architects (Vo Trong Nghia Architects) |
| Principal Architect | Vo Trong Nghia |
| Main Contractor | Wind & Water JSC |
| Images | Hiroyuki Oki |
Previously Published Projects